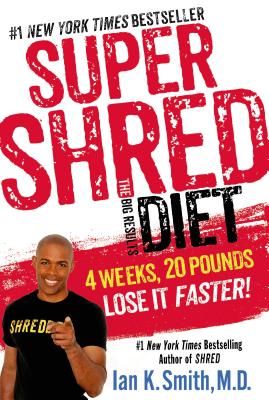 Super Shred: The Big Results Diet: 4 Weeks, 20 Pounds, Lose It Faster! (Hardcover)
The Big Results Diet: 4 Weeks, 20 Pounds, Lose It Faster!
St. Martin's Press, 9781250044532, 236pp.
Publication Date: December 31, 2013
Description
The diet that works faster and forever
SUPER SHRED
Using the same principles meal spacing, snacking, meal replacement and diet confusion that made his SHRED a major #1 bestseller Dr. Ian K. Smith has developed what dieters told him they needed: a quick-acting plan that is safe and easy to follow at home, at work, or on the road.
SUPER SHRED
It's a program with four week-long cycles:
--Foundation, when you'll eat four meals and three snacks a day, start shedding pounds and set yourself up for success
--Accelerate, when you'll kick it up and speed up weight loss
--Shape, the toughest week in the program, and the one that will get your body back by keeping it guessing
--Tenacious, a final sprint that cements your improved eating habits and melts off those last stubborn pounds
The SHRED system never leaves you hungry. It's a completely new way to lose weight, stay slender, and feel fantastic about your body, mind and spirit
Includes more than 50 all-new recipes for meal replacing smoothies and soups
About the Author
IAN K. SMITH, M.D. is the New York Times #1 bestselling author of Shred, The 4 Day Diet, The Fat Smash Diet and Extreme Fat Smash Diet. He is a co-host of the television show The Doctors, a medical contributor to The Rachael Ray Show and host of the nationally syndicated radio show HealthWatch.Dr. Smith is the founder of two major national health initiatives--the 50 Million Pound Challenge and the Makeover Mile--that have helped millions of people lose weight and improve their health.A graduate of Harvard, Columbia, and the University of Chicago Pritzker School of Medicine, Dr. Smith was appointed to the President's Council on Fitness, Sports, and Nutrition in 2010.
Praise For Super Shred: The Big Results Diet: 4 Weeks, 20 Pounds, Lose It Faster!…
Shredder Nation speaks:
"I had no idea how much my life would change in only a month. With Shred I'm down a total of 27 lbs. At my age and metabolism, it's a miracle. I am a SHREDDER for life." —Beverly   
"Week 2 day 3. Lots of energy. Down 5 pounds already!"—Maggie
"Got my measurements taken today and I was down 1/4 inch in all areas, even my trouble spot arms! Body fat percentage was slightly down too."--Nicole
"I started Shredding twenty days ago. I've lost a total of 10 lbs. I don't miss all the junk food and fast foods I used to eat. I'm never hungry on the Shred diet. This is the lifestyle change I truly needed."--Karen 
Advertisement