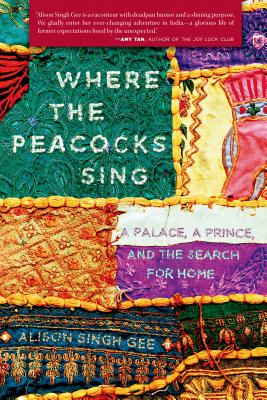 Where the Peacocks Sing (Paperback)
A Palace, a Prince, and the Search for Home
St. Martin's Griffin, 9781250044839, 288pp.
Publication Date: February 11, 2014
Other Editions of This Title:
Hardcover (2/19/2013)
* Individual store prices may vary.
Description
How far would you travel for love? In her sparkling memoir, journalist Alison Singh Gee learns that love, riches, and a place to call home can be found in the most unexpected places.
Alison Singh Gee was a glamorous magazine writer with a serious Jimmy Choo habit, a weakness for five-star Balinese resorts, and a reputation for dating highborn British men. Then she met Ajay, a charming and unassuming Indian journalist, and her world turned upside down. Traveling from her shiny, rapid-fire life in Hong Kong to Ajay's native village, Alison learns that not all is as it seems. Turns out that Ajay is a landed prince (of sorts), but his family palace is falling to pieces. Replete with plumbing issues, strange noises, and intimidating relatives, her new love's ramshackle palace, Mokimpur, is a broken-down relic in desperate need of a makeover. And Alison wonders if she can soldier on for the sake of the man who just might be her soul mate.
This modern-day fairytale, WHERE THE PEACOCKS SING, takes readers on a cross-cultural journey from the manicured gardens of Beverly Hills, to the bustling streets of Hong Kong and finally to the rural Indian countryside as Alison comes to terms with her complicated new family, leaves the modern world behind, and learns the true meaning of home.
About the Author
ALISON SINGH GEE is an award-winning international journalist whose work has been translated into eight languages and has appeared in People, Vanity Fair, In Style, Marie Claire, International Herald Tribune, The Wall Street Journal and Los Angeles Times. For eight years, she was a staff features writer/correspondent for People magazine. She won the 1997 Amnesty International Award for Feature Writing for her Asiaweek cover story about child prostitution in Southeast Asia. She is the author of the book Where the Peacocks Sing. Alison lives in Los Angeles with her husband and daughter.
Praise For Where the Peacocks Sing: A Palace, a Prince, and the Search for Home…
"A glamorous magazine writer trades Hong Kong for India when she marries her Prince Charming." —Entertainment Weekly
"In her new memoir, Gee describes the changes that awaited her when she fell for an Indian journalist who turned out to be a prince – with a broken-down 100-room palace." —People
"Gee's observations are astute. With its blend of humor, sincerity and seriousness, Gee's story easily could be Eat, Pray, Love's down-to-earth cousin, offering a unique twist on the typical tale of Westerners traveling to India to find themselves." —LA Weekly
"While it's settings are exotic, Singh Gee's experiences of finding one's place within the family and the world at large are near-universal. Where the Peacocks Sing is a charming memoir with cross-genre appeal to fans of multicultural literature and women's fiction." —Shelf Awareness
"Like Eat, Pray, Love but with more heart and less sulking, Gee's story of Mokimpur, India, is insightful without being pretentious. This book manages to be dazzlingly romantic and yet still very real; a unique and uplifting read that's as much about traveling to India as it is about finding happiness." —Library Journal, starred review
"A raconteur with deadpan humor and a shining purpose. We gladly enter her ever changing advenure in India -- a glorious life of former expectations freed by the unexpected." —Amy Tan, New York Times bestselling author of The Joy Luck Club
"Alison Singh Gee's memoir, WHERE THE PEACOCKS SING is a compelling, moving, and often hilarious account of self-discovery. A journey from the world of Hong Kong bling, to the gentrified ways of old India, it's a story that stays with you, revealing its magic a little at a time." —Tahir Shah, author of The Caliph's House
"This enchanting memoir, which reads like a modern fairy-tale, brings radically different worlds together. And it does so in a charming, witty, and very poignant way." —Noelle Oxenhandler, author of The Wishing Year: A House, A Man, My Soul
"Alison Singh Gee has written an expansive page-turner, masterfully braiding her poignant search for home, love and family with the vibrant, startling details of an exotic landscape. Her eloquent prose style is equal to the lusciousness of her subject, and the reader who travels with her is treated to sheer reading pleasure. This is an engaging, insightful, and supremely entertaining debut." —Joelle Fraser, author of The Territory of Men: A Memoir
"Where the Peacocks Sing is for every woman who thought her Prince was Mr. Big and that life was a closet full of Jimmy Choos, but then realized she was hungry for something deeper. Alison Singh Gee takes us on a life-changing journey from glamorous "it" girl in bustling Hong Kong to Los Angeles and India, where nothing is as it seems, and everything a reminder that even the most waifish among us can secure the greenest of grasses, a place to call home, and a family to love." —Kim Suneè, author of Trail of Crumbs: Hunger, Love, and the Search for Home
"This is a beautifully written, honest and evocative account of one woman's journey of self-discovery when her LA magazine-cover life collides with that of her aristocratic husband and his decrepit palace in rural India. Singh Gee raises fascinating questions about our relationships with property and how our dreams can shape and even sabotage our happiness. I felt like I too lived in Mokimpur by the end of it, with all its glorious sights and smells, and I got a far more interesting picture of modern rural India than can usually be gleaned through the media. Most importantly it made me think hard about what the word Home actually means." —JoJo Moyes, author of The Last Letter from Your Lover: A Novel
"People say nobody changes for anyone else. Where the Peacocks Sing makes a strong case that the only thing that changes people is love. To that end Alison Gee examines her family's money demons and how they have shaped her values. And her transformation is a testament to the generosity and beauty that blossoms when you put in the effort for the right person." —Mishna Wolff, author of I'm Down: A Memoir
"Alison elegantly and compassionately renders this curry-spiced, real-life fairy tale of an L.A. girl who dreamed of being a princess. Here, true love isn't airy-fairy, but as concrete as finding a real home to call your own--making this the most satisfying happily-ever-after I've read in a long while." —Samantha Dunn, author of Not by Accident and Failing Paris
"There were moments while in the middle of reading that I had to look up and remember where I was, so transported was I. In her memoir, Alison Singh Gee achieves that rare distinction of making her story - as fabled and surprising as it is - entirely relatable. Gorgeously written and filled with poignant moments and characters who deserve their own stories, her book brings a crumbling Indian palace and its neighboring terrain to vivid life, and shows how anything can be transformed and healed with the right kind of love." —Kavita Daswani, author of For Matrimonial Purposes and Lovetorn
"We need more books about our visits to other people's lands, languages, and imaginations. Alison Singh Gee gives us just that, an inside story from an outsider. Descriptive, wild, and adventurous, Where the Peacocks Sing is a global serenade to modern India, to love, and to figuring out who you are and what matters - in the most surprising ways and places." —Rachel DeWoskin, author of Foreign Babes in Beijing
"In Where the Peacocks Sing, Alison Singh Gee takes us on a luxuriant journey of expectation. We travel with her on a sensual roller coaster, through memory and across oceans, from the suburbs of Los Angeles and the high-rises of Hong Kong to a village in India, to the place where the heart resides." —Mei-Ling Hopgood, author of Lucky Girl
"Finally, a book that tells you what happens after you marry the Prince (and fail to appreciate his mother's cooking). Alison Singh Gee's moving, amusing memoir is a true-life, all-too-modern retelling of the classic children's fairytale, but it's also a reminder of several universal truths. First, that loving another person is the quickest way to find yourself. And second, that the longest, farthest flung journeys are often the ones that lead you straight home." —Eleni Gage, author of North of Ithaka and Other Waters