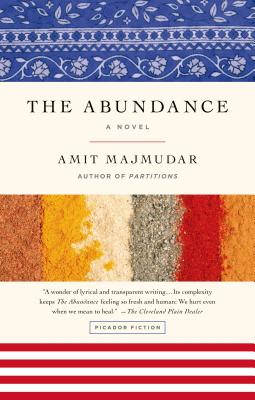 The Abundance (Paperback)
A Novel
Picador, 9781250045096, 272pp.
Publication Date: April 8, 2014
Other Editions of This Title:
Hardcover (3/5/2013)
* Individual store prices may vary.
Description
When Mala and Ronak learn that their mother has only a few months to live, they are reluctantly pulled back into the Midwestern world of their Indian immigrant parents. In the brief time between diagnosis and deterioration, busy, efficient Mala commits to mastering her mother's slow art of Indian cooking. Perfecting the raita and the rotli, the two begin not only to work together but also to talk, confronting their deepest divisions and failures. But when Ronak hits upon the idea of selling their cooking-as-healing experience as a high-concept memoir, immigrant and native-born must find a way to cross this last divide.
With grace, acuity, and wry compassion, in Abundance, Amit Majmudar has written anew the immigrant experience, the clash of cultures, the conflicts of assimilation, and, most poignant, the tangled ties between generations.
About the Author
Amit Majmudar is the author of Partitions, chosen by Kirkus Reviews as one of the best debut novels of 2011 and by Booklist as one of the year's ten best works of historical fiction. His poetry has been published in The New Yorker, The Atlantic, and Best American Poetry 2011. A radiologist, he lives in Columbus, Ohio.
Praise For The Abundance: A Novel…
"A wonder of lyrical and transparent writing....Its complexity keeps The Abundance feeling so fresh and human: We hurt even when we mean to heal." —Cleveland Plain Dealer
"Sumptuous with recipes and reflection...Majmudar, who is also a poet, imbues his prose with phrases and metaphors that linger with the warmth of spices." —The Economist
"A page-turner to tempt you…A sweet-and-spicy story of parenting across generational and cultural gaps." —Good Housekeeping
"This heartbreakingly lovely novel evocatively captures the often contentious but ultimately loving essence of a cross-generational Indian American family.…Majmudar, author of the highly regarded Partitions, displays an understated flair for imagery and language, communicating the significance of the ties that bind without ever resorting to mawkish sentimentality. Delectable and convincing literary fiction that subtly shines the spotlight on some basic universal truths." —Booklist
"Majmudar's magnificent fiction debut, Partitions, investigated the wrenching moral dilemmas posed by the partition of India and Pakistan in 1947; here, he trains the same unsparing yet compassionate eye on a contemporary family in the Midwest....'This is not a book about dying,' the narrator informs us. 'This is a book about life.' Indeed it is, and not life airbrushed by sentimentality, but life as it is actually experienced by flawed human beings--perfectly rendered by their gifted author. Beautifully written and deeply moving." —Kirkus Reviews (starred review)
"A moving story of motherhood across cultural divides...Powerful in its simplicity and honesty, The Abundance reminds us of the way our roots inevitably shape our adult selves." —Publishers Weekly