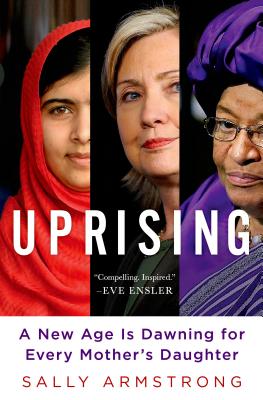 Uprising (Hardcover)
A New Age Is Dawning for Every Mother's Daughter
Thomas Dunne Books, 9781250045287, 288pp.
Publication Date: March 4, 2014
* Individual store prices may vary.
Description
From Africa to Asia to the Americas, women are the key to progress on ending poverty, violence, and conflict. Award-winning humanitarian and journalist Sally Armstrong shows us why empowering women and girls is the way forward, and she introduces us to the leading females who are making change happen, from Nobel Prize winners to little girls suing from justice. Uprising tells dramatic and empowering stories of change-makers and examines the stunning courage, tenacity and wit they are using to alter the status quo. From mud-brick houses in Afghanistan to the forests of Congo, where women still hide from their attackers, to a shelter in northern Kenya, where 160 girls between 3 and 17 have won an historic court case against a government who did not protect them from rape, to Pakistan, where Malala Yousafzai is fighting for the rights of women everywhere, Uprising is about the final frontier for women: having control over your own body, whether in zones of conflict, in rural villages, on university campuses or in your own kitchen. In this landmark book that ties together feminism and our global economy, Sally Armstrong brings us the voices of the women all over the world whose bravery and strength is changing the world as we know it.
About the Author
Human rights activist and journalist SALLY ARMSTRONG has covered stories about women and girls in zones of conflict all over the world. Her eye witness reports have earned her awards including the Gold Award from the National Magazine Awards Foundation. She received the Amnesty International Media Award in 2000, 2002 and 2011, and she was a member of the International Women's Commission, a UN body whose mandate is assisting with the path to peace in the Middle East. She is the author of Uprising: A New Age Is Dawning for Every Mother's Daughter.
Praise For Uprising: A New Age Is Dawning for Every Mother's Daughter…
"It's an inspired gathering of women activists, their experiences, their visions, and their rising across the planet. It's fantastic to have all these voices collected in one place, which makes evident the diverse, compelling, undeniable, and soon to be victorious women's movement across the planet." —Eve Ensler, Tony award-winning playwright, performer, activist, and author of The Vagina Monologues
"In this remarkably moving and fascinating book, Sally Armstrong will introduce you to the extraordinary women and girls across the globe who have inspired her and who are working to create a new world." —Will Schwalbe, author of The End of Your Life Book Club
"A feminist's guide to action." —Toronto Star
"Heart-wrenching, inspiring, and a powerful reminder that the struggle for women's equality continues. A must-read for men and women of every generation." —Dr. Samantha Nutt, author of Damned Nations
"A smart, in-depth book." —Madeline Di Nonno, Executive Director of the Geena Davis Institute
"Around the world, women and girls are insist [ing] on their rights. Armstrong found them when few other journalists even cared to know their names." —Anna Maria Tremonti, CBC Radio One Host
"Sally Armstrong is the war correspondent for the world's women." —Michele Landsberg, author of Writing the Revolution
"Many of the stories in [Uprising] have escaped the wider world's attention; Armstrong literally tramped through deserts and jungles to find them. The result is bound to shock; its details may make readers shudder and weep, but it will reignite hope in the most jaded of spirits." —Winnipeg Free Press
"Women of all persuasions will appreciate Armstrong's in-depth, passionate exploration of this important topic." —Kirkus
"a rallying cry as a record of the modest but significant strides of brave women wresting power that is rightly theirs from the grip of institutionalized chauvinism." —Booklist
or
Not Currently Available for Direct Purchase