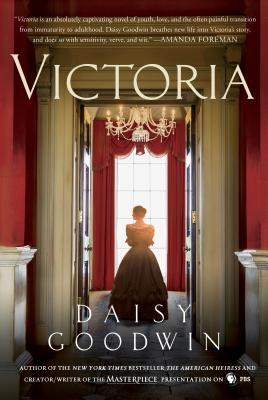 Victoria
A novel of a young queen by the Creator/Writer of the Masterpiece Presentation on PBS
Hardcover

* Individual store prices may vary.
Other Editions of This Title:
Digital Audiobook (11/21/2016)
Paperback (9/26/2017)
Hardcover, Large Print (12/7/2016)
CD-Audio (11/22/2016)
Description
NATIONAL BESTSELLER

"Victoria is an absolutely captivating novel of youth, love, and the often painful transition from immaturity to adulthood. Daisy Goodwin breathes new life into Victoria's story, and does so with sensitivity, verve, and wit."
– AMANDA FOREMAN

Drawing on Queen Victoria's diaries, which she first started reading when she was a student at Cambridge University, Daisy Goodwin—creator and writer of the new PBS Masterpiece drama Victoria and author of the bestselling novels The American Heiress and The Fortune Hunter—brings the young nineteenth-century monarch, who would go on to reign for 63 years, richly to life in this magnificent novel.

Early one morning, less than a month after her eighteenth birthday, Alexandrina Victoria is roused from bed with the news that her uncle William IV has died and she is now Queen of England. The men who run the country have doubts about whether this sheltered young woman, who stands less than five feet tall, can rule the greatest nation in the world.

Despite her age, however, the young queen is no puppet. She has very definite ideas about the kind of queen she wants to be, and the first thing is to choose her name.

"I do not like the name Alexandrina," she proclaims. "From now on I wish to be known only by my second name, Victoria."

Next, people say she must choose a husband. Everyone keeps telling her she's destined to marry her first cousin, Prince Albert, but Victoria found him dull and priggish when they met three years ago. She is quite happy being queen with the help of her prime minister, Lord Melbourne, who may be old enough to be her father but is the first person to take her seriously.

On June 19th, 1837, she was a teenager. On June 20th, 1837, she was a queen. Daisy Goodwin's impeccably researched and vividly imagined new book brings readers Queen Victoria as they have never seen her before.
Praise For Victoria: A novel of a young queen by the Creator/Writer of the Masterpiece Presentation on PBS…
NATIONAL BESTSELLER

"In Victoria, Daisy Goodwin's lively and effervescent novel, the range of her storytelling is rich...Goodwin's queen has all the makings of a captivating human paradox."
—The New York Times Book Review

"An intimate portrait of an extremely bright but painfully lonely teenage girl who one day had only pets and dolls for company and the next was regent of England."
—The New York Post

"[An] irresistible love story…Fans of Downton, The Crown, etc., will want to dive right in."
–People

"Victoria is an absolutely captivating novel of youth, love, and the often painful transition from immaturity to adulthood. Daisy Goodwin breathes new life into Victoria's story, and does so with sensitivity, verve, and wit."
–Amanda Foreman

"An absolute dream of a read – charming, shrewd and well paced."
—The Virginian-Pilot

"Irresistible...[A] rich and passionate historical novel."
–Publishers Weekly

"Goodwin's grasp of the background is impeccable, and she has an instinct for the delicious details that turn a history lesson into cracking fiction…doing full justice to the spirit and independence that made [Victoria] one of our greatest monarchs."
–The Times

"Fans of character-driven storylines will relish witnessing Victoria's transition from immaturity to adulthood."
–Real Simple,"Best New Books to Read This Month: November"

"A deep exploration of a well-known character who hasn't quite become who she's going to be…A wonderful read."
–Toronto Star

"Fun, romantic, and suited for both adult and teenage readers."
–Kirkus Reviews

"Goodwin demonstrates her admirable ability to fuse wide-ranging knowledge of the period with lively storytelling skills."
–Sunday Times (UK)

"Highly recommended...Bestselling Goodwin always draws in fans."
–Booklist

"[Victoria] will sweep you away. It sumptuously brings to life the tale of Victoria's ascension to the throne, her battles with her mother and her relationship with her Prime Minister, Lord Melbourne. I loved the detail in this novel, and tore through it."
–Stylist (UK)

"A hit…The research is impeccable, the attention to detail—from protocol to petticoats—perfect, and it brings the formidable figure of Victoria to sparkling life."
–Sunday Mirror (UK)

"How the scenario of mentor versus love interest plays out isthe author's unique concept, and it is accomplished with deft characterization and an easy flowing storyline. It is highly recommended for readers of royalty fiction."
—Historical Novel Society

Additional Praise for Daisy Goodwin

"Ms. Goodwin writes deliciously."
–Janet Maslin, The New York Times on The American Heiress

"A shrewd, spirited historical romance with flavors of Edith Wharton, Daphne du Maurier, Jane Austen,Upstairs, Downstairs, and a dash of People magazine...Superior entertainment."
–Kirkus Reviews (starred) on The American Heiress

"Gorgeous...the perfect storm of escapism, suspense, romance, and superb historical research."
–The Times (UK) on The Fortune Hunter

"A luxurious indulgence...Goodwin writes with effortless grace, and her dialogue's subtle wit is delightful."
–Booklist on The Fortune Hunter
St. Martin's Press, 9781250045461, 416pp.
Publication Date: November 22, 2016
About the Author
DAISY GOODWIN is the author of the New York Times bestselling novels The American Heiress and The Fortune Hunter. She attended Columbia University's film school as a Harkness scholar after earning a degree in history at Cambridge University, and was Chair of the judging panel of the 2010 Orange Prize for Fiction. She is the screenwriter and executive producer of the PBS/Masterpiece drama Victoria. She lives in London.
1. Daisy Goodwin was inspired to tell this story by Queen Victoria's diaries. "How handsome Albert looks in his white cashmere breeches," the young queen wrote in 1839. Daisy suddenly found herself imagining what it would be like if her own teenage daughter became the most powerful woman in the world overnight. How does Victoria handle her rise to power at the age of eighteen? How do you think you might have handled it?
2. In what ways does Victoria come across a "typical" teenager and/or as a powerful sovereign?
3. How does Victoria's sheltered upbringing at Kensington Palace influence her ultimate ability to rule her country?
4. Why do you think one of the young queen's first acts is to reject her given name of Alexandrina in favor of Victoria?
5. In what ways does Victoria's relationship with her mother influence her decisions as queen? How does that relationship change in the course of the novel?
6. Where do you think Victoria gets the strength to stand up against her family and others who try to dictate her role as queen?
7. Why was Victoria so vengeful toward Lady Flora?
8. What are the biggest challenges that Victoria faces? How might you have dealt with those situations?
9. How do you feel about Lord Melbourne? What might Victoria's life have been like if she had chosen him over Albert?
10. What did you think of Albert when he first appeared in the story? How do you view Victoria's prediction that theirs "will be a marriage of inconvenience"?
11. Victoria thinks Lord M must be teasing when he says that some Chartists believe that women should have the vote. There are also a number of references to "bonnets," or women, whose significance is clearly different from men's. How do you see the role of women in general – and Queen Victoria in particular – in the course of the novel?
12. How has courting changed for the current heirs to the English throne compared to Queen Victoria?
13. Are there any modern-day world leaders you would compare to the young Victoria?
14. What do you see as the most and least enviable aspects of Queen Victoria's life?
15. What was the most interesting thing about Victoria that you learned while rea