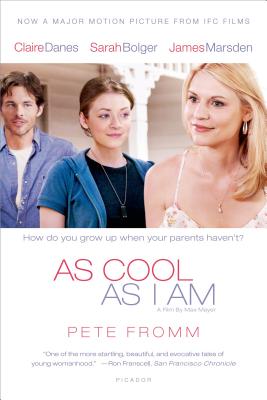 As Cool as I Am
Paperback

* Individual store prices may vary.
Other Editions of This Title:
Paperback (11/1/2004)
Hardcover (10/1/2003)
Description
NOW A MAJOR MOTION PICTURE STARRING CLAIRE DANES, JAMES MARSDEN AND SARAH BOLGER
Pacific Northwest Booksellers Association Book of the Year
As a teenager pretty much left to raise herself while her parents struggle to do the same, Lucy Diamond is a narrator with a radiant yet guarded heart. As she races at breakneck speed toward womanhood, everything is at stake for her, producing an urgency and dread that she holds at bay with humor and grace. But, while Lucy charges ahead, her mother's youth is fading, providing juxtaposition steeped with tension and love. Simultaneously embracing and resisting their similarities, Pete Fromm's "As Cool As I Am "reveals both women's emotional vulnerabilities and their deep need for each other. Conveyed through dialogue that is both laugh-aloud funny and true, Lucy's character will stand out in the canon of contemporary literature for her large heart and inimitable grit.
Praise For As Cool as I Am…
"One of the more startling, beautiful, and evocative tales of young womanhood."—Ron Franscell, San Francisco Chronicle

"Pete Fromm is one of America's best-kept literary secrets."—Thom Jones

"Deceptively simple and so artfully constructed it takes you someplace far deeper than you expected....A novel of great drive and soul."—Carlo Wolff, Milwaukee Journal Sentinel

"This novel packs an emotional punch that sneaks up from behind….Fromm creates an engrossing coming-of-age saga that cuts to the essence and shines."—The Seattle Times
"I used to think no one was cooler than me, until I read As Cool As I Am by Pete Fromm. I was humbled to mere mediocrity after meeting 14-year-old Lucy Diamond, a girl torn between growing up and hanging on to simpler days, when her breasts were nonexistent and her hormones hibernating. Over two years, we watch her conquer unknown territory—boys, love and sex—all the while dealing with a mom who's regressing to her teen years and a dad whose absences wreak emotional havoc on the family. Lucy's not cool in the sense that she wears all the right clothes; she's cool because she bravely faces hardships with honesty and aplomb. What could be cooler than that?"—Elle Girl

"This well-written and moving novel explores with sympathy and grace the sexual coming-of-age of a young woman who—as spunky and brave and foolish and foolhardy as she is—will remind some people of…Scout Finch in Harper Lee's To Kill a Mockingbird."—Nancy Pearl on KUOW Public Radio's "The Beat"

"[As Cool As I Am] is more than just a convincing portrait of a precocious Great Falls teen, all of it delivered in Lucy's first-person voice over two eventful years. Fromm's characters and imagery are so vivid that the book teems with life. Lucy, with her sharp wit and defiant buzz cut, seems like a fully formed character from the novel's first pages, like a real girl who tripped and fell into Fromm's typewriter."—Katie Millbauer, Seattle Weekly

"Fromm's story is infused with cold, isolated settings and lonely, dysfunctional families. Lucy's first-person narrative burns a scary, painful trail through it all."—The Oregonian

"Spirited and sharply intelligent....All the characters come alive, their stiletto tongues alternately wounding and caressing....The emotions Fromm plumbs are painfully, poignantly real."—Publishers Weekly

"Nicely drawn characters and [a] sharp bitter edge."—Kirkus Reviews

"It feels kind of ridiculous to shove Pete Fromm into the dreaded category of overlooked writers. Fromm has won the Pacific Northwest Booksellers Award an unprecedented four times....Altogether, he's published eight books....Yet, outside of the Northwest Passage and his home state of Montana, he's not a household name....[As Cool As I Am] provides a vivid portrait of the confusion and longing of a teenager. Fromm has hit his novelistic stride; here's hoping that he'll find a wider audience soon."—Readerville.com
"As Cool As I Am takes me back to growing up in north-central Montana and the time warp that is Great Falls. I've walked around those neighborhoods, and I knew those kids, Lucy and Kenny. Screwed up, bored, rebellious, and full of hormones. Pete just flat out nails it. Montana's great Teenage Wasteland."—Jeff Ament, Pearl Jam

"As Cool As I Am is a story so rich and deep and real that it lingers like a memory long after the last page is turned. Pete Fromm has an amazing gift for creating characters we think we know.  You'll not soon forget Lucy, the proud, tough Hi-Line teen who speaks this story. Her voice is haunting, her story is, by turns, starkly painful and outrageously funny. Weeks after finishing this book, I find myself thinking of her, wishing her well."—Judy Blunt, author of Breaking Clean
"Pete Fromm writes with such quiet power, such honest authority, that by the end of this novel I felt I had experienced something inevitable, true and absolutely rare—something like an eclipse. I felt altered. As though I might never witness it again."—Mark Spragg, author of
The Fruit of Stone
Picador USA, 9781250045577, 388pp.
Publication Date: June 18, 2013
About the Author
Pete Fromm's fiction and nonfiction have won the Pacific Northwest Booksellers Association's Book of the Year award an impressive four times. His past works include Night Swimming, How All This Started, and Indian Creek Chronicles. He has also published more than 100 short stories, and is on the faculty of Pacific University's MFA writing program. He lives in Montana with his wife and two sons.
or
Not Currently Available for Direct Purchase