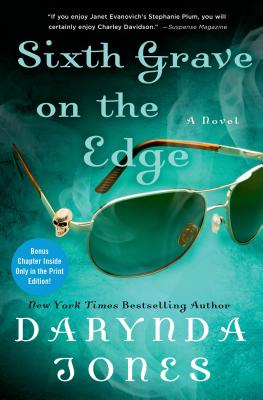 Sixth Grave on the Edge (Hardcover)
St. Martin's Press, 9781250045638, 326pp.
Publication Date: May 20, 2014
Description
"Sometimes I wrestle my demons. Sometimes we just snuggle. "Bumper Sticker
Most girls might think twice before getting engaged to someone like Reyes Farrow but Charley Davidson is not most girls. She's a paranormal private eye and grim reaper-in-training who's known to be a bit of a hell-raiser, especially after a few shots of caffeine. Her beloved Reyes may be the only begotten son of evil, but he's dark and sultry and deeply sexy and everything Charley could hope for. Really. But when the FBI file on Reyes' childhood happens to land into her lap, she can't help herself: She opens it...and then the real fun begins. First, Charley finds a naked corpse riding shotgun in her car. Then, a man loses his soul in a card game. Throw in a Deaf boy who sees dead people, a woman running from mobsters, and a very suspicious Reyes, and things can't get any worse for Charley. Unless, of course, the Twelve Beasts of Hell are unleashed
"Sixth Grave on the Edge" is the sixth Charley Davidson novel from bestselling author Darynda Jones.
About the Author
New York Times and USA Today bestselling author Darynda Jones won a Golden Heart and a RITA for her manuscript First Grave on the Right. A born storyteller, she grew up spinning tales of dashing damsels and heroes in distress for any unfortunate soul who happened by, annoying man and beast alike. Darynda lives in the Land of Enchantment, also known as New Mexico, with her husband and two beautiful sons, the Mighty, Mighty Jones Boys.
Praise For Sixth Grave on the Edge…
Praise for the Grave!
"Sexy, sassy…Jones's characters, both living and dead, are colorful and endearing." —The Associated Press on First Grave on the Right
"Jones makes a truly memorable debut with her unique tale that is sexy, mysterious, and sarcastically fun!"—RT Books Reviews on First Grave on the Right
 "Charley is an all-around badass…will leave readers eager for her next installment." —Publishers Weekly (starred review) on Second Grave on the Left
"Jones perfectly balances humor and suspense." —Publishers Weekly (starred review) on Second Grave on the Left

"Wickedly witty."—Booklist (starred review) on Third Grave Dead Ahead
"Charlie continues to fascinate." –Booklist on Third Grave Dead Ahead
"The fourth entry in Darynda Jones's wildly popular Charley Davidson series is every bit as solidly successful as the first. In fact, this might be the best yet. Fourth Grave Beneath My Feet continues to blend paranormal, romance, and mystery better than any other contemporary work out there." —Heroes and Heartbreakers on Fourth Grave Beneath My Feet

"Jones has hit on the perfect recipe for a wisecracking, wickedly funny romp that is edged with truly chilling danger…sexy and mysterious."—RT Book Reviews on Fifth Grave Past the Light 
Advertisement