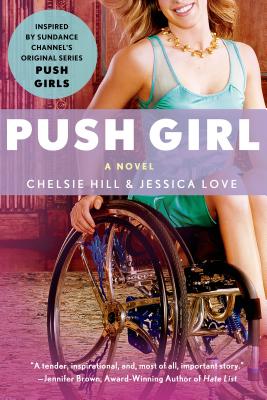 Push Girl
A Novel
Hardcover

* Individual store prices may vary.
Description
An inspiring, real, and fresh young adult novel about how life can change in an instant by Chelsie Hill, one of the stars Sundance Channel's series "Push Girls."

Kara is a high school junior who's loving life. She's popular, has a great group of friends and an amazing boyfriend, and she's a shoe-in for homecoming queen. Even though her parents can't stop fighting and her ex-boyfriend can't seem to leave her alone, Kara won't let anything get in the way of her perfect year. It's Friday night, and Kara arrives at a party, upset after hearing her parents having another one of their awful fights, and sees another girl with her hands all over her boyfriend. Furious, Kara leaves to take a drive, and, as she's crossing an intersection, a car comes out of nowhere and slams into the driver's side of Kara's car.

When Kara wakes up, she has no memory of the night before. Where is she? Why are her parents crying? And, most importantly -- why can't she feel her legs? As Kara is forced to adjust to her new life as a paralyzed teen, where her friends aren't who they seemed to be and her once-adoring boyfriend is mysteriously absent, she starts to realize that what matters in life isn't what happens to you -- it's the choices you make and the people you love.

Co-written by "Push Girls" star Chelsie Hill, whose real life inspired Kara's experience, this uplifting novel takes young readers from tragedy to triumph with an unforgettable and unique heroine.
Praise For Push Girl: A Novel…
"A light, ultimately upbeat look at life after spinal cord injury." —Kirkus Reviews

"A tender, inspirational, and, most of all, important story about courage and adversity and never losing sight of who you are." —Jennifer Brown, author of Hate List

"Push Girl's Kara doesn't want to be an inspiration, but she (and author Chelsie Hill) are exactly that in this honest, feisty, and painfully real story of one girl's adjustment to life on two wheels." —Deb Caletti, National Book Award finalist and author of The Queen of Everything

"Push Girl is more than a survival story; it's about the power of turning pain and anger into hope and inspiration. Filled with heart and humor, it's an unforgettable, moving read." —Tamara Ireland Stone, author of Time Between Us

"A compelling journey into Kara's unforeseen, life-altering event and a revealing look at society's various reactions to the physically challenged. It's a story of love, desire and regret, tragedy, loss and triumph, of those who stand with you through the darkness and others who can't, or simply won't. Kara's journey to build a new normal is a wrenching but ultimately triumphant one of strength, determination and heart. Go, Kara!" —Laura Weiss, author of Such a Pretty Girl
St. Martin's Griffin, 9781250045911, 240pp.
Publication Date: June 3, 2014
About the Author
A lifelong dancer, CHELSIE HILL was a popular high school senior when she was a passenger in a drunk driving accident that left her paralyzed from the waist down. Three months later, Chelsie returned to school and graduated. With her father Jon, she went on to establish The Walk and Roll Foundation, a nonprofit organization to aid people with spinal cord injuries. Chelsie is also one of the founding members of the Team Hotwheelz wheelchair dance team.

JESSICA PATRICK runs a high school library by day, writes YA romance by night, and pets as many dogs as possible in between. She lives in Southern California with her cute family and she has an MFA from Spalding University, an annual passport to Disneyland, and about 75 tabs open on her internet browser. She is the author of This is for Tonight.