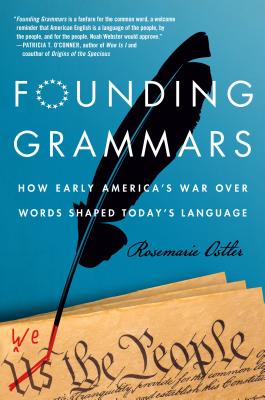 Founding Grammars
How Early America's War Over Words Shaped Today's Language
Hardcover

* Individual store prices may vary.
Description
Who decided not to split infinitives? With whom should we take issue if in fact, we wish to boldly write what no grammarian hath writ before?
In Founding Grammars, Rosemarie Ostler delves into the roots of our grammar obsession to answer these questions and many more. Standard grammar and accurate spelling are widely considered hallmarks of a good education, but their exact definitions are much more contentious - capable of inciting a full-blown grammar war at the splice of a comma, battles readily visible in the media and online in the comments of blogs and chat rooms. With an accessible and enthusiastic journalistic approach, Ostler considers these grammatical shibboleths, tracing current debates back to America's earliest days, an era when most families owned only two books - the Bible and a grammar primer. Along the way, she investigates colorful historical characters on both sides of the grammar debate in her efforts to unmask the origins of contemporary speech. Linguistic founding fathers like Noah Webster, Tory expatriate Lindley Murray, and post-Civil War literary critic Richard Grant White, all play a featured role in creating the rules we've come to use, and occasionally discard, throughout the years. Founding Grammars is for curious readers who want to know where grammar rules have come from, where they've been, and where they might go next.
Praise For Founding Grammars: How Early America's War Over Words Shaped Today's Language…
"Ostler brings the 'war of grammar' up to the present. Lively and revealing discussion of a battle that seems likely to continue as long as English is spoken." —Kirkus Reviews
"[A] remarkable history." —Booklist
"Fans of Lynne Truss...or anyone with an interest in language history will find this a worthy addition to the grammar conversation." —Library Journal
"In the late nineteenth century there were people who would have given you grief at a dinner party for using barbarous and illegitimate words such as JEOPARDIZE, PRACTITIONER and GUBERNATORIAL. If you wonder why, Rosemarie Ostler's book tells you, while showing that grammar-pusses have been with us for centuries now while English has kept on keeping on." —John McWhorter, author of The Power of Babel, Our Magnificent Bastard Tongue, and What Language Is
"Founding Grammars is a fanfare for the common word, a welcome reminder that American English is a language of the people, by the people, and for the people. Noah Webster would approve." —Patricia T. O'Conner, author of Woe Is I and coauthor of Origins of the Specious
"Why do we say 'according to Webster,' or 'according to Strunk and White,' and what exactly does that mean? Why do so many of us cling to outmoded rules while so many others dismiss or ignore them altogether? Rosemarie Ostler's well-researched and entertaining exploration of who once called the shots in American usage, and why, offers valuable insights into how the disputed territory of the so-called language wars has changed--and how it has not--since Noah Webster declared the independence of American English in 1789." —Charles Harrington Elster, author of Word Workout and The Accidents of Style
St. Martin's Press, 9781250046123, 320pp.
Publication Date: May 12, 2015
About the Author
Rosemarie Ostler, a linguist and former librarian, enjoys delving into the rich record of American usage and word invention. Her books about slang and word origins explore the colorful turns of phrase in America's past lexicon. Ostler's language, research, and style articles have appeared in The Saturday Evening Post, Whole Earth, Christian Science Monitor, Verbatim, Writer's Digest, and Entrepreneur.com among others. Rosemarie lives in Eugene, Oregon.
or
Not Currently Available for Direct Purchase