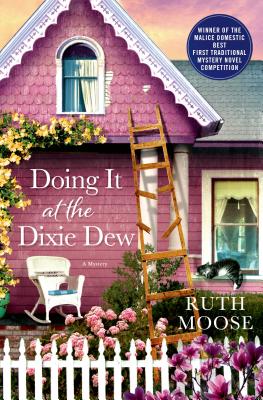 Doing It at the Dixie Dew (Hardcover)
A Mystery (A Beth McKenzie Mystery #1)
Minotaur Books, 9781250046383, 256pp.
Publication Date: May 6, 2014
Other Editions of This Title:
Hardcover, Large Print (11/1/2014)
* Individual store prices may vary.
Description
Who says you can't go home again?

When Beth McKenzie returns to her hometown and attempts to turn an old Southern mansion into a bed and breakfast called The Dixie Dew, her first guest is murdered. Three days later a young priest who looks better in tennis whites than cleric black is found strangled in his chapel. The whole town of Littleboro is turned upside down, inside out, and Ossie Delbardo, the town cop whose job heretofore mainly involved controlling football traffic on Friday nights, is not cut out to solve the murders. Beth fears her newly opened B&B is in danger of failing. She's even more worried that she is Ossie's number one suspect. Aided by her friend from high school and trusty handyman, she sets out to discover the truth of the murders.
Littleboro has its share of characters, some of which are helpful and others misleading. There's Crazy Reba who lives in a tree, bathes in any bathtub she finds empty, and Dumpster dives; Verna, the town know-it-all and affectionate owner of Robert Redford, a huge white rabbit; and Miss Tempie Merritt, music teacher and organist who always wears hat, gloves, and lace-trimmed white socks. When Beth herself is attacked, there's no more time for baking muffins and stenciling pineapples on the porch. She's in a race to uncover her neighbors' secrets before her hometown becomes her burial ground.
Ruth Moose's Doing It at the Dixie Dew is a charming and delightful debut.
About the Author
RUTH MOOSE is the 2013 winner of the Minotaur Books/Malice Domestic Competition. She won the PEN Award for Syndicated Fiction, the Robert Ruark Award for the Short Story, and the Sam Ragan Fine Arts Award. She has received 3 Pushcart nominations and a National Endowment of the Arts Fellowship. She's published three collections of short stories and six collections of poetry, and is the author of Doing It at the Dixie Dew. She was on the Creative Writing faculty at UNC Chapel Hill for fifteen years. Moose lives in Pittsboro, North Carolina.
Praise For Doing It at the Dixie Dew: A Mystery (A Beth McKenzie Mystery #1)…
"Moose's delightful first cozy, winner of the Malice Domestic Competition for Best First Traditional Mystery Novel, stars Beth McKenzie, who returns to her hometown of Littleboro, N.C., to open the Dixie Dew Bed and Breakfast…Little old ladies in gloves and hats, financial shenanigans, a large rabbit, and the fishbowl life of a small town add to the fun." —Publishers Weekly
"Quirky characters, the beginnings of a romance, and the southern setting add to a story that will appeal to fans of Mary Daheim's Bed-and-Breakfast mysteries and Sarah Graves' Home Repair Is Homicide series." —Booklist
"Littleboro [is] a place so rich in personality that it becomes a character in its own right. Moose, who grew up in Stanly County and lives in Pittsboro, knows small-town North Carolina. It's a pleasure to spend time at the Dixie Dew with her." —Greensboro News and Record
"Doing It at the Dixie Dew is filled with genuine Southern charm without a y'all in sight. Littleboro, North Carolina, abounds with eccentric characters, and author Ruth Moose certainly knows how to pepper her gumbo with them…Doing It at the Dixie Dew should appeal to readers of Sarah Graves' Home Repair Is Homicide series as well as Mary Daheim's Bed-and-Breakfast series. Ruth Moose's book won the Malice Domestic Competition for Best First Traditional Mystery, and I can see why. I enjoyed it so much that I'm hoping to see Beth McKenzie and her friends again-- as well as wanting to keep an eye on the progress of transforming the Dixie Dew." —Kittling Books
"What a great stocking stuffer a little murder, mystery, and mayhem make… This book is sugar and spice." —Chatham County
"Welcome to the Dixie Dew where the mysterious Miss Lavinia Lovingood meets her unfortunate end in a small Southern town peopled with zany–and I might add, suspicious–characters. I felt right at home there, although I did look over my shoulder during the whole delightful visit. A cuddle-up-by-the-fire kind of book. Put on the kettle!" —Mignon F. Ballard, author of Miss Dimple Picks A Peck Of Trouble
"I loved it! So much fun to read--Ruth Moose has fashioned a fast-paced romp through small town society... mayhem and maybe even murder lurk behind those frilly lace curtains at the Dixie Dew B&B. This entertaining novel is just as rich and delicious as innkeeper Beth McKenzie's lemon crème cake." —Lee Smith, The New York Times bestselling author of The Last Girls
"Ruth Moose never lets action hesitate in this novel of mystery, manners, food, and more. It will hold you until way past lights out--you just might read until breakfast." —Clyde Edgerton, bestselling author of The Floatplane Notebooks
"As deliciously Southern as pecan pie, Doing It at the Dixie Dew is a dazzling and delightful debut mystery." —Carolyn Hart, national bestselling author of Death at the Door
"Ruth Moose's debut novel is a winner. Moose expertly intertwines old secrets, colorful indiscretions and murder into an elegantly written mystery that will delight every cozy fan." —Sarah R. Shaber, author of the Professor Simon Shaw mysteries and editor of Tar Heel Dead