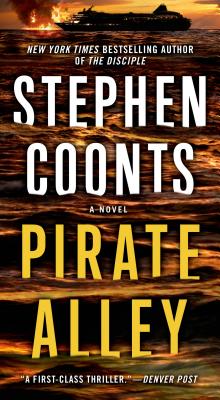 Pirate Alley (Mass Market Paperbound)
St. Martin's Press, 9781250046413, 470pp.
Publication Date: February 25, 2014
* Individual store prices may vary.
or
Not Currently Available for Direct Purchase
Description
" A] Swashbuckling Thriller Coonts takes us on a heck of a good ride." "Kirkus Reviews"
In "Pirate Alley," a luxurious vacation cruise to the exotic locales of the Red Sea and the Gulf of Aden turns into a nightmare for passengers and crew when their ship is suddenly attacked and captured by a band of bloodthirsty Somali pirates. An initial rescue mission ends in failure and the decks are covered in blood. Unless they are paid a ransom of $200 million within seven days, the pirates threaten to execute all their hostages. But information gleaned from a captured Al Qaeda operative indicates that there is a far more dangerous conspiracy afoot.
"Coonts details this ship hijacking and take-down as if he has firsthand experience "with" the SEAL Teams." Howard Wasdin, author of "Seal Team Six"
Once the ransom is paid, Islamic militants intend to swoop in and slaughter the passengers in an orgy of terror, hoping to provoke a massive American military response that will set the Muslim world aflame. Jake Grafton is assigned to negotiate with the brutal pirate chief while his right-hand man, Tommy Carmellini, and a team of CIA and Navy SEAL operatives mount an undercover operation not only to save the hostages, but to keep the United States from being maneuvered into a murderous war
"A stomach-clenching nail-biter that will leave readers exhausted and satisfied." "Publishers Weekly.
About the Author
STEPHEN COONTS is the author of many New York Times bestselling books that have been translated and published around the world. His books include The Disciple, The Assassin, and the Deep Black and Saucers series, among many other bestsellers. A former naval aviator and Vietnam combat veteran, he is a graduate of West Virginia University and the University of Colorado School of Law. He lives in Colorado.
Praise For Pirate Alley…
PRAISE FOR STEPHEN COONTS AND HIS NOVELS
PIRATE ALLEY
"A first-class thriller."—Denver Post
"Swashbuckling…Thriller lovers will enjoy this one for its fast pace, colorful locale, and satisfying conclusion…Coonts takes us on a heck of a good ride."—Kirkus Reviews
"A stomach-clenching nail-biter that will leave readers exhausted and satisfied."—Publishers Weekly
"[With] a plot that's ripped straight out of the news…this is one for your must-read list."—Sunday Gazette-Mail
"Coonts details this ship hijacking and take-down as if he has firsthand experience with the SEAL Teams."—Howard Wasdin, author of Seal Team Six
"A realistic and frightening multilayered story...[that will] change the way you view pirates, cruise ships, and Washington forever."—Jim DeFelice, bestselling author of American Sniper and The Helios Conspiracy
"Coonts is a masterful storyteller—and Pirate Alley his most chilling thriller yet."—W.E.B. Griffin and William E. Butterworth IV, bestselling authors of Empire and Honor and The Last Witness
"Pirate Alley is full-steam-ahead, action-packed, chaotic, and final—but with black- cladded Navy SEALs in the mix, the fight is anything but fair."—Dalton Fury, New York Times bestselling author of Kill Bin Laden
"Fast-moving, scary, and realistic...Starting with a bang, it then gets even better. Steve gives us real pirates, not Johnny Depp with eye shadow."—Larry Bond, New York Times bestselling author of Exit Plan
"One hell of a read! A tale of modern-day swashbucklers whose leader is the most ruthless pirate since Blackbeard."—David Hagberg, author of Abyss
"Filled with the courage and smarts of Stephen Coonts's SEAL Team heroes."—Former Defense Secretary William Cohen
"The one-sit-read champion of the season, Stephen Coonts's Pirate Alley races through a maritime terrorist attack in the Gulf of Aden, creating a vivid cast of heroes, victims, and villains."—Stephen Hunter, New York Times bestselling author of I, Sniper
THE DISCIPLE
"Coonts carefully builds his plot using a wide cast of characters, from insider Iranian spies to cutting-edge aircraft pilots and government officials both high and low. Hardly a page passes without nerve-stretching tension or flat-out action. One can only hope the U.S. president, the head of the CIA, and the Israeli prime minister will have this book on their nightstands for easy reference in case fiction turns to reality, an all-too-real possibility as evidenced by recent headlines." —Publishers Weekly (starred review)
THE ASSASSIN
"Exciting…. The action moves swiftly to its Hollywood ending." —Publishers Weekly
"Tommy has been the star of the last two Grafton books, and in The Assassin he matures and develops into a complex and compelling character that should provide Coonts with many new and refreshing plot opportunities…An abundance of intrigue and betrayals…This is the best thriller that Coonts has written in some time. However, all recent books featuring Carmellini are superb." —The Roanoke Times (Virginia)
"This book has more twists and turns than an old staircase…Coonts remains the master of the great techno-thriller."—James Myers, The Entertainment Critic Book Review
THE TRAITOR
"An assured international thriller."—Publishers Weekly
 "The prevailing spook mode shifts from cloak to dagger, and suddenly the guys they thought were watching their backs are aiming at them."—Kirkus Reviews
"The Traitor contains layer upon layer of deceit and deception…plenty of fistfights and explosions…. Coonts's trademark excitement keep[s] the pages turning to the book's ultimate conclusion."—Bookreporter.com
LIARS AND THIEVES
"This book is vintage Coonts...plenty of action and intrigue, with the added benefit of a new lead character."—Dallas Morning News
"Coonts knows how to write and build suspense…this is the mark of a natural storyteller."—The New York Times Book Review
 "Former Grafton sidekick Tommy Carmellini, ex-burglar and CIA operative, has been promoted to star in what's sure to be another excellent, long-lived series…Tommy is smart, brave, skilled, and possessed of enough self-deprecating, wise-cracking wit to endear him to readers…readers of the Jake Grafton series will easily make the leap to Tommy Carmellini, and new readers can be expected to sign up for this hipper hero."—Publishers Weekly (starred review)
"Tommy is a self-deprecating and wise-cracking narrator who brings a welcome energy to the genre. And fans will be pleased to see a now retired Jake Grafton and his wife, Callie, make an appearance."—Library Journal
"Readers who have not previously treated themselves to a Coonts thriller should definitely pick up this one."—Bookreporter.com
"Fast-paced…reminiscent of Carl Hiaasen or even the master himself, Elmore Leonard."
—Hintonnews.net
LIBERTY
"Gripping…Coonts's naval background and his legal education bring considerable authority to the story, and the narrative is loaded with detailed information about terrorist networks, modern weaponry, and international intrigue…the action is slam-bang"—Publishers Weekly
"An action-packed thriller…[a] high-octane tale."—Midwest Book Review
"Frighteningly realistic."—Maxim Magazine
AMERICA
 "This master of the techno-thriller spins a bone-chilling worst-case scenario…[Coonts] rivals Clancy for fiction-as-realism and Cussler for spirited action…[He] never lets up with heart-racing jet/missile combat, suspenseful submarine maneuvers, and doomsday scenarios that feel only too real."—Publishers Weekly (starred review)
"Coonts's action and the techno-talk are as gripping as ever."—Kirkus Reviews
"Give a hearty 'welcome back' to Admiral. Jake Grafton….Thrilling roller-coaster action."—The Philadelphia Inquirer
HONG KONG
"High octane….[Coonts] skillfully captures the postmodern flavor of Hong Kong, where a cell phone is as apt as an AK-47 to be a revolutionary weapon."—USA Today
"The author gives us superior suspense with a great cast of made-up characters…But the best thing about this book is Coonts's scenario for turning China into a democracy."—Liz Smith, The New York Post
CUBA
"Enough Tomahawk missiles, stealth bombers, and staccato action to satisfy [Coonts's] most demanding fans."—USA Today
"Dramatic, diverting action…Coonts delivers!"—Booklist
FORTUNES OF WAR
"[Coonts is] a natural storyteller [with] a rare gift….Fortunes of War is crammed with action, suspense, and characters with more than the usual one dimension found in these books."—USA Today
"Steve Coonts is a masterful storyteller—and PIRATE ALLEY his most chilling thriller yet. Never will you see the duplicity of world politics—let alone cruise ships and Somali bandits—in the same light again." —W.E.B. Griffin & William E. Butterworth IV, bestselling authors of EMPIRE AND HONOR and THE LAST WITNESS
"Start with a band of ruthless Somali pirates in a story that has too often shown up on the front pages of the New York Times, add Jake Grafton and Tommy Carmellini, plus a heavy dose of SEALs on the hunt, and Stephen Coonts's new novel PRIATE ALLEY is one hell of a read!  A tale of modern day swashbucklers whose leader is the most ruthless pirate since Blackbeard makes for a book you simply cannot put down.  Hats off to Steve for another rip roaring story." —David Hagberg, author of Abyss
"A great, realistic read that could mirror current events.  Coonts details this ship high-jacking and take-down as if he has first hand experience WITH the SEAL Teams.  After reading this, you will want to postpone that cruise that goes anywhere near the Horn of Africa." —Howard Wadsin, author of Seal Team Six 
"Stephen Coonts takes another master turn with Pirate Alley. . . . Coonts weaves a realistic and frightening multi-layered story. . . . The buildup and final denouement will cost more than a few readers a good night's sleep—and change the way you view pirates, cruise ships and Washington forever." —Jim DeFelice, best-selling author of American Sniper and The Helios Conspiracy
"Start Pirate Alley at your peril and then plan for a long night. You won't be able to put it down....Filled with the courage and smarts of Stephen Coonts' SEAL Team heroes. —Former Defense Secretary William Cohen
Advertisement