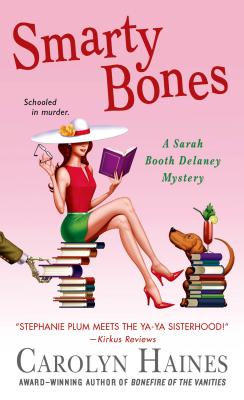 Smarty Bones (Sarah Booth Delaney Mysteries) (Mass Market Paperbound)
Minotaur Books, 9781250046604, 356pp.
Publication Date: April 29, 2014
* Individual store prices may vary.
or
Not Currently Available for Direct Purchase
Description
Too much knowledge can be deadly for P.I. Sarah Booth Delaney in her latest undertaking in Smarty Bones, the thirteenth novel in Carolyn Haines's award-winning mystery series.
Professor Olive Twist has come to Zinnia, Mississippi, to study a mysterious grave wherein lies the Lady in Red, an anonymous but perfectly preserved and stunningly beautiful body. Since the discovery of the grave in 1969, Mississippi schoolchildren have been making up colorful stories about the Lady in Red's identity and past, but no one has come any closer to learning the truth. Now, Olive claims she can not only identify the corpse, she can also prove the woman's scandalous role in the nation's history. Olive takes it a step too far, though, when she starts connecting elite Zinnia families with the same scandal.
"Delightfully fun."--New York Post
Dander up, Zinnia's society ladies know only one way to handle Olive: they call on the private investigative services of Sarah Booth Delaney. But the truth behind Olive's research is clear as Mississippi mud, and when Sarah Booth discovers a present-day dead body, she knows there's more than just family pride and Southern heritage at stake. If she can't find the murderer, and fast, it might just be Sarah Booth's life on the line next.
"If you enjoy mysteries with rich Southern settings, fascinating history, and quirky characters, you'll devour this one quicker than a plate full of buttermilk biscuits."--Mystery Scene magazine
About the Author
Carolyn Haines is the author of thirteen Sarah Booth Delaney mysteries. She is the recipient of both the Harper Lee Distinguished Writing Award and the Richard Wright Award for Literary Excellence. Born and raised in Mississippi, she now lives in Alabama on a farm with more dogs, cats, and horses than she can possibly keep track of.
Praise For Smarty Bones (Sarah Booth Delaney Mysteries)…
Praise for Carolyn Haines and
the Sarah Booth Delaney mysteries
Smarty Bones
"Raucously entertaining. This entire series is filled with mystery, humor, and more than a touch of the romantic South…not to be missed."—
Criminal Element
"If you enjoy mysteries with rich Southern settings, fascinating history, and quirky characters, you'll devour this one quicker than a plate full of buttermilk biscuits."—
Mystery Scene Magazinep
"The South's answer to a feminine Sherlock Holmes, the marvelous and smart Sarah Booth Delaney is on the trial of another fun and fascinating mystery."—
Fresh Fiction
"A satisfying mystery framed by a well-drawn small-town Southern setting."—Booklist
 Bonefire of the Vanities
"Delightfully fun."—New York Post
"Wildly entertaining."—Criminal Element
"This is the twelfth entry in the series featuring the spunky Sara Booth Delaney. For loyal followers or new fans, Bonefire is a happy romp filled with colorful characters."—Houston Press
 "We have to admit being hooked by the title, but even urbane Tom Wolfe would get a kick out of this delightfully fun twelfth installment of Haines's Southern mystery series." —New York Post
"An entertaining romp with enough twists to hold interest to the end." —Booklist
Bones of a Feather
"A lesson in lying, Mississippi style…Haines diverts the reader…with great dollops of charm."—Kirkus Reviews
"Entertaining…Sarah and Tinkie must strive to thwart a plot of brilliantly diabolical proportions."—Publishers Weekly
"Sarah Booth Delaney has a funny way of ending up in extremely strange situations…a perfectly written mystery with a cast that is humorous, charming and deadly. Haines certainly is one of the best mystery writers working today."—RT Book Reviews
"Excellent…a strong whodunit…The superb Mississippi Delta mystery is a terrific thriller." —Harriet Klausner
Bone Appetit
"Distinctive characters and a clever cooking background make Haines's tenth Sarah Booth Delaney mystery the best yet in this Southern cozy series." —Publishers Weekly (starred review)
"A whole lot of Southern sass…Haines's novel is definitely a page-turner." —Jackson Free Press
Greedy Bones
"The cast is in fine form (including the helpful ghost, Jitty), and it's good to be back in Mississippi…One of the more entertaining episodes in the series."—Booklist

"Captivating—readers will enjoy Greedy Bones from cranium to phalanges."—Don Noble, Alabama Public Radio
"Jitty, Dahlia House's wonderfully wise 'haint,' [is] one of the best features of this light paranormal mystery series infused with Southern charm."—Publishers Weekly

"Never undone by a ghostly spirit, a handsome movie star, or even the oddball small town Southern folks most of us will easily recognize, Delaney is at her best when unraveling multiple puzzles. Ramp up the excitement and tension, add the often chuckle-out-loud humor, and they add up to one of the best of the Sarah Booth Delaney mysteries."—Delta Magazine
"As usual in Haines' 'Bones' series, the latest entry is charming light entertainment; a few serious notes about biological terror and family ties add interesting depth."—Times-Picayune
"An excellent 5-star read."—Armchair Reviews
Wishbones
"Funny, ingenious...and delightful."—Dallas Morning News
"Wishbones is reminiscent in many ways of Janet Evanovich's Stephanie Plum novels, only fresher with a bit more of an edge... Light, breezy, and just plain fun. Call Haines the queen of cozies."—Providence Journal-Bulletin
"Stephanie Plum meets the Ya-Ya Sisterhood! Non-Southerners will find the madcap adventure an informative peek into an alien culture."—Kirkus Reviews
"Sarah Booth Delaney heads for Hollywood in Haines's entertaining eighth cozy…The chemistry sizzles between Graf and Sarah Booth."—Publishers Weekly
"Haines' warmth, wit, and authenticity come through in her characters…Wishbones is a story about the bonds of friendship and the strength of Southern women and is also a good, old-fashioned, fast-moving whodunit."—Mobile Register

"Haines' writing style is reminiscent of our beloved Anne George…tongue-in-cheek, clever Southern mysteries."—Birmingham News
Advertisement