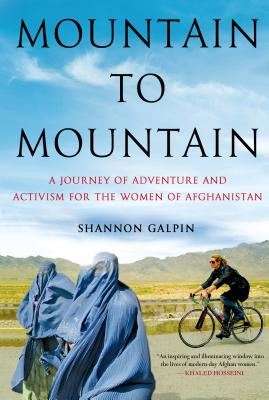 Mountain to Mountain
A Journey of Adventure and Activism for the Women of Afghanistan
Hardcover

* Individual store prices may vary.
Other Editions of This Title:
Digital Audiobook (9/15/2014)
Paperback (12/15/2015)
MP3 CD (9/16/2014)
Compact Disc (9/16/2014)
Hardcover, Large Print (1/28/2015)
Description
Being inspired to act can take many forms. For some it's taking a weekend to volunteer, but for Shannon Galpin, it meant leaving her career, selling her house, launching a nonprofit and committing her life to advancing education and opportunity for women and girls. Focusing on the war-torn country of Afghanistan, Galpin and her organization, Mountain2Mountain, have touched the lives of hundreds of men, women and children. As if launching a nonprofit wasn't enough, in 2009 Galpin became the first woman to ride a mountain bike in Afghanistan. Now she's using that initial bike ride to gain awareness around the country, encouraging people to use their bikes "as a vehicle for social change and justice to support a country where women don't have the right to ride a bike."
In Mountain to Mountain, her lyric and honest memoir, Galpin describes her first forays into fundraising, her deep desire to help women and girls halfway across the world, her love for adventure and sports, and her own inspiration to be so much more than just another rape victim. During her numerous trips to Afghanistan, Shannon reaches out to politicians and journalists as well as everyday Afghans — teachers, prison inmates, mothers, daughters — to cross a cultural divide and find common ground. She narrates harrowing encounters, exhilarating bike rides, humorous episodes, and the heartbreak inherent in a country that is still recovering from decades of war and occupation.
Praise For Mountain to Mountain: A Journey of Adventure and Activism for the Women of Afghanistan…
"Shannon Galpin's lovely cycling saga is an inspiring and illuminating window into the lives of modern day Afghan women and their continuing struggle to ride their own path to freedom, recognition, and equality." —Khaled Hosseini, New York Times bestselling author of The Kite Runner and And The Mountains Echoed
"Mountain to Mountain reads like one of Shannon Galpin's bike rides, fast-paced and unpredictable. It traces her intimate journey as a survivor and her travels across a rugged terrain, in the process bringing alive a vital and poignant message: Equality for Afghan women means more than just voting rights or access to parliament--it means having the same basic freedoms as men." —Anand Gopal, author of No Good Men Among the Living
"She sweeps you in, right from the beginning. And there is no exit. Shannon makes Afghanistan come alive on a personal level that no news story can ever replicate. I biked with her up mountains, hung out with her colleagues, visited schools, and constantly connected with real people, both local and foreign. The most passionate pages take place in women's prisons, where the women are jailed for 'adultery'...because they were raped. The most poignant, heart-pumping pages are when Shannon shares her own deepest darkest secret! This book is a winner....and so is Shannon." —Rita Golden Gelman, author of Tales of a Female Nomad: Living at Large in the World
"Shannon is as brave as they come. For almost a decade she has battled the odds to empower Afghanistan's dispossessed and disabled populations. Now, at a time when women's rights are again under attack across South Asia, she provides a poignant story of how education and sport can overcome Taliban attacks and social neglect. Inspiring as only a real doer can be." —Parag Khanna, Senior Fellow, New America Foundation, and author of The Second World: Empires and Influence in the New Global Order
"Read this touching story from Shannon Galpin, who utilizes her unique position as a western woman to immerse herself in Afghan culture. She had the courage to leave everything behind and use the bike to as a tool to lead a physical and political movement -- a way towards freedom for the women of Afghanistan." —Marianne Vos, champion road bicycle racer and Olympic Gold medalist
"Mountain to Mountain is nothing short of phenomenal. This captivating, inspiring and heart-warming memoir shows us all that, with unbounded and unwavering passion, determination and courage, change can happen and mountains can be moved, one pedal stroke at a time. Shannon Galpin, and the women of Afghanistan, I salute you and your illimitable strength. " —Chrissie Wellington MBE, four-time Ironman World Champion
"Full of vivid anecdotes, the narrative is most enjoyable when recounting the author's chronicles of her travel and interactions with Afghans…her respect and love for the Afghan people is apparent, as are her nerve and determination to help those in need…an inspiring personal story of an American mountain biker finding her vocation as an international activist." —Kirkus Reviews
"Readers seeking inspiration on how they can make a difference in the world will find it here…combined with a bit of luck, humor, and the strength to find a way to make dreams--yours and others--begin to come true." —Booklist
St. Martin's Press, 9781250046642, 320pp.
Publication Date: September 16, 2014
About the Author
SHANNON GALPIN is the founder and president of Mountain2Mountain, a nonprofit organization focused on helping women and children in Afghanistan. Her humanitarian efforts have been profiled on Dateline NBC, The New York Times, Outside Magazine, National Geographic Explorer, USA Today , CNN, MountainFlyer Magazine, and Women's Adventure Magazine.
or
Not Currently Available for Direct Purchase