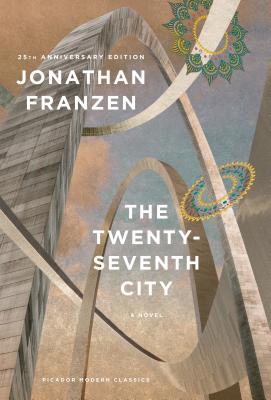 The Twenty-Seventh City
A Novel (Picador Modern Classics)
Paperback

* Individual store prices may vary.
Other Editions of This Title:
Paperback (9/21/2021)
Paperback (9/8/2001)
MP3 CD (1/7/2014)
MP3 CD (8/25/2015)
Paperback (4/1/1997)
MP3 CD (1/7/2014)
Compact Disc (1/7/2014)
Compact Disc (1/7/2014)
Description
The debut novel of New York Times bestselling author Jonathan Franzen, The Twenty-Seventh City is "a startling, scathing first novel about American ambition, power, politics, money, corruption and apathy" (People).

St. Louis, Missouri, is a quietly dying river city until it hires a new police chief: a charismatic young woman from Bombay, India, named S. Jammu. No sooner has Jammu been installed, though, than the city's leading citizens become embroiled in an all-pervasive political conspiracy. A classic of contemporary fiction, The Twenty-Seventh City shows us an ordinary metropolis turned inside out, the American Dream unraveling into terror and dark comedy.

"Unsettling and visionary…A book of memorable characters, surprising situations, and provocative ideas."—The Washington Post

"An imaginative and riveting examination of our flawed society…A rare blend of entertainment and profound social commentary."—Chicago Sun-Times
Praise For The Twenty-Seventh City: A Novel (Picador Modern Classics)…
"A suspense story with the elements of a complex, multilayered psychological novel...Lingers in the mind long after more conventional potboilers have bubbled away." —The New York Times Book Review

"A novel so imaginatively and expansively of our times that it seems ahead of them." —Richard Eder, Los Angeles Times
Picador Modern Classics, 9781250046703, 544pp.
Publication Date: November 5, 2013
About the Author
Philip Weinstein is the Alexander Griswold Cummins Professor of English at Swarthmore College, USA. The recipient of several NEH Fellowships and an ACLS Fellowship, and past President of the Faulkner Society, Weinstein has written books that range from James to Faulkner and Morrison (in American literature), and from Dickens through Joyce (in British literature). These include Faulkner's Subject: A Cosmos No One Owns (1992), What Else But Love? The Ordeal of Race in Faulkner and Morrison (1996), Unknowing: The Work of Modernist Fiction (2005). Weinstein's Becoming Faulkner (2010) was the recipient of the Hugh Holman Award for the best book written on Southern Literature. He is also the editor of The Cambridge Companion to William Faulkner (1995).

Jonathan Franzen is the author of novels such as The Corrections (2001), Freedom (2010), and Crossroads (2021), and works of nonfiction, including Farther Away (2012) and The End of the End of the Earth (2018), all published by Farrar, Straus and Giroux. He lives in Santa Cruz, California.