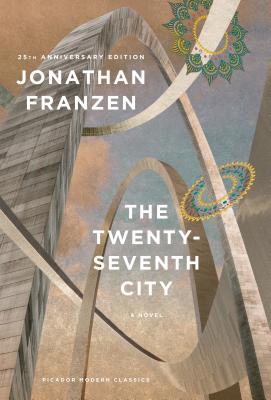 The Twenty-Seventh City (Paperback)
Picador USA, 9781250046703, 517pp.
Publication Date: November 5, 2013
Description
25th Anniversary Edition
Picador Modern Classics
Published in 1988, Jonathan Franzen's "The Twenty-Seventh City" is the debut novel of a writer who would come to define our times.
St. Louis, Missouri, is a quietly dying river city until it hires a new police chief: a charismatic young woman from Bombay, India, named S. Jammu. No sooner has Jammu been installed, though, than the city's leading citizens become embroiled in an all-pervasive political conspiracy. Set in mid-1980s, "The Twenty-Seventh City" predicts every unsettling shift in American life for the next two decades: suburban malaise, surveillance culture, domestic terrorism, paranoia. A classic of contemporary fiction, "The Twenty-Seventh City" shows us an ordinary metropolis turned inside out, and the American Dream unraveling into terror and dark comedy.
About the Author
Jonathan Franzen is the author of four novels, including Freedom, the National Book Award-winning The Corrections, and Strong Motion; a personal history, The Discomfort Zone; two collections of essays, Farther Away and How to Be Alone; and translations of Frank Wedekind's Spring Awakening and Karl Kraus's essays titled The Kraus Project. He lives in New York City and Santa Cruz, California.
Praise For The Twenty-Seventh City…
"A suspense story with the elements of a complex, multilayered psychological novel...Lingers in the mind long after more conventional potboilers have bubbled away."—The New York Times Book Review

"A novel so imaginatively and expansively of our times that it seems ahead of them."—Richard Eder, Los Angeles Times
Advertisement