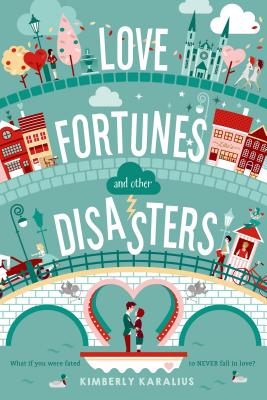 Love Fortunes and Other Disasters (Paperback)
Swoon Reads, 9781250047205, 368pp.
Publication Date: May 12, 2015
Description
This whimsical, fairy tale of a novel stars fascinating, quirky characters, a dash of magical realism, and a unique setting sure to charm the hearts of readers young and old.
Love is real in the town of Grimbaud and Fallon Dupree has dreamed of attending high school there for years. After all, generations of Duprees have successfully followed the (100% accurate ) love fortunes from Zita's famous Love Charms Shop to happily marry their high school sweethearts. It's a tradition. So she is both stunned and devastated when her fortune states that she will NEVER find love.
Fortunately, Fallon isn't the only student with a terrible love fortune, and a rebellion is brewing. Fallon is determined to take control of her own fate--even if it means working with a notorious heartbreaker like Sebastian.
Will Fallon and Sebastian be able to overthrow Zita's tyranny and fall in love?
Debut author Kimberly Karalius delivers a delightfully charming story of love and rebellion in Love Fortunes and Other Disasters, chosen by readers like you for Macmillan's young adult imprint Swoon Reads.
Praise for Love Fortunes and Other Disasters:
"An unusual love story that will delight readers."--School Library Journal
"Utterly charming. Love Fortunes and Other Disasters is the kind of book you sit down and read and are immediately swept away into a realistic magical world where love charms usually work, the small shops contain hidden secrets and Love is on everyone's mind every day. I am infatuated." --The Windy Pages
"Definitely one of my favorites of the year. I am now a walking, talking heart-eye emoji after reading this book." --Catherine Tinker, reader on SwoonReads.com
"Kim's work is full of magic, wonder, adventure and excitement." --MochiManiac, reader on SwoonReads.com
"The writing is delicious, and the plot clever and new. The story rings true, consistent and soundly set in the realm of magical-realism. Definitely swoonworthy " --Janelle, reader on SwoonReads.com
About the Author
Kimberly Karalius holds an MFA in fiction from the University of South Florida, and has been sharing stories on Figment.com with a strong following of enthusiastic readers since the site's conception. Although Kimberly lives in sunny Florida, she prefers to stay indoors and sometimes buys a scarf in the hopes of snow. She loves watching really old cartoons and silent films. Being in Florida certainly has one big perk: going to Disney World. Which she does. Frequently. Love Fortunes and Other Disasters is her debut novel.
Advertisement