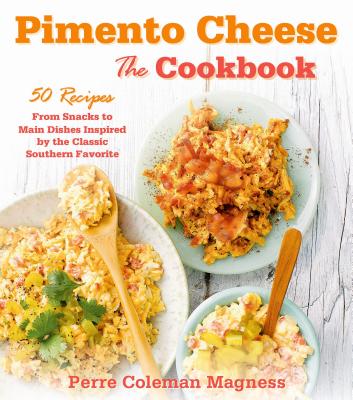 Pimento Cheese
The Cookbook: 50 Recipes from Snacks to Main Dishes Inspired by the Classic Southern Favorite
Hardcover

* Individual store prices may vary.
Description
~A 2015 SIBA Book Award Finalist!~
No party, picnic, or tailgate is complete without the southern favorite that is taking the north by storm--pimento cheese. Now, the creator of popular blog The Runaway Spoon has written the definitive work on the joys of making and cooking with pimento cheese--and not just the kind you spread on crackers. You'll find recipes for spicing up the basic, no-frills version, but also recipes that incorporate those brilliant flavors into dishes for every time of day. With over 50 recipes and full color photographs throughout you can start with a breakfast of Pimento Cheese Popovers stuffed with scrambled eggs, or plan a nice brunch served with Pimento Cheese Waffles with Pimento Syrup and Bacon. Invite the neighbors over for Pimento Shrimp and Cheddar Grits or Cheddar Gnudi with Pimento Romesco. And serve it all with some Pimento Cheese Green Beans on the side. Authoritative, creative, and amusing, and peppered with anecdotes and lots of useful hints and tips, Pimento Cheese explores the myriad ways to prepare this humble--and essential--Southern staple.
Praise For Pimento Cheese: The Cookbook: 50 Recipes from Snacks to Main Dishes Inspired by the Classic Southern Favorite…
"From ridiculously decadent snacks like pigs in pimento cheese blankets and bacon-pimento cheese truffles to absolute no-brainer mains like pimento shrimp and grits, the recipes for this Southern staple are easy to follow, simple, and delicious. But even more than the recipes, it's Magness' entertaining and sometimes downright hilarious voice that makes the book great.... Magness kept me reading from cover-to-cover." —Saveur (a Book Worth Buying for September 2014)
"Southerners have always known that pimento cheese is one of the true joys of human existence. Now, Perre Coleman Magness spreads the love by giving the stuff its own bible. You'll want to make every incarnation in the book, from Comeback Pimento Cheese to the Creole and Green Chile versions, but Magness incorporates 'PC' into pretty much everything: stuffed eggs, pot pie, a yummy sauce for fried green tomatoes. After poring over every recipe, all I could think was, 'Why didn't I think of that?' We should all be grateful that the enterprising Ms. Magness did." —Julia Reed, author of But Mama Always Put Vodka in Her Sangria and Ham Biscuits, Hostess Gowns and Other Southern Specialties
"With its mouthwatering photographs and unique yet simple recipes, Pimento Cheese: The Cookbook is sure to become the last word for all fans of this delicious Southern treat." —Nathalie Dupree, author of Mastering the Art of Southern Cooking and PBS, Food Network, and TLC cooking show host
St. Martin's Griffin, 9781250047298, 144pp.
Publication Date: September 9, 2014
About the Author
Perre Coleman Magness is the cook and writer behind the website The Runaway Spoon, which focuses on creative recipes with a Southern slant. Perre Coleman has studied food and cooking around the world, mostly by eating, but also through serious study in London, Morocco, Thailand, and Mexico. But her kitchen of choice is at home in Memphis, Tennessee, cooking like most people, experimenting with unique but practical ideas.
or
Not Currently Available for Direct Purchase