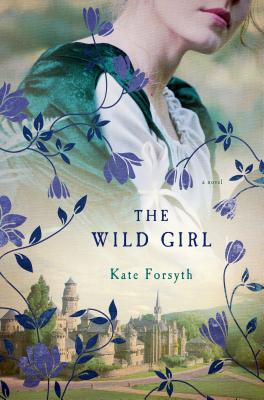 The Wild Girl (Hardcover)
A Novel
Thomas Dunne Books, 9781250047540, 496pp.
Publication Date: July 7, 2015
Other Editions of This Title:
Digital Audiobook (7/6/2015)
Pre-Recorded Audio Player (7/7/2015)
Paperback (2/20/2014)
* Individual store prices may vary.
Description
One of six sisters, Dortchen Wild lives in the small German kingdom of Hesse-Cassel in the early 19th century. She finds herself irresistibly drawn to the boy next door, the handsome but very poor fairy tale scholar Wilhelm Grimm. It is a time of tyranny and terror. Napoleon Bonaparte wants to conquer all of Europe, and Hesse-Cassel is one of the first kingdoms to fall. Forced to live under oppressive French rule, Wilhelm and his brothers quietly rebel by preserving old half-forgotten tales that had once been told by the firesides of houses grand and small over the land.
As Dortchen tells Wilhelm some of the most powerful and compelling stories in what will one day become his and Jacob's famous fairy tale collection, their love blossoms. But Dortchen's father will not give his consent for them to marry and war, death, and poverty also conspire to keep the lovers apart. Yet Dortchen is determined to find a way.
Evocative and richly-detailed, Kate Forsyth's The Wild Girl masterfully captures one young woman's enduring faith in love and the power of storytelling.
About the Author
KATE FORSYTH is the bestselling and award-winning author of more than twenty books, ranging from picture books to poetry to novels for both children and adults, including The Heart of Stars, The Forbidden Land, The Pool of Two Moons, and The Witches of Eileanan. She is the only author to win five Aurealis Awards in a single year and was recently voted one of Australia's Favourite 25 Novelists. Her books have been published in 14 countries. She recently received her doctorate in fairytale retellings at the University of Technology in Sydney. She lives in Sydney, Australia.
Praise For The Wild Girl: A Novel…
"A beautiful and often heartbreaking love story that is sure to move and captivate readers." —Booklist (starred review)
"A beautiful love story... In the bleak pages of history, Forsyth finds a story of enduring love and artistic integrity-her retelling is a fairy tale in itself." —Kirkus Reviews
"Storytelling is at the heart of the narrative... This intriguing look at a little-known historical figure has definite appeal for fairy-tale aficionados." —Library Journal
"History and fairy tale are richly entwined in this spellbinding story. Unputdownable!" —Juliet Marillier, author of Daughter in the Forest
"Like a fairytale, The Wild Girl gives us an explosive and evocative set of truths set within a deceptively simple and delicately written story." —The Newtown Review of Books
"Kate Forsyth is a storyteller whose books are spun out of magic and folklore. In all her stories there are princesses and wild forests, imagined terrors and real darkness, escapes to be made and arms to fall into. She is the ultimate giver of dreams, taking a fairytale and turning it around to provide even more possibilities." —Readings (AU)
"I wholeheartedly recommend The Wild Girl by Kate Forsyth ... her prose is effortless to read and her tales ultimately uplifting." —Booklover Book Reviews (AU)
"Against an intricately-crafted tapestry of early nineteenth-century German daily life and tumultuous, tragic historical events, the story of star-crossed lovers Dortchen Wild and Wilhelm Grimm unfolds with a kind of dreamy, haunting precision." —Sophie Masson, author of Moonshine and Ashes
"Voted as the Most Memorable Love Story by Australian voters in books of 2013 on TheReadingRoom." —TheReadingRoom
"Wonderful. Whether you love fairy tales or historical fiction or romance, there is something for you" —January Magazine
"This book captivated me from the very first scene. An historical novel with a lot of heart which will appeal to lovers of Austen and the Brontes as well as those in love with Kate Morton and Philippa Gregory." —John Purcell, Booktopia
"History and fairy tale are richly entwined in this spellbinding story. Unputdownable!" —Juliet Marillier, author of Daughter in the Forest
"Like a fairytale, The Wild Girl gives us an explosive and evocative set of truths set within a deceptively simple and delicately written story." —The Newtown Review of Books
"Kate Forsyth is a storyteller whose books are spun out of magic and folklore. In all her stories there are princesses and wild forests, imagined terrors and real darkness, escapes to be made and arms to fall into. She is the ultimate giver of dreams, taking a fairytale and turning it around to provide even more possibilities." —Readings (AU)
"I wholeheartedly recommend THE WILD GIRL by Kate Forsyth ... her prose is effortless to read and her tales ultimately uplifting." —Booklover Book Reviews (AU)
"Against an intricately-crafted tapestry of early nineteenth-century German daily life and tumultuous, tragic historical events, the story of star-crossed lovers Dortchen Wild and Wilhelm Grimm unfolds with a kind of dreamy, haunting precision." —Sophie Masson, author of Moonshine and Ashes
"[A] richly imagined tale of the girl who gave the Grimm brothers some of their best stories … Ultimately, this novel inhabits the ground between Philippa Gregory and Hilary Mantel. It is both entertaining and serious-minded, but it has about it too that little touch of magic that makes Kate Forsyth's voice so distinctive, so uniquely Kate. An absolute pleasure to read." —Kim Wilkins, author of Angel of Ruin
"THE WILD GIRL is in turns beautiful, deeply disturbing, evocative and of course, like any good fairy story romance, features a signature happy ending." —InkAshling
"Forsyth's skill as a storyteller makes the narrative a pleasure to read through, a joy of immersive reading." —The Bookonaut
"I recommend THE WILD GIRL for fans of fairy tales and fantasy primarily, but also to historical fiction reader and those interested in the early 1800s and the way life was lived then. Lovers of bittersweet romance will also enjoy the book." —Storybook Perfect
"An absolutely beautiful and much recommended read." —Stephanie Gunn
"Kate Forsyth's 'The Wild Girl' is a remarkable tale that beautifully blends fact and fiction. It is a sweeping historical romance that will appeal to both adults and young adults, as it reminds us the power of storytelling and loving, even in the hardest of times." —Alpha Reader
"This story is not just for historical and romantic fiction readers – those who love fairy tales will also find plenty to fascinate them here. It's certainly one of my favourite reads so far this year!" —The Oaken Bookcase
"Whether you love fairy tales or historical fiction or romance, there is something for you in The Wild Girl." —The Great Raven