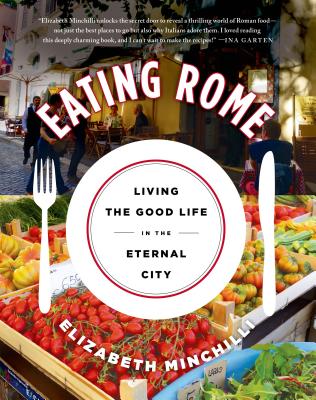 Eating Rome
Living the Good Life in the Eternal City
Paperback

* Individual store prices may vary.
Description
Elizabeth Minchilli has been eating her way through Rome since she was 12 years old. Eating Rome, based on her popular blog Elizabeth Minchilli in Rome, is her homage to the city that feeds her, literally and figuratively. Her story is a personal, quirky and deliciously entertaining look at some of the city's monuments to food culture. Join her as she takes you on a stroll through her favorite open air markets; stop by the best gelato shops; order plates full of carbonara and finish the day with a brilliant red Negroni. Coffee, pizza, artichokes and grappa are starting points for mouth-watering stories about this ancient city. Illustrated with Minchilli's beautiful full-color photos and enriched with her favorite recipes for Roman classics like vignarola, carciofi alla romana and carbonara, Eating Rome is the book that you want if you are planning your first trip to Rome or if you have been to Rome a dozen times. And even if you just want to spend a few hours armchair traveling, Elizabeth Minchilli is the person you want by your side.
Praise For Eating Rome: Living the Good Life in the Eternal City…
"Elizabeth Minchilli unlocks the secret door to reveal a thrilling world of Roman food - not just the best places to go but also why Italians adore them. I loved reading this deeply charming book and I can't wait to make the recipes!" —Ina Garten
"A truly insider's culinary guide to Rome, Elizabeth Minchilli takes us into the trattorias, caffès, pizzerias, and gelaterias of Rome. Each time I've been to the city, I've turned to Elizabeth for advice and have never been steered wrong. In Eating Rome, she generously shares all she loves about this delicious city, including recipes and favorite addresses, with everyone, and makes me hungry to go back. In fact, after reading these pages, if you're anything like me, you'll be ready to book a flight to Rome - pronto!" —David Lebovitz, author of My Paris Kitchen
"Minchilli's passion for food and Rome has produced a charming personal culinary itinerary and guidebook" —Publishers Weekly
"One of the 8 Travel Memoirs that Will Inspire You to See the World in 2015" —PeterGreenberg.com
"If planning to dine in Rome or cook like a Roman, this is the book for you." —Library Journal
"Eating Rome is geared to enhance the Roman eating experience through an appreciation of its conventions... Eating Rome is not cultural anthropology: It's a collection of predigested insights that speaks to the bourgeois American traveling in bourgeois Rome. If you fit that demographic (and most of us vacationing in Europe do), then you'll find this book a handy navigator whether in Rome for two days or two months, and a delicious gift for someone who is embarking on a trip to Italy, especially if it is their first." —The Wall Street Journal
St. Martin's Griffin, 9781250047687, 256pp.
Publication Date: April 7, 2015
About the Author
Elizabeth Minchilli is the author of numerous books on the joys of Italian life. She has written for over 40 magazines and today shares her passion for Italy through her blog, her best-selling apps, and her tour company. She divides her time between a rooftop apartment in Rome and a restored farmhouse in Umbria, with her husband, Domenico.