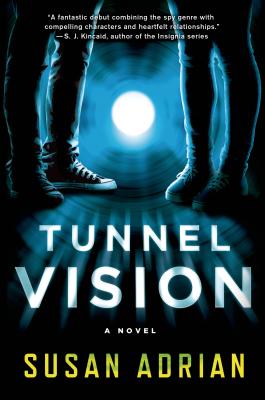 Tunnel Vision
A Novel
Hardcover

* Individual store prices may vary.
Description
Romance and action come crashing together in Susan Adrian's Tunnel Vision in which a teenage boy with incredible powers is brought to the attention of the government.

Jake Lukin just turned 18. He's decent at tennis and Halo, and waiting to hear on his app to Stanford. But he's also being followed by a creep with a gun, and there's a DARPA agent waiting in his bedroom. His secret is blown.

When Jake holds a personal object, like a pet rock or a ring, he has the ability to "tunnel" into the owner. He can sense where they are, like a human GPS, and can see, hear, and feel what they do. It's an ability the government would do anything to possess: a perfect surveillance unit who could locate fugitives, spies, or terrorists with a single touch.

Jake promised his dad he'd never tell anyone about his ability. But his dad died two years ago, and Jake slipped. If he doesn't agree to help the government, his mother and sister may be in danger. Suddenly he's juggling high school, tennis tryouts, flirting with Rachel Watkins, and work as a government asset, complete with 24-hour bodyguards.

Forced to lie to his friends and family, and then to choose whether to give up everything for their safety, Jake hopes the good he's doing—finding kidnap victims and hostages, and tracking down terrorists—is worth it. But he starts to suspect the good guys may not be so good after all. With Rachel's help, Jake has to try to escape both good guys and bad guys and find a way to live his own life instead of tunneling through others.
Praise For Tunnel Vision: A Novel…
"Tunnel Vision is a high-impact, fast-paced spy novel that explores the ever-present governmental conflict of questionable acts justifying the greater good." —VOYA

"Readers who have a fondness for thrillers and spy novels are going to thoroughly enjoy this well-crafted and exciting debut title. The plot is full of surprising twists and it is interesting to see how Jake copes with his changing circumstances." —lookingglassreview.com

"Adrian has crafted a tension-packed spy novel about a likable teen with a special power and his equally likable family and friends. Twists of plot, kids outsmarting the bad guys, and a relatively low-tech but fascinating superpower ratchet up the action to a bizarre conclusion that begs a sequel. With a grandfather that would make Richard Peck or Joan Bauer proud, and government goons, male and female, who morph between good and evil with a single look or comment, this is a must-read." —Booklist

"This YA novel is a heart-racing thriller set at full throttle from the opening page, and it never decelerates. Fans of Cory Doctorow and Anthony Horowitz will consume this title with a passion and will excitedly anticipate a sequel." —School Library Journal

"Debut author Adrian offers a refreshing spin on the suspenseful spy novel with brisk scenes, adrenaline-fueled cliffhangers, and a sympathetic protagonist. There is much to savor in this thriller." —Publishers Weekly

"Danger, intrigue, a dash of romance, and a good, hard look at ethical dilemmas--a pretty complete package." —Kirkus Reviews

"Thrilling, emotional, and fast-paced, Tunnel Vision proves once again the responsibility and difficult choices that ride alongside special powers. Jake's secret talent will grab you and suck you in right from the beginning." —Julie Cross, international bestselling author of Tempest

"Tunnel Vision is a fantastic debut combining the spy genre with compelling characters, heartfelt relationships, and the struggles of a teen boy in way over his head. This is an exciting story that kept me guessing all the way to the end!" —S.J. Kincaid, author of the Insignia series

"An exciting mix of thriller, espionage and super powers, Tunnel Vision is sure to please even the most reluctant reader. Jake will quickly grab a place in your heart as you turn each page with anticipation." —Lish McBride, author of Hold Me Closer, Necromancer

"Very compelling and un-put-downable; a terrific story!" —Patricia Briggs, New York Times bestselling author of Bone Crossed
St. Martin's Griffin, 9781250047922, 320pp.
Publication Date: January 20, 2015
About the Author
SUSAN ADRIAN is a 4th-generation Californian who somehow stumbled into living in Montana. As a child she danced in a ballet company and read plays dramatically to blackberry bushes. Later she got a degree in English from the University of California Davis and worked in the fields of exotic pet-sitting, clothes-schlepping, and bookstore management. She's settled in, mostly, as a scientific editor. When she's not hanging out with her husband and daughter, she keeps busy researching spy stuff, learning Russian, travelling, and writing more books.
or
Not Currently Available for Direct Purchase