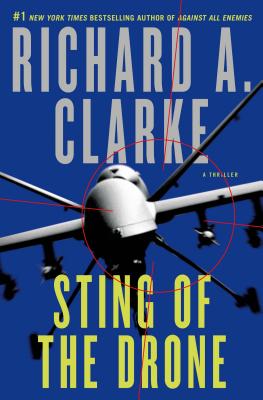 Sting of the Drone
A Novel
Hardcover

* Individual store prices may vary.
Other Editions of This Title:
Digital Audiobook (5/12/2014)
Mass Market (5/5/2015)
Hardcover, Large Print (6/18/2014)
CD-Audio (5/13/2014)
Description
In Washington, D.C., the Kill Committee gathers in the White House's Situation Room to pick the next targets for the United States drone program. At an airbase just outside Las Vegas, a team of pilots, military personnel, and intelligence officers follow through on the committee's orders, finding the men who have been deemed a threat to national security and sentenced to death.
Meanwhile, on the other side of the world, in the mountains where the drones hunt their prey, someone has decided to fight back. And not just against the unmanned planes that circle their skies, but against the Americans at home who control them.
In Sting of the Drone, bestselling author Richard A. Clarke draws on his decades-long experience at the very highest levels of national security to craft a thrilling novel that has the feel of nonfiction, taking us behind closed doors to meet the men and women who protect America--and those who seek to do us harm.
Praise For Sting of the Drone: A Novel…
"On rare occasions a thriller comes along that turns out to be prophecy: Sting of the Drone is one of them. This rip-snorting thriller may be the best unclassified peek you will ever get on the new high-tech offensive in the war against terrorism. A seminal, prophetic, troubling must-read." —Stephen Coonts
"This one smacks so much of reality you'll swear it's real. Written in a deft hand, by a man who knows what he's talking about, the take-no-prisoners plot serves up a banquet of high drama, action, and adventure. A great read." —Steve Berry
"It's rare a novel is written ahead of the headlines, but the plot of Sting of the Drone is just that book. If you've wondered what it's like to be inside the U.S. Predator drone program, your wait is over. Prepare for your hand to take hold of the joy stick, your heart to lodge firmly in your throat. Tom Clancy takes to the air. Put this book on your radar." —RIDLEY PEARSON
"What Tom Clancy did for submarines, Richard A. Clarke does for drones. Fascinating and frightening, Sting of the Drone moves as fast as the new kind of warfare that it depicts, with authentic details that only someone with the author's impressive insider credentials could know. This first-rate thriller . . . a cross between a techno-thriller and a docu-thriller, ought to be required reading for anyone who wants to know the current status of the battle against terrorism." —DAVID MORRELL
"Sting of the Drone is a riveting page-turner that goes deep into the complex world of those who hunt with, and are hunted by, military drones. Rich with detail and informed by his expertise in national security, Richard Clarke brings this hidden world to vivid life." —JEFF ABBOTT
"Clarke does a terrific job showcasing how the drone program works and revealing something about the men and women behind the scenes who use the machines." —Booklist
"Exciting and disturbing. … There may be no better person to write this story than Clarke, who brings his deep subject knowledge to the pages. … Well worth reading, both for its quality as a riveting tale and for the issues it exposes" —Kirkus Reviews
"Insider knowledge of politics paired with amazing state-of-the-art technical details fuels this realistic nonstop action thriller, the best yet from Clarke... [Clarke] has set the standard by which all such titles in this growing subgenre will be measured. " —Publishers Weekly (starred boxed review)
"Sting of the Drone explores a premise that members of the intelligence community have been kicking around for years: What would happen if the targets on the receiving end of a killer drone decided to strike back? … As you read Sting of the Drone you get the sense that it isn't fiction at all. Clarke has written a classic in the genre of what is known as insider fiction — a novel or, more often, a thriller inspired by real episodes to which government officials were privvy when they were working their day jobs. … Where Sting of the Drone stands above the rest, and what makes it important for those who have a tendency to shy away from this genre, is in its level of detail. … This is riveting reading." —The Washington Post
"Sting of the Drone is a jet-fueled race through a world where the sky itself can be your worst enemy." —Seattle Post-Intelligencer
Thomas Dunne Books, 9781250047977, 304pp.
Publication Date: May 13, 2014
About the Author
RICHARD A. CLARKE served for thirty years in the United States Government, including an unprecedented ten continuous years as a White House official, serving three consecutive Presidents. In the White House he was Special Assistant to the President for Global Affairs, Special Advisor to the President for Cyberspace, and National Coordinator for Security and Counter-terrorism.
Prior to his White House years, he served as a diplomat, including as Assistant Secretary of State and held other positions in the State Department and the Pentagon.
Since leaving government in 2003, Mr. Clarke has served as an on-air consultant for ABC News for ten years, taught at Harvard's Kennedy School of Government for five years, managed a consulting firm, chaired the Board of Governors of the Middle East Institute, and written six books, both fiction and non-fiction, including the national number one bestseller Against All Enemies and Cyber War: The Next Threat to National Security and What to Do About It.
Coverage from NPR
or
Not Currently Available for Direct Purchase