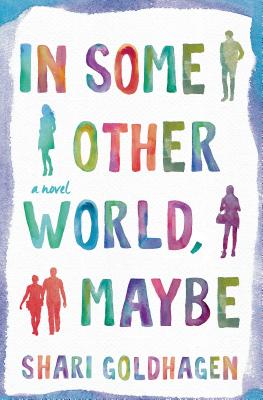 In Some Other World, Maybe (Hardcover)
A Novel
St. Martin's Press, 9781250047991, 288pp.
Publication Date: January 13, 2015
* Individual store prices may vary.
Description
In December 1992, three groups of teenagers head to the theater to see the movie version of the famed Eons & Empires comic books. For Adam it's a last ditch effort to connect with something (actually, someone, the girl he's had a crush on for years) in his sleepy Florida town before he leaves for good. Passionate fan Sharon skips school in Cincinnati so she can fully appreciate the flick without interruption from her vapid almost-friends-a seemingly silly indiscretion with shocking consequences. And in suburban Chicago, Phoebe and Ollie simply want to have a nice first date and maybe fool around in the dark, if everyone they know could just stop getting in the way.
Over the next two decades, these unforgettable characters criss-cross the globe, becoming entwined by friendship, sex, ambition, fame and tragedy. A razor-sharp, darkly comic page-turner, In Some Other World, Maybe sheds light on what it means to grow up in modern America.
About the Author
After serious pursuits of literature at Northwestern and Ohio State, SHARI GOLDHAGEN discovered she had a knack for sifting through celebrity trash and worked as a gossip writer for publications including The National Enquirer, Us Weekly, and Life & Style. And her articles on pop culture have appeared everywhere from Cosmopolitan to Penthouse. She has received fellowships from Yaddo and MacDowell and is the author of the widely-praised novel FAMILY AND OTHER ACCIDENTS.
Praise For In Some Other World, Maybe: A Novel…
"A fully self-possessed novelist, in command of large figurations, shrewd intelligence and wit, and a fine eye for the world and the American sentence." —Richard Ford
"In Some Other World, Maybe beguiled me so much during recent flights that I forgot I was in the air! Engaging, entertaining, saucy, and poignant, this ingenious six-degrees-of-separation novel is one you'll be so happy you read. So much fun." —Jenna Blum, New York Times bestselling author of Those Who Save Us and The Stormchasers
"In Some Other World, Maybe is a beautiful, haunting, insightful novel woven masterfully together. Goldhagen writes about the struggles of growing up, of relationships, of fame, celebrity and the merging of the inner and outer worlds in a narrative so bullet-train fast, it's nearly impossible to put down. And her characters are real and complex and subtly defined. How does Goldhagen juggle these many elements, while still managing to make the book as funny as she does? You'll just have to read it to find out. Because In Some Other World, Maybe is funny as hell--and deeply profound.." —Nic Sheff, New York Times bestselling author of Tweak and We All Fall Down
"Makes the glamorous seem strikingly familiar and the mundane sparkle with new possibility. Goldhagen spins a lyrical saga that finds an unusual balance between hip and wise, with unforgettable and utterly human characters at its heart. I will not soon shake this book." —Jillian Lauren, New York Times bestselling author of Some Girls and Pretty
"This is a wonderfully rich story of what might be and what might have been. Goldhagen writes with authority about show business and popular culture as she tells this ageless and all too human tale of the mistakes and the compromises that we all make for the sake of love. This book will entertain you, perhaps even titillate you, but above all it will touch your heart." —Lee Martin, author of The Bright Forever and finalist for the Pulitzer Prize
"Shari Goldhagen writes with a special, effortless kind of magic--her characters (even when they're movie stars) feel real: maddening and beguiling, funny and heartbreaking. This novel is a story about coincidence and connection, about lives spinning in and out of control over decades and across the globe, but it's also about people who seem like friends, people we desperately want--no matter how badly they screw up--to turn out all right." —Christopher Coake, author of You Came Back and We're in Trouble
"A sprawling novel about growing up and setting off on your own, about going to Hollywood but remembering your beginnings. Goldhagen has given us memorable and appealing characters, and their stories all moved me. By the last page, I felt like we had become friends. I already miss them." —Christine Sneed, author of Little Known Facts
"Shari Goldhagen brilliantly weaves together the lives of her characters into a tapestry that feels expertly crafted, and, at the same time, satisfyingly human and real. This is a gem of a book, the kind that I will savor long after reading." —Cristina Alger, author of The Darlings
"In Some Other World, Maybe is funny and deft and moving and sweet. It's tender then explosive, sexy then raw. Shari Goldhagen is a writer of force and intelligence, humor and warmth, heart and heartbreak, darkness and light, and this novel has it all." —Bill Roorbach, author of Life Among Giants
"In Some Other World, Maybe is nothing less than an exploration of our hearts, the surprising places they lead us, the ways they break and the infinite ways they can heal. And it is an absolute delight of a novel, spilling over with questions of fate and choice, and characters so richly drawn and sympathetic, that the loves and struggles of an interconnected group of men and women felt as real and as essential to me as my own. In Some Other World, Maybe hijacked my life and vaulted me completely into Shari Goldhagen's world." —Lauren Fox, author of Still Life with Husband and Friends Like Us
"Shari Goldhagen is one of those remarkable writers whose work simultaneously captivates the mind and captures the heart, and it's hard to know what to admire more in this beautifully written novel: the craftsmanship of the story--intricate and deliberate and finely formed as a well-made watch--or the messy, yearning, and wholly compelling characters who inhabit it. This is a book filled with people so flawed and funny and heart-achingly familiar that, upon finishing, I felt that I was parting ways with a group of close and precious friends--I loved this novel." —Aryn Kyle, international bestselling author of The God of Animals
"Witty and heartfelt" —Publishers Weekly
"Engaging story of four young people whose lives intersect at pivotal moments . . . How the four characters cross paths is one of the high points of this six-degrees-of-separation novel. A highly relatable cast is another hook as the four face down difficulties with humor and a good deal of heart." —Booklist
"Funny and honest and reflects well the oddities of modern America . . . Suburban kids who matured in the 1990s and 2000s will find much to identify with, and fans of Rainbow Rowell's adult novels will appreciate the realistic love stories. An original novel about how to let go of adolescent fantasies and make it to adulthood. " —Kirkus
"With one heck of a fine eye for the world, Goldhagen puts forth an engagingly original novel with real and complex characters that are flawed, funny and heart-achingly familiar." —Gulf Coast Times
"Get hooked as this trio's degree-of-separation drama puts your own post-grad ordeals to shame." —Cosmopolitan
"Starting with three sets of teens - in Chicago, Cincinnati, and a town in Florida - watching the same movie on the same day in 1992, Goldhagen orchestrates the intricate interweaving of their comings-of-age in the spirit of six degrees of separation. Watching them collectively stumble toward the present via a series of careers and partners movingly evokes the bittersweet truth that most of us don't end up where, or with whom, we were convinced we would." —Elle, Lettres 2015 Readers' Prize
"Pitch-perfect narrative . . . From New York to Macau, these braided histories are imparted via witty, engaging prose peppered with almost unbearable poignancy. Sure to resonate with fans of non-linear storytelling in the vein of Jennifer Egan's A Visit to the Goon Squad and Zadie Smith's NW, this title deserves a place on every library shelf. Superb." —Library Journal, starred review
"A compelling tale that leaves readers pondering what is and, had life taken another direction, what could have been." —BookPage
"If you're a reader who likes ensemble Hollywood films, then get ready . . . Hollywood beckons with its sparkly promises of fame and fortune.
" —Bella NYC
"Darkly funny, Shari Goldhagen's novel In Some Other World, Maybe spans two decades, exploring stories of love, friendship, fame, and growing up among a diverse cast of characters." —Pop Sugar
"One for the books: Four teens' lives intersect over 20 years in the coming-of-age comedy penned by former Us staffer." —Us Weekly
"Bittersweet and sharply funny." —In Touch
"Romantic, humorous, and heartbreaking." —Entertainment Weekly
"These unexpected connections between the characters make in In Some Other World, Maybe makes it a jigsaw puzzle of a novel, and it's great fun to discover who will fit in where. Yet the pain that so easily follows joy in the characters' lives also makes Goldhagen's story something that will stick with the reader long after 'Eons & Empires' finally goes off the air." —New York Daily News
"A smart commentary on a generation that grew up groomed for success and how they deal when forced to settle for less." —Red Eye Chicago
"So enjoyable to read" —Metro
or
Not Currently Available for Direct Purchase