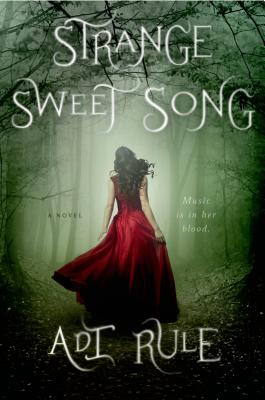 Strange Sweet Song
A Novel
Hardcover

* Individual store prices may vary.
Other Editions of This Title:
Paperback (3/3/2015)
Description
Outside Dunhammond Conservatory, there lies a dark forest. And in the forest, they say, lives a great beast called the Felix. But Sing da Navelli never put much faith in the rumors and myths surrounding the school; music flows in her blood, and she is there to sing for real. This prestigious academy will finally give her the chance to prove her worth—not as the daughter of world-renowned musicians—but as an artist and leading lady in her own right.
Yet despite her best efforts, there seems to be something missing from her voice. Her doubts about her own talent are underscored by the fact that she is cast as the understudy in the school's production of her favorite opera, Angelique. Angelique was written at Dunhammond, and the legend says that the composer was inspired by forest surrounding the school, a place steeped in history, magic, and danger. But was it all a figment of his imagination, or are the fantastic figures in the opera more than imaginary?
Sing must work with the mysterious Apprentice Nathan Daysmoor as her vocal coach, who is both her harshest critic and staunchest advocate. But Nathan has secrets of his own, secrets that are entwined with the myths and legends surrounding Dunhammond, and the great creature they say lives there.
Lyrical, gothic, and magical, Strange Sweet Song by Adi Rule will captivate and enchant readers.
Praise For Strange Sweet Song: A Novel…
"Boarding school drama and paranormal romance collide in this promising debut…Compelling." —Kirkus
"What really makes this book stand out, though, is the Gothic and slightly dark feel to it… I definitely recommend this!" —USA Today's "Happily Ever After" blog
"Music buffs will relate to Sing's passion and insecurities, and readers who enjoy a good melodrama will be captivated." —Bulletin for the Center of Children's Books
"Rule's promising writing hits the right note. There's an opening for a second book, and it has the potential to be as sweet and strange as the first." —Booklist
"A stunning debut, fresh, original, and utterly mesmerizing." —Jenna Black, author of the Faeriewalker series
"Like an enchanting melody, Strange Sweet Song slipped into my soul and colored my thoughts long after the final phrase." —Jodi Meadows, author of Incarnate
"A lushly woven melody of grief, arrogance, and hope. Beautifully written." —Jana Oliver, author of the Demon Trappers series
"Strange Sweet Song possesses a fairy tale quality that is irresistible. . . Be careful of looking up from the page, because the dark forest is all around, and creatures with frightening appetites and old associations are circling nearer. Adi Rule dazzles in her first novel. Read it and report back if you're still breathing!" —Joseph Monninger, award-winning author of Baby
"Strange Sweet Song is as musical as its name. Lush, compelling, and atmospheric, it soars like the voice of a soprano." —Sarah Beth Durst, award-winning author of Vessel
St. Martin's Griffin, 9781250048165, 336pp.
Publication Date: March 11, 2014
About the Author
ADI RULE grew up among cats, ducks, and writers. She studied music as an undergrad, and has an MFA from the Vermont College of Fine Arts. Adi is a member of, and has been a soloist for, the Tanglewood Festival Chorus, the chorus of the Boston Symphony Orchestra/Boston Pops. She lives in New Hampshire. Strange Sweet Song is her first novel.
or
Not Currently Available for Direct Purchase