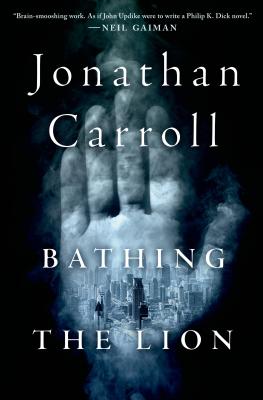 Bathing the Lion (Hardcover)
St. Martin's Press, 9781250048264, 288pp.
Publication Date: October 21, 2014
* Individual store prices may vary.
Description
In Jonathan Carroll's surreal masterpiece, "Bathing the Lion, " five people who live in the same New England town go to sleep one night and all share the same hyper-realistic dream. Some of these people know each other; some don't.
When they wake the next day all of them know what has happened. All five were at one time "mechanics," a kind of cosmic repairman whose job is to keep order in the universe and clean up the messes made both by sentient beings and the utterly fearsome yet inevitable Chaos that periodically rolls through, wreaking mayhem wherever it touches down a kind of infinitely powerful, merciless tornado. Because the job of a mechanic is grueling and exhausting, after a certain period all of them are retired and sent to different parts of the cosmos to live out their days as "civilians." Their memories are wiped clean and new identities are created for them that fit the places they go to live out their natural lives to the end.
For the first time all retired mechanics are being brought back to duty: Chaos has a new plan, and it's not looking good for mankind...
About the Author
JONATHAN CARROLL is the author of eighteen novels including THE LAND OF LOVE, WOODEN SEA, WHITE APPLES, and THE GHOST IN LOVE among others. He graduated cum laude from Rutgers University and studied for his Masters Degree at the University of Virginia while working as an English teacher. His love of teaching took him to the American International School in Vienna, Austria. Carroll currently writes and lives in Vienna.
Praise For Bathing the Lion…
"Jonathan Carroll's a writer whose power defies description and I've lavishly praised him as a hyperrealist, a fantasist, and Americas leading practitioner of magical realism—I don't know what all that means except that he is one hell of a writer. His work seems like a combination of the Grimm brothers seasoned with a dash of Calvino and Kafka, a pinch of Chabon and a bright banana leaf thrown into the mixture by Gabriel Garcia Marquez, yet he writes in a league of his own, comparable to no one writing today.  He's like a Rubicks cube without the colored tiles spinning out of control, trying to say the unsayable things. He's always excited me in the same way my new discovery George R. R. Martin does in his Game of Thrones.  Jonathan Carroll's new novel Bathing the Lion is the latest tower in his singular castle of fiction." —Pat Conroy
"Bathing the Lion is a departure for Jonathan Carroll: a work of surrealist world-building, which reminded me at times of both Philip K Dick and of Julio Cortazar. Carroll unpeels what it means to be human, and why something would pretend to be human in a book that is as exciting as it is thoughtful." - Neil Gaiman
or
Not Currently Available for Direct Purchase