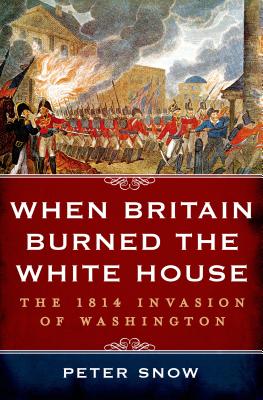 When Britain Burned the White House
The 1814 Invasion of Washington
Hardcover

* Individual store prices may vary.
Other Editions of This Title:
Hardcover, Large Print (1/1/2015)
Description
In August 1814, the United States army was defeated just outside Washington, D.C., by the world's greatest military power. President James Madison and his wife had just enough time to flee the White House before the British invaders entered. British troops stopped to feast on the meal still sitting on the Madisons' dining-room table before setting the White House on fire. The extent of the destruction was massive; finished in wood rather than marble, everything inside the mansion was combustible. Only the outer stone walls would withstand the fire.
The tide of the War of 1812 would quickly turn, however. Less than a month later, American troops would stand victorious at the Battle of Fort McHenry. Poet Francis Scott Key, struck by the sight of the American flag waving over Fort McHenry, jotted down the beginnings of a poem that would be set to music and become the U.S. national anthem, "The Star Spangled Banner."
In his compelling narrative style, Peter Snow recounts the fast-changing fortunes of that summer's extraordinary confrontations. Drawing from a wealth of material, including eyewitness accounts, Snow describes the colorful personalities on both sides of those spectacular events: including the beleaguered President James Madison and First Lady Dolley, American heroes such as Joshua Barney and Sam Smith, and flawed military leaders like Army Chief William Winder and War Secretary John Armstrong. On the British side, Snow re-creates the fiery Admiral George Cockburn, the cautious but immensely popular Major General Robert Ross, and sharp-eyed diarists James Scott and George Gleig.
When Britain Burned the White House highlights this unparalleled moment in British and American history, the courageous, successful defense of Fort McHenry and the American triumph that would follow, and America's and Britain's decision to never again fight each other.
Praise For When Britain Burned the White House: The 1814 Invasion of Washington…
"[An] excellent account…Snow, an experienced British journalist, has told the story of those engagements with brio and a fine gift for making sense of the complexities of battle… a fine example of serious and literate popular history… It ranks with Anthony S. Pitch's fine "The Burning of Washington" (2000) as among the best accounts of a war that hardly deserves to be forgotten." —Washington Post
"Snow's narrative is authoritative and absorbing, his profiles sure and compelling, his judgments considered and fair, and his documentation most impressive. Wonderful for 19th-century political, military, and diplomatic history; specialists in Anglo-American relations; general readers; and all libraries." —Library Journal, Starred Review
"Never before has this story been told more fully or more engagingly, with greater empathy for both sides, or with greater balance…Snow dug deeply into records and reminiscences and, especially for the British side, brought the combatants, simple and august, alive. The pace is brisk, the characterizations sure, the judgments done with a light touch. The book distinguishes itself by rounding off the story of Washington with the subsequent Baltimore attack--both part of the larger British Chesapeake campaign. For the story of that campaign, this is now the narrative to read." —Publishers Weekly
"With ample quotes from English letters and diaries, Snow ably brings out the humanity of his subjects." —Kirkus Reviews
"A well-done chronicle of an episode of the war that helped to shape the 'special relationship' between the U.S. and Britain." —Booklist
"Snow says 'the clarity, humanity and wit of British and American men and women who were there bring the story alive as if it had happened today.' He can take credit for bringing those attributes to the page." —Marine Corps Times
"Peter Snow's account of this extraordinary event in British-American relations reads like a military thriller, each chapter raising the tension with a mass of detail and a kaleidoscope of characters who transform this book from what could have been a dry, chronological account into a riveting romp. . . . Snow adds an extra ingredient--a boyish enthusiasm for his subject . . . a meticulous and fascinating account." —The Times (UK)
"Snow builds his account on the voices of those who fought and witnessed the campaign, from nervous U.S. militiamen to Ross, Cockburn, and Dolley Madison, the president's resourceful wife. Written with verve and insight, this is a fitting reminder of a remarkable interlude in a war that deserves to be better known." —BBC History Magazine
"The result is superb. When Britain Burned the White House is an exemplary work of history--lucid, witty, and humane, with terrific pace, and so evenhanded that it will surely be received as well in America as here." —The Spectator (UK)
Thomas Dunne Books, 9781250048288, 320pp.
Publication Date: August 19, 2014
About the Author
PETER SNOW is a highly respected journalist, author, and broadcaster. He was ITN's Diplomatic and Defence Correspondent form 1966 to 1979 and presented Newsnight from 1980 to 1997. An indispensable part of election nights, he has also covered military matters on and off the world's battlefields for forty years. Peter is married and has six children.