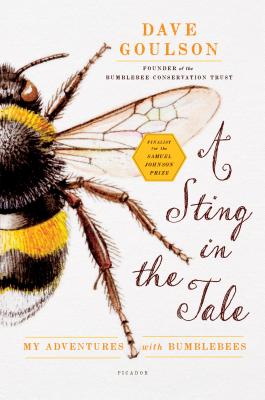 A Sting in the Tale (Hardcover)
My Adventures with Bumblebees
Picador, 9781250048370, 288pp.
Publication Date: April 29, 2014
Other Editions of This Title:
Paperback (4/28/2015)
* Individual store prices may vary.
Description
FOLLOWING IN THE FOOTSTEPS OF GREAT NATURE WRITERS SUCH AS E.O. WILSON AND CHARMING MEMOIRS LIKE GERALD DURRELL'S MY FAMILY AND OTHER ANIMALS, THIS FASCINATING BOOK WILL ALTER THE WAY WE THINK ABOUT BUMBLEBEES.
Dave Goulson became obsessed with wildlife as a small boy growing up in rural Shropshire, starting with an increasingly exotic menagerie of pets. When his interest turned to the anatomical, there were even some ill-fated experiments with taxidermy. But bees are where Goulson's true passion lies—the humble bumblebee in particular.
Once commonly found in the marshes of Kent, the English short-haired bumblebee went extinct in the United Kingdom, but by a twist of fate still exists in the wilds of New Zealand, the descendants of a few pairs shipped over in the nineteenth century. Dave Goulson's passionate quest to reintroduce it to its native land is one of the highlights of a book that includes original research into the habits of these mysterious creatures, history's relationship with the bumblebee, and advice on how to protect the bumblebee for future generations.
One of the United Kingdom's most respected conservationists and the founder of the Bumblebee Conservation Trust, Goulson combines lighthearted tales of a child's growing passion for nature with a deep insight into the crucial importance of the bumblebee. He details the minutiae of life in the nest, sharing fascinating research into the effects intensive farming has had on our bee population and the potential dangers if we are to continue down this path.
About the Author
Dave Goulson studied biology at Oxford University and is now a professor of biological sciences at the University of Stirling. He founded the Bumblebee Conservation Trust in 2006, whose groundbreaking conservation work saw him win the Heritage Lottery Award for Best Environmental Project and "Social Innovator of the Year" from the Biology and Biotechnology Research Council in 2010.
Praise For A Sting in the Tale: My Adventures with Bumblebees…
"A Sting in the Tale melts memoir and conservation issues into a sweet pot, moving from subject to subject very much in the manner of a foraging bee seeking flowers….The book is warm and delightful: I frequently found myself wanting to put it down to go bird and bee-watching, to find for myself the species [Goulson] discusses." —NPR
"A Sting in the Tale is both a whodunit as well as a revealing study of a bug on whom we depend a great deal." —Seattle Times
"[Goulson's] enthusiasm shines through as he tells of his attempt to bring the short-haired bumblebee back to Britain, its native land....Goulson transforms what could be dry material with stinging wit." —New York Post
"Goulson's personal touch is stamped throughout...peppered with fascinating observations, a sense of good cheer, and Goulson's undeniable passion for an oft-uncelebrated subject, here presented for appreciation by the casual armchair naturalist." —Publishers Weekly
"What you never knew about bumblebees, from a man who is both passionate and knowledgeable....[An] impressive debut....A delightful book by an author filled with enthusiasm for the natural world and in possession of just the right touch for sharing it with others." —Kirkus Reviews (starred)
"Absorbing and informative...An outstanding piece of nature writing that also celebrates one of mankind's most cherished insects." —Booklist
"Fascinating and inspiring. Dave Goulson is a genial raconteur, with much to teach us about the biology and conservation of our insect cousins." —D. G. Haskell, author of Pulitzer Prize Finalist The Forest Unseen
"Goulson's adventures with bumblebees tells the well-written story of the making of a naturalist, and also enchantingly informs us not only about bees but also about ecosystems and conservation." —Bernd Heinrich, Author of Bumblebee Economics and Mind of the Raven
"[Goulson's] book is not only enormously informative, but also hugely entertaining: its light touch and constant humour make cutting-edge research a pleasure to read about. For anyone interested in the natural world, this is essential reading." —The Independent (London)
"Goulson combines enthusiasm with academic authority, addressing the amateur beekeeper and professional apiarist in well-judged proportion." —The Times (London)
"Goulson has plenty of wondrous biological stories to tell, as well as the tale of his own struggle to return the short-haired bumblebee to Britain." —The Guardian (London)
or
Not Currently Available for Direct Purchase