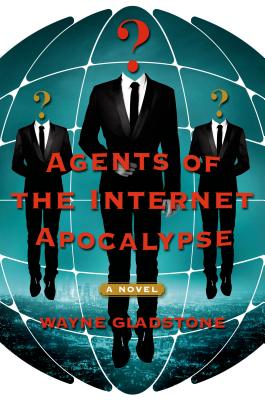 Agents of the Internet Apocalypse (Hardcover)
A Novel (The Internet Apocalypse Trilogy #2)
Thomas Dunne Books, 9781250048394, 256pp.
Publication Date: July 21, 2015
* Individual store prices may vary.
Description
Gladstone, the so-called Internet Messiah, has not only failed to bring back the World Wide Web, which disappeared mysteriously several months earlier, but his search has also landed him in a New York City psychiatric ward. The rest of the world isn't doing so well either, filled with disconnected Internet users still jonesing for a fix, and an increasingly draconian government, interrogating and detaining anyone deemed a "person of interest" under the NET Recovery Act.
For Gladstone, however, finding the Net is less important than heading to Los Angeles to win back his ex-wife. He takes up residence on the couch of his old friend, gossip-blogger Tobey, while trying to rebuild his lost romance. But when Gladstone's old journal account of the Internet Apocalypse goes "paper viral," his newfound celebrity puts him at the forefront of the Internet Reclamation Movement. Soon he is the target of shadowy government agents and a reluctant collaborator with Anonymous, who provides a clue that promises to explain the Internet's disappearance.
Full of funny, yet cutting social commentary, Wayne Gladstone's Agents of the Internet Apocalypse continues the series that imagines a dystopian world without the Web.
About the Author
WAYNE GLADSTONE is a longtime columnist for Cracked.com. He is the creator and star of the Hate by Numbers online video series. His writing has appeared on McSweeney's Internet Tendency, Comedy Central's Indecision, and in the collections You Might Be A Zombie and Other Bad News and The McSweeney's Joke Book of Book Jokes. He is the author of The Internet Apocalypse Trilogy.
Praise For Agents of the Internet Apocalypse: A Novel (The Internet Apocalypse Trilogy #2)…
"With his sharp wit and Googlesque knowledge of the Web, Gladstone lays bare the ways viral communication has become the infrastructure of our economic and cultural identity....At its core, Notes from the Internet Apocalypse is a love story...it will break your heart." —The Washington Post on Notes from the Internet Apocalypse
"The punchlines are pitch-perfect. Anyone who spends time sharing jokes in web communities will find this satire irresistible. " —Booklist on Notes from the Internet Apocalypse
"A belly-laugh account." —Toronto Star on Notes from the Internet Apocalypse
"An acid cultural satire that skewers what we would miss most about the online world." —Kirkus Reviews on Notes from the Internet Apocalypse
"An amusing but thoughtful look at what might happen to our culture if the World Wide Web went down for good." —FantasyLiterature.com on Notes from the Internet Apocalypse
"An oddly heartfelt journey through the wasteland of a techno-collapse. Gladstone takes an admittedly far-fetched and off-putting story idea and breathes startling life into it. He gambles here, but he wins. Give it a read." —Patton Oswalt on Notes from the Internet Apocalypse
"This is satire in its purest form: an exaggerated, filthy and ridiculous world - which happens to be exactly the world we live in. Gladstone has conceived and successfully executed a clever thought experiment that illustrates just how crazy the Internet has made all of us. Witty, profane and entertaining." —Charles Yu, author of How to Live Safely in a Science Fictional Universe, on Notes from the Internet Apocalypse
"Wayne Gladstone's satire is a high-concept page-turner brimming with LOL-worthy one-liners and observations about the web-addicted zombies we've become and the price we've paid for our sins. The best way to sum up the reading experience would be an emoticon that has yet to be invented." —Teddy Wayne, author of The Love Song of Jonny Valentine, on Notes from the Internet Apocalypse
"Gladstone's novel makes it clear that losing the Internet would indeed be apocalyptic, but it would also be funny, thrilling, and would perhaps be necessary to remind us of who we really are." —John Warner, Editor-at-Large of McSweeney's Internet Tendency and author of The Funny Man, on Notes from the Internet Apocalypse
"A story whose humor is matched by its insight into technology's effect on our relationships. You'll laugh, you'll cry, you'll beg your Internet provider to never leave you." —Frank Lesser, writer for The Colbert Report and author of Sad Monsters, on Notes from the Internet Apocalypse
"This book has the most unique premise of any book I have ever read. ... Agents Of The Internet Apocalypse is 250 pages of interesting. I can't wait for the third one." —Geeks of Doom
"With fewer jokes but still plenty of snark, this is required reading for fans of its predecessor. And until the final volume, all the disconnected Net junkies out there will be craving a fix." —Booklist on Agents of the Internet Apocalypse
or
Not Currently Available for Direct Purchase