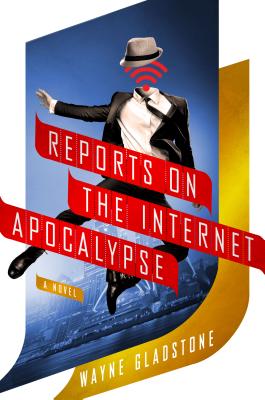 Reports on the Internet Apocalypse (Hardcover)
A Novel (The Internet Apocalypse Trilogy #3)
Thomas Dunne Books, 9781250048400, 240pp.
Publication Date: November 1, 2016
* Individual store prices may vary.
Description
In Reports on the Internet Apocalypse, the third and final installment of the Internet Apocalypse Trilogy, Gladstone, the would-be Internet Messiah, finds himself in exile from America, falsely accused of terrorism and murder. Meanwhile, a government Special Agent is hot on his trail and has joined forces with a first-time Hollywood producer bent on optioning Gladstone's story for film.
When the World Wide Web returns in a highly compromised and commercialized state, possibly due to the efforts of a billionaire presidential candidate, Gladstone and his pursuers must collaborate in an attempt to reclaim a free and open Internet.
Reports on the Internet Apocalypse brings to an end the dystopian trilogy that imagines a world forced to face itself in real life.
About the Author
WAYNE GLADSTONE is a longtime columnist for Cracked.com. He is the creator and star of the Hate by Numbers online video series. His writing has appeared on McSweeney's Internet Tendency, Comedy Central's Indecision, and in the collections You Might Be A Zombie and Other Bad News and The McSweeney's Joke Book of Book Jokes. He is the author of The Internet Apocalypse Trilogy.
Praise For Reports on the Internet Apocalypse: A Novel (The Internet Apocalypse Trilogy #3)…
Praise for the Internet Apocalypse Trilogy
"With his sharp wit and Google-esque knowledge of the Web, Gladstone lays bare the ways viral communication has become the infrastructure of our economic and cultural identity. . . . At its core, Notes from the Internet Apocalypse is a love story [that] will break your heart." —The Washington Post
""[A] belly-laugh account of what would happen . . . if someone stole the Internet, [that] touches on some of the fundamental issues of our times." —The Toronto Star on Notes from the Internet Apocalypse
"A profane, very funny comedy [with] a surprising amount of pathological drama . . . that shows there's a lot of brains behind all those dirty jokes. An acid cultural satire that skewers what we would miss most about the online world." —Kirkus Reviews on Notes from the Internet Apocalypse
"An oddly heartfelt journey through the wasteland of a techno-collapse. Gladstone takes a far-fetched story idea and breathes startling life into it. He gambles here, but he wins."
—Patton Oswalt on Notes from the Internet Apocalypse
"This is satire in its purest form: an exaggerated, filthy, and ridiculous world---which happens to be exactly the world we live in. Gladstone has conceived, and successfully executed, a clever thought experiment that illustrates just how crazy the Internet has made all of us. Witty, profane, and entertaining." —Charles Yu, author of How to Live Safely in a Science Fictional Universe
"Required reading for fans of its predecessor. And until the final volume, all the disconnected Net junkies out there will be craving a fix." —Booklist on Agents of the Internet Apocalypse
"This is a fun read with undeniable depth. Even readers that didn't read the first book. . . can easily dive into this, and should look forward to the final book in the trilogy."
—Science Fiction Book Club on Agents of the Internet Apocalypse
"From the opening pages of the Internet Apocalypse Trilogy, Wayne Gladstone masterfully embarks on a dreamy story filled with characters both comical and terrifying, anchored in a world both familiar and inventively surreal and written with great wit."
- Mark McKinney, co-creator of The Kids in the Hall and Slings and Arrows