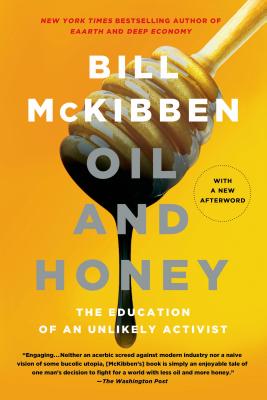 Oil and Honey
The Education of an Unlikely Activist
Paperback

* Individual store prices may vary.
Other Editions of This Title:
Digital Audiobook (9/16/2013)
Description
Bestselling author and environmental activist Bill McKibben recounts the personal and global story of the fight to build and preserve a sustainable planet

Bill McKibben is not a person you'd expect to find handcuffed and behind bars, but that's where he found himself in the summer of 2011 after leading the largest civil disobedience in thirty years, protesting the Keystone XL pipeline in front of the White House.

With the Arctic melting, the Midwest in drought, and Irene scouring the Atlantic, McKibben recognized that action was needed if solutions were to be found. Some of those would come at the local level, where McKibben joins forces with a Vermont beekeeper raising his hives as part of the growing trend toward local food. Other solutions would come from a much larger fight against the fossil-fuel industry as a whole.

Oil and Honey is McKibben's account of these two necessary and mutually reinforcing sides of the global climate fight—from the center of the maelstrom and from the growing hive of small-scale local answers to climate change. With empathy and passion he makes the case for a renewed commitment on both levels of the fight to stop global warming, telling the story of raising one year's honey crop and building a social movement that's still cresting.
Praise For Oil and Honey: The Education of an Unlikely Activist…
"Engaging…Neither an acerbic screed against modern industry nor a naive vision of some bucolic utopia, his book is simply an enjoyable tale of one man's decision to fight for a world with less oil and more honey." —The Washington Post

"McKibben has proven to be one of the most accessible voices in the fight for a more sustainable planet. In Oil and Honey, the author extends his approach and message by meshing the global with the personal.… Throughout the book, his most readable yet, McKibben is simultaneously authoritative and conversational." —The Boston Globe

"Bill McKibben these days is something of a rock star." —Salon.com

"Compelling . . . [A] story about one man's compassion for the Earth and the ways which he learns to find meaning." —The San Francisco Chronicle

"McKibben is a man of many virtues. He's a great guy, an inspiring speaker, and indefatigable writer, researcher, teacher, and organizer… Almost no one has been writing about climate change longer or working to fight it harder than he has." —The New York Review of Books

"In this eloquent memoir, [McKibben] interweaves reportage on deluges, heatwaves and melts with demonstrated solutions to 'malfunctioning modernity'. High-profile protest is only part of that, he argues. A revolution in local sustainability is also essential -- and achievable, as the story of a Vermont bee-keeper reveals." —Nature Magazine

"McKibben's book is […] the chronicle of two sides of the environmental battle – the intensely personal and local which centers on individual responsibility and humility, and the national and political, which hinges on mass movements, logistics, and existential solidarity…Whether we citizens as individual human beings can alter our fate is unknown. Political action, civil disobedience, divestment movements, recycling, local food movements and public demonstration will all be required." —Wichita Eagle

"Activist though he may be, McKibben remains a fine writer, evocative, articulate, clever and humble in examining his mistakes. . .Highly literate and expert musings on climate change, from the home to the global level." —Shelf Awareness

"Tracking the emotional and intellectual journey that took McKibben from Vermont to picket lines in Washington, D.C. to town halls, universities, and arenas, the book is a call to action and an inspiring playbook for making change--both locally and globally--in the 21st century." —Publishers Weekly

"Confiding and dramatic…In this moving, wryly amusing account set against the heated presidential debate of 2012, McKibben describes his extraordinary world travels and what it took to launch gutsy, creative, and effective protests, and shares invaluable information and such intriguing insights as what bees can teach us about reaching consensus. Galvanizing and inspiring." —Booklist (starred review)

"From the founder of the environmental organization 350.org, a chatty, warm memoir of his double life as globe-trotting activist and part-time novice beekeeper…A personal, enjoyably rancor-free account, filled with praise for his colleagues and some pokes at opponents but void of harangues." —Kirkus Reviews

"Moving…McKibben's story will appeal to a broad range of readers, from those with general interest in environmental affairs and social movements to those committed to environmental protection and the power of moral witness in our society." —Library Journal

"In this elegant and deeply inspiring book, Bill McKibben has given us something remarkable: a front row seat in the global battle against the fossil companies that are wrecking the planet, and an intimate glimpse into the intensely local life and landscape for which McKibben himself is fighting. This is the balance--between big and small, between rage and love, between resistance and alternatives--that we all must find if we are to transform in time to prevent catastrophe. A gift." —Naomi Klein, author of The Shock Doctrine

"Oil and Honey reads like a tell-all from one of America's most astute eco-political leaders and essential writers. There are organizational secrets on how to launch a political campaign and build a movement, and why spreading local honey on morning toast matters. It is a personal field guide to climate activism with an honest accounting of the personal costs and blessings of engagement. Bill McKibben has penned an inspiring story whose ending is still unfolding." —Terry Tempest Williams, author of When Women Were Birds

"Whatever color you are, the green movement is your movement. I was proud to go to jail with Bill McKibben as a fellow protester against the Keystone XL pipeline. All you have to do is read this book." —Julian Bond
St. Martin's Griffin, 9781250048714, 288pp.
Publication Date: July 29, 2014
About the Author
Bill McKibben is a founder of the environmental organization 350.org and was among the first to have warned of the dangers of global warming. He is the author of more than a dozen books, including the bestsellers The End of Nature, Eaarth, and Deep Economy.

He is the Schumann Distinguished Scholar in Environmental Studies at Middlebury College and the winner of the Gandhi Prize, the Thomas Merton Prize, and the Right Livelihood Prize. He lives in Vermont with his wife, the writer Sue Halpern.
or
Not Currently Available for Direct Purchase