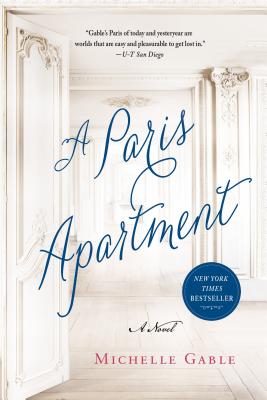 A Paris Apartment
A Novel
Hardcover

* Individual store prices may vary.
Other Editions of This Title:
Digital Audiobook (4/21/2014)
Paperback (6/30/2015)
Paperback (4/18/2017)
Description
Bienvenue à Paris!

When April Vogt's boss tells her about an apartment in the ninth arrondissement that has been discovered after being shuttered for the past seventy years, the Sotheby's continental furniture specialist does not hear the words "dust" or "rats" or "decrepit." She hears Paris. She hears escape.

Once in France, April quickly learns the apartment is not merely some rich hoarder's repository. Beneath the cobwebs and stale perfumed air is a goldmine, and not because of the actual gold (or painted ostrich eggs or mounted rhinoceros horns or bronze bathtub). First, there's a portrait by one of the masters of the Belle Epoque, Giovanni Boldini. And then there are letters and journals written by the very woman in the painting, Marthe de Florian. These documents reveal that she was more than a renowned courtesan with enviable decolletage. Suddenly April's quest is no longer about the bureaux plats and Louis-style armchairs that will fetch millions at auction. It's about discovering the story behind this charismatic woman.

It's about discovering two women, actually.

With the help of a salty (and annoyingly sexy) Parisian solicitor and the courtesan's private diaries, April tries to uncover the many secrets buried in the apartment. As she digs into Marthe's life, April can't help but take a deeper look into her own. Having left behind in the States a cheating husband, a family crisis about to erupt, and a career she's been using as the crutch to simply get by, she feels compelled to sort out her own life too. When the things she left bubbling back home begin to boil over, and Parisian delicacies beyond flaky pâtisseries tempt her better judgment, April knows that both she and Marthe deserve happy finales.

Whether accompanied by croissants or champagne, this delectable debut novel depicts the Paris of the Belle Epoque and the present day with vibrant and stunning allure. Based on historical events, Michelle Gable's A Paris Apartment will entertain and inspire, as readers embrace the struggles and successes of two very unforgettable women.
Praise For A Paris Apartment: A Novel…
"With its well-developed, memorable characters and the author's skillful transitioning between story lines...this stunning and fascinating debut will capture the interest of a wide audience but particularly those interested in stories about women behind famous men like Melanie Benjamin's The Aviator's Wife or Nancy Horan's Under the Wide and Starry Sky. Highly recommended." —Library Journal (starred review)

"The women's fiction world is lucky to welcome Michelle Gable to its ranks. In A Paris Apartment, Gable deftly weaves romance, mystery, past and present into a wonderful page-turner that will have readers clamoring for her next book." —Allison Winn Scotch, New York Times bestselling author

"A Paris Apartment winds between past and present, between two passionate women and their lives, loves and fortunes. Informed and assured, debut author Gable's prose is fresh and emotionally complex. Glimpses into Parisian life, the arts, and the high-end antiquities trade are piquant accents to an exceptional mystery." —Sophie Littlefield, national bestselling author

"The past and present intertwine in Michelle Gable's sparkling debut, which sings of the Belle Epoque, French romance, and a few secrets that change everything." —Kristin Harmel, internationally bestselling author of The Sweetness of Forgetting

"A charming read about a fascinating history and the woman behind it." —Historical Novel Society

"Gable's Paris of today and yesteryear are worlds that are easy and pleasurable to get lost in. April's and Marthe's stories intersect, at times blatantly and at times subtly mirroring or contrasting one another. ...This parallel construction, the sense of place and atmosphere, and Gable's often witty writing are the book's greatest strengths." —The San Diego Union-Tribune

"Pick it up as the perfect escape--you'll quickly be whisked away through the vividly described scenery and events of life in Paris." —Spa Weekly Daily

"This debut novel is a keeper. It will definitely stay with you long after you finish the last page." —Chicklit Club

"The inspiration for A Paris Apartment began in 2010 when Gable's agent sent her an intriguing article with the note: 'I think you can do something with this.' A real-life Parisian flat, abandoned for 70 years, its contents frozen in time? Absolutely, she could." —Celeste Williams, Fort Worth Star-Telegram

"Love, art, history, Paris -- what more can you ask for?" —FineBooks Magazine

"Vive le Paris apartment!" —Booklist

"You'll be quickly drawn in...there are reasons galore why this story is compelling....A fun and insightful novel." —Maine Antique Digest
Thomas Dunne Books, 9781250048738, 384pp.
Publication Date: April 22, 2014
About the Author
New York Times bestselling author of A Paris Apartment, MICHELLE GABLE graduated from The College of William & Mary. When not dreaming up fiction on the sly, she currently resides in Cardiff by the Sea, California, with her husband, two daughters, and one lazy cat.