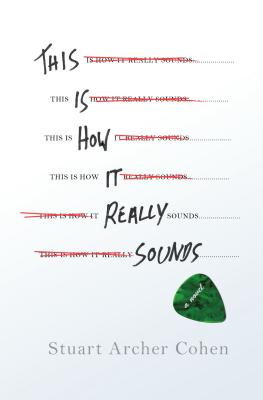 This Is How It Really Sounds (Hardcover)
A Novel
St. Martin's Press, 9781250048820, 368pp.
Publication Date: April 21, 2015
* Individual store prices may vary.
Description
In the lurid nightclubs of modern Shanghai, infamous expat financier Peter Harrington is suddenly confronted by his past. Investors he has ruined, looming federal investigations, and a remote but alluring woman all converge on one hallucinatory night that ends in the labyrinth of an ancient Chinese garden. On the other side of the ocean, chasing the last vapors and diminishing sexual returns of fame in Los Angeles, faded rock star Pete Harrington is bankrupt. With no band, no hits, and no money, he suddenly finds one last flash of brilliance that sets him on an absurd and epic quest for revenge. Finally, there is Harry Harrington. Raised in a world of snow, ice, and avalanches, Alaskan Harry Harrington is the greatest extreme skier on the planet. A legend in a sport that few people have ever heard of, he descends from the slopes of Tahoe and Aspen to the sunny streets of Hollywood, looking for the connection that will change his life.
Welcome to This Is How It Really Sounds, where the worlds of wealth, pop-culture celebrity, and physical prowess collide in a supernatural realm that is shared between three men, each in search of his Other Life. From an assassin moving through the treacherous streets of 1946 Shanghai to the twenty-first-century delirium of Internet fame, Stuart Archer Cohen's novel centers around a mysterious house that none of its denizens can fully remember, but none can ever forget. Part satire, part revenge tale, part wilderness adventure---with a heavy dash of noire espionage---This Is How It Really Sounds explores the seductive power of the Other Life, and what happens when you finally grasp it.
About the Author
Stuart Archer Cohen lives in Juneau, Alaska, with his wife and two sons. He owns Invisible World, an international company importing wool, silk, alpaca, and cashmere from Asia and South America. His novels Invisible World and 17 Stone Angels have been translated into ten languages.
Praise For This Is How It Really Sounds: A Novel…
"This is How it Really Sounds is a smart, wide-ranging novel about three guys with the same name--a once-famous skier, a washed-up rock star and a disgraced financier--whose lives intersect in a viral video. Stuart Archer Cohen has written a timely and provocative story about money, cultural power, and identity in the digital age." —Tom Perrotta, author of The Leftovers
"Nothing is quite as it seems in this prismatic thriller of finance-sector greed and client payback, which moves easily from California to China to Alaska, from past to present, from one view of the story to another. This is How it Really Sounds made me forget everything but the need to keep reading. Addictive, highly original, and deeply satisfying." —Nicole Mones, author of Night in Shanghai and The Last Chinese Chef
"An impressive and dramatic novel about three men who share a surname and intertwining fortunes… Anyone who's bet his or her future on Wall Street, strapped on a pair of skis or savored a well-told story will want to read this one." —Kirkus (starred)
"This book was perfect for someone like me who is just beginning to experience the "crises" of mid-life. I love each character and all are distinctive yet somehow identifiable with aspects of ourselves. I laughed out loud at the misadventures and startling revelations that our heroes faced. This was an "I can't put it down until it's finished" novel, and will be at the top of my Spring/Summer recommended reads." —Scott DeMarco, Booksellers on Fountain Square
"A hugely entertaining story." —Booklist
"Cohen is skilled at both astute observation...as well as focusing on the individual in order to bring in a sense of the broad. Combined with a sense of adventure, and readers are in for a fast-paced, entertaining and timely read." —Asian Review of Books
"From the very beginning... you know you are entering a rare world-one told by an expert storyteller." —Anchorage Press
"Cohen delivers a smart, highly original story, with an ending that will surprise and puzzle in the best of ways." —Alaska Dispatch News
or
Not Currently Available for Direct Purchase