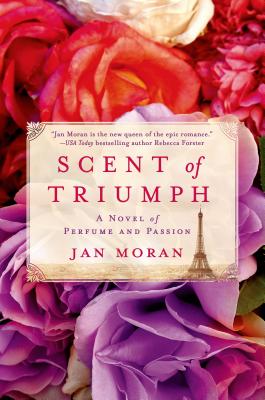 Scent of Triumph (Paperback)
A Novel of Perfume and Passion
St. Martin's Griffin, 9781250048905, 384pp.
Publication Date: March 31, 2015
Other Editions of This Title:
MP3 CD (2/28/2017)
Compact Disc (2/28/2017)
Hardcover, Large Print (9/9/2015)
Paperback (5/1/2012)
Hardcover (3/31/2015)
* Individual store prices may vary.
Description
"Jan Moran is the new queen of the epic romance."- USA Today best-selling author Rebecca Forster
When French perfumer Danielle Bretancourt steps aboard a luxury ocean liner, leaving her son behind in Poland with his grandmother, she has no idea that her life is about to change forever. The year is 1939, and the declaration of war on the European continent soon threatens her beloved family, scattered across many countries. Traveling through London and Paris into occupied Poland, Danielle searches desperately for her the remains of her family, relying on the strength and support of Jonathan Newell-Grey, a young captain. Finally, she is forced to gather the fragments of her impoverished family and flee to America. There she vows to begin life anew, in 1940s Los Angeles.
There, through determination and talent, she rises high from meager jobs in her quest for success as a perfumer and fashion designer to Hollywood elite. Set between privileged lifestyles and gritty realities, Scent of Triumph by commanding newcomer Jan Moran is one woman's story of courage, spirit, and resilience.
About the Author
JAN MORAN is the author of several books, including Scent of Triumph, and Fabulous Fragrances I and II, which earned spots on the Rizzoli Bookstore bestseller list. As a fragrance and beauty expert, she has been featured in numerous publication and on television and radio, including CNN and Extra, Instyle, Allure, Women's Wear Daily, and O Magazine. She earned her MBA from Harvard Business school, her BBA from the University of Texas, and created Scentsa, a touch-screen program for fragrance and skincare, for Sephora stores in the US, Canada, France, Mexico, Brazil, and Denmark. She has spoken before Fashion Group International, the Fragrance Foundation, and The American Society of Perfumers. She has also attended the University of California at Los Angeles Extension Writers' Program, studying fiction, nonfiction, and screenwriting.
Praise For Scent of Triumph: A Novel of Perfume and Passion…
"Jan Moran is the new queen of the epic romance." —USA Today Bestselling Author Rebecca Forster
"Utterly inescapable...Jan Moran's masterful romance comes with a bonus: she interweaves this romantic tale with a behind-the-scenes look at how one makes and sells perfume, an art Ms. Moran is known for internationally. The fascinating result is a tale that rivals Danielle Steele at her romantic best!" —Allegra Jordan, author of The End of Innocence
"A sweeping debut novel about a fearless, headstrong woman. Spanning multiple continents and set against the backdrop of WWII, Jan Moran deftly weaves plotlines and tackles tough issues, all to a satisfying conclusion. Add in glimpses of the high-end fragrance trade, and SCENT OF TRIUMPH offers a thoroughly engaging tale, rich in all five senses." —Michelle Gable, Author of A Paris Apartment
"A heartbreaking, evocative read that will transport readers to another place and time and not let go. I could not turn the pages fast enough!" —Anita Hughes, Author of Lake Como
"From war-torn Europe to the sunny climes of Southern California, SCENT OF TRIUMPH is a captivating tale of love, loss, determination and reinvention. A page-turner." —Karen Marin, Givenchy Paris
"Hard to put down…captivating. A "must read" for anyone in the cosmetic industry or even starting a business." —Marvel Fields, Chairman, American Society of Perfumers
"SCENT OF TRIUMPH is a rich tapestry that weaves fragrance into an already compelling story of love and perseverance during World War II. Jan's skillful writing, combined with her wealth of olfactory knowledge, makes this a great read for all, but especially the perfume enthusiast." —Karen Adams, Sniffapalooza
"Scent of Triumph is one of my latest favorites. This book was heartbreaking and yet was an exquisite tale of tribulation, adventure and heroism that all intertwined the strength of a woman." —Night Owl Reviews
"A haunting, multilayered historical romance, Jan Moran's Scent of Triumph takes us on an epic journey with the most resilient of heroines as our guide. It is a book to savor, like the most beautiful of perfumes. Inhale. Exhale. I was riveted from start to finish...and I'm only just now finding my breath." —Samantha Vérant, author of Seven Letters from Paris: A Memoir
"If the idea of a novel about a perfumer brings to mind images of sterile laboratories or serene fields of flowers, think again. SCENT OF TRIUMPH offers action, suspense and romance aplenty as it follows its intrepid heroine through the turbulent years of World War II, from the depths of tragedy to the heights of success. Fragrance lovers will especially enjoy the skillful way in which scent is woven into the story, not only through references to classic perfumes but also in the way the heroine's experiences are filtered through her highly refined sense of smell." —Nancy Arnott, A&E Television Networks
"When you lose everything, one must embrace. SCENT OF TRIUMPH follows the struggles of Danielle Bretancourt von Hoffman, who following the Second World War [attempts] to find her place in society, and finds her talent of identifying any scent on her own; she uses those talents to build her way up through the fashion world and Hollywood. Drawing heavily on the author's own experience, SCENT OF TRIUMPH has a dedicated look into the history of the world of fashion, recommended." —Midwest Book Review
"SCENT OF TRIUMPH will appeal to anyone who enjoys historical romance. Filled with love, loss, struggle, triumph. Moran writes in such a way that you will feel as if you were transported back to the era. Her characters are interesting and well developed. Very unique, an enjoyable read." —Rebecca's Reads Review
"Warm and well written, with characters who attract the reader's sympathy and affection. A lovely story well-told, which will appeal to romantics, fashion and perfume devotees, and fans of historical fiction." —Amy Edelman, founder of IndieReader.com
"A stylish, compelling story of a family torn apart by war and a woman's courageous efforts to bring them back together, SCENT OF TRIUMPH has everything: romance, heartache, spying, intrigue, and vivid settings. Danielle is just the kind of feisty female protagonist that I love, but what really sets SCENT OF TRIUMPH apart is the backdrop of perfumery that suffuses the story with the delicious aromas of rose, jasmine, lavender, bergamot, cinnamon bark, cloves and bitter orange. You can almost smell them as you read - a remarkable feat!" —Liz Trenow, author of The Poppy Factory
"A gripping World War II story of poignant love and devastating, heart-wrenching loss. The perfumes are so beautifully described, you can smell them wafting up from the pages." —Gill Paul, author of The Affair
"In SCENT OF TRIUMPH, Jan Moran has created a resilient, talented, yet relatable character in Danielle. Her story will resonate with any woman who has faced the challenges of parenting, loving, and working to build a future for herself-as well as those who are looking for a good read, and a satisfying ending." —Kelly James-Enger, author of White Bikini Panties and The Honesty Inde
or
Not Currently Available for Direct Purchase