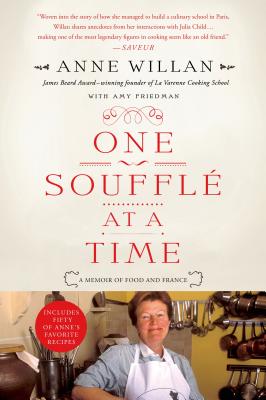 One Souffle at a Time
A Memoir of Food and France
Paperback

* Individual store prices may vary.
Other Editions of This Title:
Hardcover (9/17/2013)
Description
Anne Willan demystified classic French culinary technique for regular people who love food. Her legendary La Varenne Cooking School-in its original location in Paris and later in its longtime home in Burgundy-trained chefs, food writers and home cooks. Under Willan's cheerful, no-nonsense instruction, anyone could learn to truss a chicken, make a bernaise, or loft a soufflé.

In One Soufflé at a Time, Willan tells her story and the story of the food-world greats-including Julia Child, James Beard, Simone Beck, Craig Claiborne, Richard Olney, and others-who changed how the world eats and who made cooking fun. She writes about how a sturdy English girl from Yorkshire made it not only to the stove, but to France, and how she overcame the exceptionally closed male world of French cuisine to found and run her school. Willan's story is warm and rich, funny and fragrant with the smells of the country cooking of France. It's also full of the creative culinary ferment of the 1970s-a decade when herbs came back to life and freshness took over, when the seeds of our modern day obsession with food and ingredients were sown.
Tens of thousands of students have learned from Willan, not just at La Varenne, but through her large, ambitious Look & Cook book series and twenty-six-part PBS program. Now One Soufflé at a Time --which features fifty of her favorite recipes, from Coquille St. Jacques to Chocolate Snowball--brings Willan's own story of her life to the center of the banquet table.
Praise For One Souffle at a Time: A Memoir of Food and France…
"[Willan] shares her adventures in life, love and cheese balls in the delectable memoir One Soufflé at a Time, which also comes peppered with her favorite recipes." —T, The New York Times Magazine

"Ms. Willan tells the story of her life--interespersing it generously with recipes, classic French and otherwise--in an easygoing, readable style, full of anecdote and insight." —Colman Andrews, Wall Street Journal

"Woven into the story of how she managed to build a culinary school in Paris, Willan shares anecdotes from her interactions with Julia Child...making one of the most legendary figures in cooking seem like an old friend. Somehow she does the same with food." —Saveur

"An episodic career memoir interwoven with momentous life occasions, from cross-Atlantic moves to weddings and deaths. Compelling chapters on La Varenne in Paris and its courses at Château du Feÿ in Burgundy reveal the pleasures and complications of working in the kitchen...A charming...portrait of a woman determined to bring French cuisine to a wider audience, with emphasis on traditional, accessible recipes that respect the intellectual side of cookery." —Kirkus Reviews

"Willan, who founded LaVarenne Cooking School in Paris, shares her life story in this charming memoir." —Library Journal

"When Julia Child introduced me to her dear friend, Anne Willan, she said, 'You must get to know Anne, she is remarkable!' Julia was almost right: Anne is extraordinary! For those of us who love Anne and have admired – and benefited – from her work (she trained some of my favorite chefs and editors), this memoir is filled with insights, lessons, inspiration and so many tales of adventure. And for those of you who are just meeting Anne, you're lucky – you have a treat in store." —Dorie Greenspan, author of Around My French Table and co-owner of Beurre & Sel cookies

"Anne Willan and her LaVarenne way have quite simply shaped modern food writing like no one else." —Virginia Willis, author of Bon Appetit, Y'all

"Direct, forthright...It's fun to watch [Willan] calmly punch a hole through the glass ceiling of the culinary world." —The Oregonian

"Anne Willan's kitchen memoir reads like a season of Downton Abbey--castles, high society, far-flung romance, and the riveting story of how a Yorkshire woman broke through the closed male ranks of the French culinary world to found La Varenne, one of the great cooking schools of our day." —Amelia Saltsman, author of The Santa Monica Farmers' Market Cookbook
St. Martin's Griffin, 9781250049308, 320pp.
Publication Date: August 26, 2014
About the Author
 ANNE WILLAN is one of the world's authorities on French cooking with more than fifty years of experience as a teacher, cookbook author and food columnist.  She founded Ecole de Cuisine La Varenne in 1975. Her most recent books are The Cookbook Library: The Cooks, Writers and Recipes that Made the Modern Cookbook, with her husband, Mark Cherniavsky, which won the Jane Grigson Award for outstanding literary writing, and The Country Cooking of France, which took two James Beard Foundation Book Awards.  Willan was inducted into the James Beard Foundation's Cookbook Hall of Fame in 2013 for her body of work.  She lives in Santa Monica, California and in France.
 
Amy Friedman
is the author of
Desperado's Wife: A Memoir. S
he writes the internationally syndicated "Tell Me a Story" column for Universal Press Syndicate.