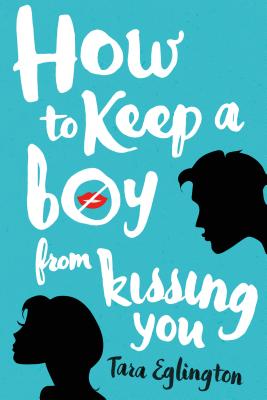 How to Keep a Boy from Kissing You (Aurora Skye #1) (Hardcover)
A Thomas Dunne Book for St. Martin's Griffin, 9781250049537, 320pp.
Publication Date: October 25, 2016
* Individual store prices may vary.
Description
Sweet sixteen and never been kissed . . .

That's Aurora Skye's big secret. And the way she wants it to stay. She's not going to give away her first kiss to just anyone. Busy dodging suitors and matchmaking for her best friends, Aurora (not so) patiently awaits her prince.
But everything changes when Aurora is coerced into a lead role in the school production of Much Ado about Nothing. Which means she'll have to lock lips with her co-star Hayden Paris—the smart and funny boy next door who also happens to be the bane of her existence, always around to see her at her worst.
Now Aurora is more determined than ever to have her first kiss with the one who's truly worthy of it. But first she'll have to figure out just who that person is.
Romantic and funny, Tara Eglington's How to Keep a Boy from Kissing You is a feel-good tale of finding love where you least expect it.
About the Author
TARA EGLINGTON grew up in Byron Bay, Australia. Her hobbies when she's not writing include watching endless cat videos on YouTube, planning pretend holidays to the Maldives, and day-dreaming about who would play Hayden Paris in a film adaptation of How to Keep a Boy from Kissing You, her first novel. She lives in Australia.
Praise For How to Keep a Boy from Kissing You (Aurora Skye #1)…
"Aurora's indefatigable enthusiasm permeates Eglington's writing, and keeps every plot twist frothy and fun, whether it involves family, boys, or the production of Much Ado About Nothing Hayden and Aurora star in (whose plot parallels their own journey from mutual antagonism to romantic attraction). Eglington celebrates female friendship and loyalty, too, and Aurora's sunny outlook will satisfy readers looking for a romantic comedy with a dash of Shakespeare." —Publishers Weekly
"If you've been looking for Clueless: The Next Generation, your search ends here! How to Keep a Boy from Kissing You is a candy-coated read with all of the drama and plenty of heart." —Sandy Hall, author of A Little Something Different and Signs Point to Yes
"Like Aurora, you will find yourself unable to resist the romance and laughter of How to Keep a Boy from Kissing You. Funny and sharp, Shakespeare lovers and resisters alike will fall for this swoon worthy story."
—Michelle Ray, author of Falling for Hamlet
"This book is full of all the best things—zany misunderstandings, strong friendships, cute boys, and the fun, fresh, and fantastic Aurora Skye, who you're rooting for as soon as she falls in a puddle trying to implement Operation Stop Kiss. How to Keep a Boy from Kissing You is an absolute delight." —Jessica Love, author of In Real Life