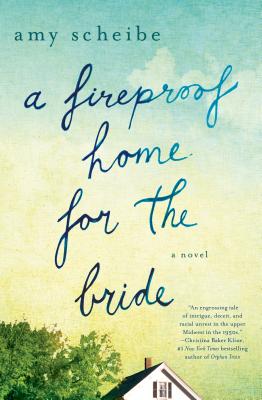 A Fireproof Home for the Bride
A Novel
Hardcover

* Individual store prices may vary.
Other Editions of This Title:
Paperback (3/22/2016)
Hardcover, Large Print (6/24/2015)
Description
Emmaline Nelson and her sister Birdie grow up in the hard, cold rural Lutheran world of strict parents, strict milking times, and strict morals. Marriage is preordained, the groom practically predestined. Though it's 1958, southern Minnesota did not see changing roles for women on the horizon. Caught in a time bubble between a world war and the ferment of the 1960's, Emmy doesn't see that she has any say in her life, any choices at all. Only when Emmy's fiancé shows his true colors and forces himself on her does she find the courage to act—falling instead for a forbidden Catholic boy, a boy whose family seems warm and encouraging after the sere Nelson farm life. Not only moving to town and breaking free from her engagement but getting a job on the local newspaper begins to open Emmy's eyes. She discovers that the KKK is not only active in the Midwest but that her family is involved, and her sense of the firm rules she grew up under—and their effect—changes completely. Amy Scheibe's A FIREPROOF HOME FOR THE BRIDE has the charm of detail that will drop readers into its time and place: the home economics class lecture on cuts of meat, the group date to the diner, the small-town movie theater popcorn for a penny. It also has a love story—the wrong love giving way to the right—and most of all the pull of a great main character whose self-discovery sweeps the plot forward.
Praise For A Fireproof Home for the Bride: A Novel…
"Scheibe's multilayered plot feels organic: the strands are knitted into a tight story of substance that touches on the politics of race, class, and gender... the book is spectacular." —Publisher's Weekly, starred review and "Pick of the Week"
"An engrossing tale of intrigue, deceit and racial unrest in the upper Midwest in the 1950s, A Fireproof Home for the Bride is a fresh take on a pivotal moment in American history." —Christina Baker Kline, #1 bestselling author of Orphan Train
"A strong-willed farmer's daughter comes of age in the Minnesota sugar beet fields, where romance fuels her dreams, but dark secrets threaten to upend them. Emmy Nelson's eager pursuit of a life beyond the confines of her narrow 1950s upbringing leads her into danger--and her courage exposes decades of corrupt piety and shocking evil. A Fireproof Home for the Bride fascinates with its postwar period detail, and bravely travels to corners of the heartland where everyone has secrets, and wholesomeness is not as it appears. " —Kate Manning, author of My Notorious Life
"A Fireproof Home for the Bride is an engrossing, quietly profound story of a young woman's coming of age in the deceptively bucolic Upper Midwest of the 1950s. Its nuanced, utterly real characters and tantalizing revelation of secrets will keep readers turning the pages." —Jennifer Chiaverini, author of Mrs. Lincoln's Dressmaker
"Set in the shifting landscape of North Dakota at the end of the 1950s, A Fireproof Home for the Bride is a subtle coming of age story, as well as a remarkable portrait of racism's sinister hold on rural America. Emmaline Nelson is a wonderful heroine: a fierce, smart, independent woman you'll be cheering for long after the novel is over. " —Haven Kimmel, New York Times Bestselling Author of A Girl Named Zippy
"Profound...[Scheibe] quietly tells a beautiful coming-of-age story in the less-than-idyllic 1950s upper Midwest." —RT Book Reviews, RT Book Reviews
"Fans of Kathryn Stockett will identify strongly with the agonizing choices Emmy must make as ugly family secrets concerning racial hatred emerge." —Library Journal, Library Journal
"The future for Emmaline Nelson is preordained: life on her family's farm in Minnesota with a man her parents have chosen. But when she uncovers the true character of her fiancé-and a shameful family secret-she decides that only she has the power to determine her fate." —All You Magazine #1 Way to Treat Yourself
"The novel's careful pacing slowly builds upon...the dark undercurrent of racism and bigotry
saturating the community, lending an atmosphere of dread to even everyday occurrences. Scheibe devotes
the same attentiveness to Emmy's growth, as Emmy painstakingly develops the confidence to stand up for
herself and for what she believes is right." —Booklist, Booklist
"Emmy's growing maturity is well-portrayed ...A good coming-of-age story." —Kirkus
"This is the book that'll remind you to what feels right to you...Even though [Emmy's] increasingly bold steps away from her old life take her only as far as Fargo, you'll cheer for how far she's really gone." —RedBook Magazine
"This is a profound novel that quietly tells a beautiful coming-of-age story in the less-than-idyllic 1950's upper Midwest. The characters have a realness to them that is in some ways raw, but also utterly fascinating. They continue revealing the kind of secrets that keep the reader thoroughly engrossed in the novel." —RT Book Reviews
"Set at the dawn of the civil rights movement, Scheibe's tale captures both the heartache and the liberation of finding one's own path." —PEOPLE's "Pick of the Week"
"Amy Scheibe spins an ambitious tale of feminism, racial tension and murder set in the Red River Valley in 1958...Filled with rich regional detail." —Grand Folks Herald
"A real page-turner...The book is sure to generate many cafe discussions and it begs a sequel to answer questions about some of the characters the reader comes to know well." —Bismarck Tribune
"Scheibe gives it an interesting turn and lays out for readers a nice feel for Midwestern politics and values on the 1950s." —St. Louis Post Dispatch
St. Martin's Press, 9781250049674, 384pp.
Publication Date: March 10, 2015
About the Author
AMY SCHEIBE is the author of What Do You Do All Day? She has written for Dame Magazine, Seattle Weekly, The Forward, The Jewish Quarterly, and other publications. Born in Minnesota and reared in North Dakota, she now lives in the Catskill mountains with her husband and two children.
or
Not Currently Available for Direct Purchase