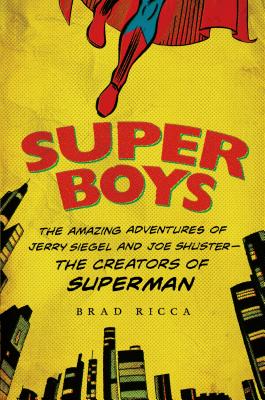 Super Boys
The Amazing Adventures of Jerry Siegel and Joe Shuster--the Creators of Superman
Paperback

* Individual store prices may vary.
Description
In time for the 75th anniversary of the Man of Steel, comes the first comprehensive literary biography of Joe Shuster and Jerry Siegel, creators of the DC Comics superhero Superman and the inspiration for Michael Chabon's Kavalier and Clay


Drawing on ten years of research in the trenches of Cleveland libraries, boarded-up high schools, and secret, private collections, and a love of comic books, Brad Ricca's Super Boys is the first ever full biography about Superman's creators. Among scores of new discoveries, the book reveals the first stories and pictures ever published by the two, where the first Superman story really came from, the real inspiration for Lois Lane, the template for Superman's costume, and much, much more. Super Boys also tracks the boys' unknown, often mysterious lives after they left Superman, including Siegel's secret work during World War II and never-before-seen work from Shuster.

Super Boys explains, finally, what exactly happened with the infamous check for $130 that pulled Superman away from his creators—and gave control of the character to the publisher. Ricca also uncovers the true nature of Jerry's father's death, a crime that has always remained a mystery. Super Boys is the story of a long friendship between boys who grew to be men and the standard that would be impossible for both of them to live up to.
Praise For Super Boys: The Amazing Adventures of Jerry Siegel and Joe Shuster--the Creators of Superman…
"A wonderful book, as exciting as Michael Chabon's The Amazing Adventures of Kavalier and Clay." —Booklist, starred boxed review

"An admirably thorough account of Siegel and Shuter's long struggle to get their creation published...That they came up with the first bona fide superhero, thus helping change popular culture and sowing the seeds of a multi-million dollar industry, is a remarkable accomplishment, which Ricca recounts grippingly." —The New York Times Book Review

"Compulsively readable... Ricca's comprehensive biography reveals the turmoil and creative genius that led to our most enduring superhero, the Man of Steel." —Publishers Weekly

"Thoroughly researched... speaks to the treatment of artists by corporate America and its relationship to truth and justice. Written in a breezy, accessible style, this title will have wide appeal, especially to those whose views on the American way were shaped by comics, television shows, and movies featuring the Man of Steel." —Library Journal

"The title Super Boys says it all . . . the truly amazing biography of two of the most important names in popular fiction." —Stan Lee

"An American icon drawn with compassion and verve. A must read for heroes everywhere." —Jeph Loeb, author of Superman For All Seasons and writer/producer of Smallville

"No square panels or word balloons can contain Ricca's gripping effervescence: it's headier than a bird or a plane or a speeding bullet." —Tracy Daugherty, author of Just One Catch

"Beautiful and heartbreaking." —Brad Meltzer, New York Times bestselling author

"As a citizen of the modern world, you need to read this book." —Neal Adams
St. Martin's Griffin, 9781250049681, 464pp.
Publication Date: June 3, 2014
About the Author
BRAD RICCA earned his Ph.D. in English from Case Western Reserve University where he currently teaches. The author of Super Boys, he has spoken on comics at various schools and museums, and he has been interviewed about comics topics by The New York Daily News, The Wall Street Journal, and All Things Considered on NPR. His film Last Son won a 2010 Silver Ace Award at the Las Vegas International Film Festival. He lives in Cleveland, Ohio.