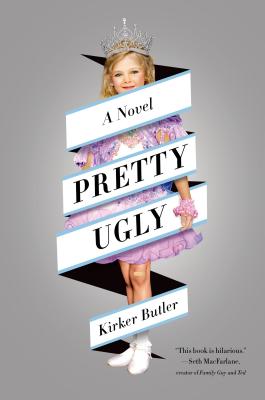 Pretty Ugly (Hardcover)
A Novel
Thomas Dunne Books, 9781250049728, 304pp.
Publication Date: March 31, 2015
Other Editions of This Title:
MP3 CD (12/22/2015)
Compact Disc (12/22/2015)
* Individual store prices may vary.
Description
From a writer/producer of Family Guy, a satirical look at a dysfunctional southern family complete with an overbearing stage mom, a 9 year-old pageant queen, a cheating husband, his teenage girlfriend, a crazy grandmother, and Jesus.

After eight-and-a-half years and three hundred twenty-three pageants, Miranda Miller has become the ultimate stage mother. Her mission in life is to see that her nine-year-old daughter, Bailey, continues to be one of the most successful child pageant contestants in the southern United States. But lately, that mission has become increasingly difficult. Bailey wants to retire and has been secretly binge eating to make herself "unpageantable;" and the reality show Miranda has spent years trying to set up just went to their biggest rival.
But Miranda has a plan. She's seven months pregnant with her fourth child, a girl (thank God), and she is going to make damn sure this one is even more successful than Bailey, even if the new girl is a little different.
Miranda's husband, Ray, however, doesn't have time for pageants. A full-time nurse, Ray spends his days at the hospital where he has developed a habit of taking whatever pills happen to be lying around. His nights are spent working hospice and dealing with Courtney, the seventeen-year-old orphan granddaughter of one of his hospice patients who he has, regrettably, knocked up. With a pregnant wife, a pregnant teenage mistress, two jobs, a drug hobby, and a mountain of debt, Ray is starting to take desperate measures to find some peace. Meanwhile, the Millers' two sons are being homeschooled by Miranda's mother, Joan (pronounced Jo-Ann), a God-fearing widow who spends her free time playing cards and planning a murder with Jesus. Yes, Jesus.
A bright new voice in satirical literature, Kirker Butler pulls no punches as he dissects our culture's current state of affairs. It's really funny, but it's also pretty ugly.
About the Author
Kirker Butler is an Emmy nominated writer and producer.  His TV credits include Family Guy, The Cleveland Show, and The Neighbors among others.  While at Family Guy he wrote the Empire Strikes Back parody episode, "Something, Something, Something Dark Side," as well as The Family Guy Video Game.  Kirker is also the writer of the graphic novel, Blue Agave and Worm, which is available from Viper Comics in both print and e-book formats.  As a songwriter, Kirker has written lyrics that have been performed by Kanye West and Fergie; and he wrote the lyrics for the opening theme song of The Neighbors.  Kirker is a graduate of Western Kentucky University where he received a BFA in Performing Arts, and has performed as an actor in regional theaters throughout the Midwest.  Additionally, his voice can be heard in several episodes of Family Guy, The Cleveland Show and Seth MacFarlane's Cavalcade of Cartoon Comedy.  Kirker has also written material for The 85th Academy Awards, E! News, and is a contributor to The Huffington Post.  He lives in Los Angeles with his family.
Praise For Pretty Ugly: A Novel…
"A-laugh-so-hard-you-may-get-a-hernia novel, [Pretty Ugly is] the kind of book that reminds us just how fun reading can be...[It] is all kinds of beautiful, and worthy of being on everyone's summer reading list." —FREDERICKSBURG.COM
"A hilarious, smart satire." —Booklist
"TV comedy writer's debut novel masterfully tells a sustained satirical and blackly comic story." —The Jester Journal
"Pairing no-holds-barred character studies with pointed cultural commentary, Butler manages to elicit laughter and winces in equal measure. The situations are styled with a kind of absurdist realism; although extreme, nothing that takes place is impossible, partly because Butler is dexterous in the way he intertwines his characterization and plotting. Repugnant, tasteless and often behaving illegally, Butler's characters are the human embodiment of misguided desire. Butler's excellent observational skills and hilarious prose make this a simultaneously funny and awful satire of thwarted ambition." —Kirkus Reviews
"If this book wasn't so brilliantly written it would be a very sad story. But Butler's dialogue and first-person perspective almost drip with satire. I feel like I'm watching a TLC show just because it's on and I want to see the train wreck unfold." —The Daily Reporter
"Butler's writing skewers its comedic targets with surgical precision. The satire is merciless and truly cutting as he operates in this Southern world of beauty pageants . . . The humor is at [the characters'] expense and the reader's immense (if guilty) pleasure." —LEO Weekly
"This bit of whimsy guarantees two things: you will definitely laugh and most likely something in the book will offend you. That's okay. It is the kind of book that makes us examine who we are." —Northern Kentucky Tribune
"The person who wrote this book asked me for a quote, so I gave them one." —Ricky Gervais
"Pretty Ugly is everything you'd want in a novel: funny, poignant, exceedingly well-written. I look forward to reading it." —Stephen Colbert
"I love this book, and I think Kurt Vonnegut would have loved it, too. In fact, it might have been his favorite book of all time. Hell, I'm just going to go ahead and say it: Kirker's book is hilarious, and it was Kurt Vonnegut's favorite book of all time." —Seth MacFarlane, creator of Family Guy and Ted
"What I've read of this book I have liked!" —Amy Sedaris
"To the pantheon of comic American fiction-kings – think Nathanael West, think Terry Southern - let us now add the name of Kirker Butler. In fine-tuned, generous prose that careens from screamingly funny to downright poignant, Pretty Ugly tells the tale of Miranda Ford, a pretty little girl with big-time, beauty pageant dreams. Butler has written a laugh-out-loud joy-ride of a book, the kind you don't want to finish, and find yourself pressing into the hands of loved ones once you do. But don't listen to me, grab it yourself. Kirker Butler is the real thing, and I can't wait to read his next one." —Jerry Stahl, author of Happy Mutant Baby Pills
"Miranda Miller and all the people of the South that orbit her are the dunces of the Confederacy you've been waiting to meet. They make one shockingly bad decision after another yet you will still be constantly surprised and delighted by every outcome. Bad things happen to bad people. Good things happen to bad people. Hilarious things happen to everyone. And there's a funeral so nutty that the only person who gets out with his dignity intact is the dearly departed. You may think you know something about children's beauty pageants but Kirker Butler has created a world that makes "Toddlers And Tiaras" look like a nineteenth century book club meeting." —Bean, KROQ's Kevin and Bean Show
"A funny, slam-bam-thank you, ma'am, voyeuristic look at the world's most dysfunctional family. I could not put this book down!" —Jennifer Garner, actress
or
Not Currently Available for Direct Purchase