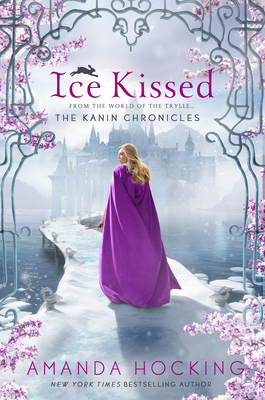 Ice Kissed (Paperback)
The Kanin Chronicles (From the World of the Trylle)
St. Martin's Griffin, 9781250049872, 320pp.
Publication Date: May 5, 2015
Other Editions of This Title:
Hardcover (5/5/2015)
Compact Disc (6/21/2016)
Compact Disc (6/21/2016)
MP3 CD (6/16/2015)
* Individual store prices may vary.
Description
In the majestic halls of a crystal palace lies a secret that could destroy an entire kingdom…
Bryn Aven refuses to give up on her dream of serving the kingdom she loves. It's a dream that brings her to a whole new realm…the glittering palace of the Skojare.
The Skojare people need protection from the same brutal enemy that's been threatening the Kanin, and Bryn is there to help. Being half Skojare herself, it's also a chance for her to learn more about her lost heritage. Her boss Ridley Dresden is overseeing the mission, but as their undeniable attraction heats up, their relationship is about to reach a whole new level—one neither of them is prepared for.
As they delve deeper into the Skojare world, they begin to unravel a long-hidden secret. The dark truth about her own beloved Kanin kingdom is about to come to light, and it'll change her place in it forever…and threaten everyone she loves.
About the Author
Amanda Hocking is the author of over twenty young adult novels, including the New York Times bestselling Trylle Trilogy and Kanin Chronicles. Her love of pop culture and all things paranormal influence her writing. She spends her time in Minnesota, taking care of her menagerie of pets and working on her next book.
Praise For Ice Kissed: The Kanin Chronicles (From the World of the Trylle)…
"Hocking keeps getting better and better. This latest Kanin Chronicles title doesn't disappoint. A fast, twisty read, you'll be sucked right into the magical world of Trylle from the first page. Hocking has a way with words, and this book will leave you breathless." —RT Bookreviews on The Kanin Chronicles
"Returning to the troll world of her Trylle trilogy, Hocking explores another tribe of trolls in this first book in the Kanin Chronicles. The novel's lingering questions and the author's knack for cliffhangers are reason enough to anticipate the next installment." —Publishers Weekly on The Kanin Chronicles
"With a thrilling climax and a haunting resolution, Frostfire brings us back to the world of the Trylle with a bang. Fans of Hocking's previous titles won't want to miss it. Although the exposition initially bogged it down, the story soon took off, leading us to one of Hocking's best resolutions yet. I can't wait to see where Bryn's story takes us next!" —The Teen Bookworm on Frostfire
"Drawn in from the first page, this was an exciting, action packed story with intriguing characters and an extremely enjoyable plot. If you're after a great read, be sure to pick this up." —Head Stuck in a Book on The Kanin Chronicles
"Frostfire had everything ... it just drew me in, and I didn't want to put it down! If you read the Trylle series, I recommend that you read this too. I think Frostfire is even more spectacular. Amanda Hocking just keeps getting better and better!" —Watcha Reading on Frostfire
"A must read… now I have to run out and buy the Trylle trilogy as well!" —Jump into Books on Frostfire
"For those who love a great trilogy, there's a new one on the horizon...Frostfire is a great first installment of the Kanin Chronicles. I eagerly await the next book in the series." —Sukasa Reads on The Kanin Chronicles
"Hocking is a paranormal YA favorite, and her latest does not disappoint. Readers will feel transported by this beautifully written story. There's adventure, heart and thrills. Protagonist Bryn is filled with such power and determination, she will do whatever it takes to follow her dreams -- and her heart. Hocking's latest will have no trouble keeping the rapt attention of thrill-seekers and romantics alike." —RT Bookreviews on The Kanin Chronicles
"Amanda Hocking always has interesting, intense and beautiful storylines. This trilogy is a must-read for people looking for something a bit different. We have a beautiful heroine ... and trolls! Trylle fans will also love the crossover of their favorite characters and seeing them interact with Bryn. All in all, Bryn's story is engrossing and will keep readers clutching their books and e-readers." —USA Today.com