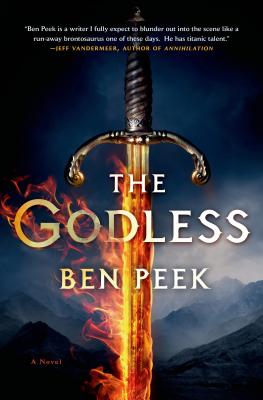 The Godless (Hardcover)
Children: Book One
Thomas Dunne Books, 9781250050021, 416pp.
Publication Date: August 19, 2014
Other Editions of This Title:
MP3 CD (11/3/2015)
* Individual store prices may vary.
Description
The Gods are dying. Fifteen thousand years after the end of their war, their bodies can still be found across the world. They kneel in forests, lie beneath mountains, and rest at the bottom of the world's ocean. For thousands of years, men and women have awoken with strange powers that are derived from their bodies. The city Mireea is built against a huge stone wall that stretches across a vast mountain range, following the massive fallen body of the god, Ger. Ayae, a young cartographer's apprentice, is attacked and discovers she cannot be harmed by fire. Her new power makes her a target for an army that is marching on Mireea. With the help of Zaifyr, a strange man adorned with charms, she is taught the awful history of 'cursed' men and women, coming to grips with her new powers and the enemies they make. Meanwhile, the saboteur Bueralan infiltrates the army that is approaching her home to learn its terrible secret. Split between the three points of view, the narrative of Godless reaches its conclusion during an epic siege, where Ayae, Zaifyr and Bueralan are forced not just into conflict with those invading, but with those inside the city who wish to do them harm.
The first installment in Ben Peek's exciting new epic fantasy series, The Godless is a fast-paced page turner set in an enthralling new world.
About the Author
BEN PEEK's previous works include the autobiography Twenty-Six Lies/One Truth, the dystopian novel Black Sheep, and the flip novel, Above/Below, co-written with Stephanie Campisi, which was nominated for a Ditmar Award. His last short story collection, Dead Americans, is comprised of fiction that was published in anthologies and magazines such as Polyphony, Clarkesworld, and various Year's Best collections. He lives with his partner, and their cat, in Sydney, Australia.
Praise For The Godless: Children: Book One…
"The Godless marks the beginning of a new epic fantasy from Australian author Ben Peek, and it's a remarkable achievement. Because as much as George RR Martin produces the gold standard of this type of story, Peek gives him a run for his money." —The Newtown Review of Books
"Peek weaves multiple threads of the plot together with considerable skill...readers fond of open-ended epic fantasies set in vivid, and occasionally lurid, worlds will find it right up their alley." —Publishers Weekly
or
Not Currently Available for Direct Purchase