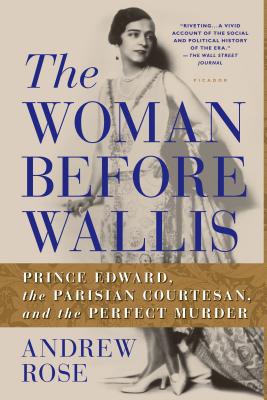 The Woman Before Wallis (Paperback)
Prince Edward, the Parisian Courtesan, and the Perfect Murder
Picador, 9781250050069, 376pp.
Publication Date: August 5, 2014
Other Editions of This Title:
Hardcover (5/7/2013)
* Individual store prices may vary.
Description
ANDREW ROSE'S THE WOMAN BEFORE WALLIS RECOUNTS THE UNTOLD STORY OF PASSION, SCANDAL, AND DECADENCE BETWEEN A COURTESAN AND A BRITISH PRINCE
Prince Edward was the King of England when he famously abdicated his crown over his love for the American divorcée Wallis Simpson. But two decades earlier, he was an awkward and inexperienced young man, socializing with Europe's elite while stationed behind the lines during World War I. It was there he met the alluring Marguerite Alibert, the queen of the Paris demimonde.
Marguerite had fought her way up from street gamine to a woman haut de gamme to become one of the highest-ranking courtesans in Paris. Prince Edward was instantly smitten, but their affair eventually turned sour. Edward thought he was free of Marguerite—until she murdered her husband, a wealthy Egyptian playboy, by shooting him three times in the back at the Savoy Hotel in London. With Marguerite on trial for murder, Edward was at risk of having their affair exposed. What happened next was buried for decades, uncovered now thanks to exceptional access to documents held in the Royal Archives and private collections.
About the Author
ANDREW ROSE practiced law in London for twenty years and was a judge until 2008. His first book, Stinie: Murder on the Common, was shortlisted for the Gold Dagger Nonfiction Award by the Crime Writers' Association. He divides his time between London and France.
Praise For The Woman Before Wallis: Prince Edward, the Parisian Courtesan, and the Perfect Murder…
"Riveting…[Rose] delivers a vivid account of the social and political history of the era." —The Wall Street Journal
"Prince Edward abdicated the British throne for American divorcée Wallis Simpson, but he loved a French murderess first. Who knew?" —People
"Downton Abbey will seem pretty tame after [The Woman Before Wallis]." —The New York Post
"Meticulously researched and highly evocative...A fascinating book full of wonderful period detail and required reading for students of the British monarchy's most reviled individual." —The Daily Beast
"Before Wallis, it appears, there was even more scandal of the highest order!" —Paul French, author of New York Times bestseller Midnight in Peking
"An interesting read for those fascinated by the British royal family." —Library Journal