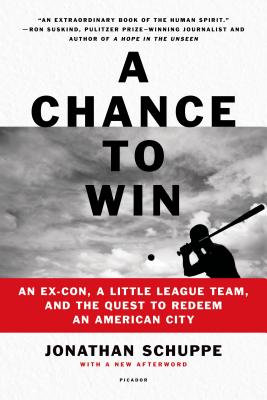 A Chance to Win (Paperback)
An Ex-Con, a Little League Team, and the Quest to Redeem an American City
Picador USA, 9781250050090, 288pp.
Publication Date: May 13, 2014
* Individual store prices may vary.
Description
When Rodney Mason, an ex-con drug dealer from Newark's rough South Ward, was shot and paralyzed, he vowed to turn his life around. A former high-school pitching ace with a 93 mph fastball, Mason decided to form a Little League team to help boys avoid the street life that had claimed his youth and mobility. In A Chance to Win, Pulitzer Prize-winning journalist Jonathan Schuppe follows Mason and his team, both on and off the field. Predictably, the players struggle--they endure poverty, unstable family lives with few positive male role models, failing schools, and dangerous neighborhoods--but through the fists and tears, lopsided losses and rare victories, this bunch of misfits becomes a team, and in doing so gives the community something to root for. Jonathan Schuppe's book is both a penetrating, true-to-life portrait of what's at stake for kids growing up poor in America's inner cities and a portrait of Newark itself, a struggling city that has recently known great hope as well as failure.
About the Author
Jonathan Schuppe is an award-winning journalist who has shared a Pulitzer Prize for coverage of New Jersey governor Jim McGreevey's resignation. He won the coveted J. Anthony Lukas Work-in-Progress Prize for A Chance to Win. He lives with his wife and daughter in Maplewood, New Jersey.
Praise For A Chance to Win: An Ex-Con, a Little League Team, and the Quest to Redeem an American City…
"An extraordinary book of the human spirit."—Ron Suskind, Pulitzer Prize-winning journalist and author of A Hope in the Unseen

"[A] deep excavation...told with consummate empathy."—The New York Times Book Review

"Honest and gritty."—The Star-Ledger (Newark)

"One of the most powerful books of narrative nonfiction I've read in years. [A Chance to Win] is somehow both understated and majestic."—Jonathan Mahler, author of Ladies and Gentlemen, the Bronx Is Burning

"A compelling book."—The Washington Post
"Sobering yet inspiring,
A Chance to Win
is an extraordinary journey."—Alex Kotlowitz
"It may be peculiar to describe a book that looks unflinchingly at urban poverty as wonderful, but in the sense that this account will open eyes and maybe a few minds, wonderful just might apply."—
Booklist
(starred review)
"[
A Chance to Win
] reads like a mix between
Friday Night Lights
by Buzz Bissinger and
Random Family
by Adrian Nicole LeBlanc—tough acts that Schuppe gracefully follows."—
Bookriot.com
"A lively work of literary nonfiction [that] vividly illustrates the often fierce struggles of a small group of people [and] offers a larger truth about the city...Jonathan Schuppe gives dignified, poetic voice to [Newark's] struggle."—
Inside Jersey
"A compelling portrait of inner-city struggles...Schuppe's punchy journalistic style serves the material well."—
Kirkus


"
A Chance to Win
is a model of intimate reporting, an exemplar of lucid prose, and a demonstration of genuine courage. It will take most readers into a world that they do not know, and they will be rewarded for the venture."—Daniel Okrent, author of
Last Call: The Rise and Fall of Prohibition


"
A Chance to Win
will take its rightful place as a classic of American urban life."—Jonathan Alter
or
Not Currently Available for Direct Purchase