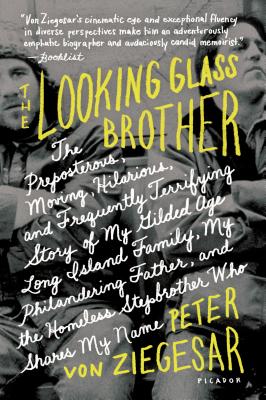 The Looking Glass Brother (Paperback)
The Preposterous, Moving, Hilarious, and Frequently Terrifying Story of My Gilded Age Long Island Family, My Philandering Father, and the Homeless Stepbrother Who Shares My Name
Picador, 9781250050144, 336pp.
Publication Date: May 27, 2014
Other Editions of This Title:
Hardcover (6/25/2013)
* Individual store prices may vary.
Description
Peter von Ziegesar had just moved to New York and was awaiting the birth of his first child when a dark shape stepped from the looking glass of his past onto a Greenwich Village street. The Looking Glass Brother is Peter von Ziegesar's remarkable memoir of a life that began in the exquisite enclaves of Long Island's Gilded Age families and is now lived, in part, as the keeper of his homeless and schizophrenic stepbrother, Little Peter. The Looking Glass Brother is a feast of memories from one of the last, great estates on Long Island's Peacock Point. Summers were filled with the glistening water of the Long Island Sound, pristine beaches, croquet games, butlers in formal wear serving dinners, and an endless stream of cocktails. When, after a string of affairs, Peter's father left his mother and remarried, the idyll was broken and several stepchildren, including Little Peter, entered von Ziegesar's life. Little Peter was an angelic and brilliant young boy, a violin prodigy called by a teacher "the next Paganini," who spiraled down during adolescence to become one more homeless man living on the street. In this bighearted memoir, Peter von Ziegesar mixes memories of life on Peacock Point with the turbulent joys of urban fatherhood and the responsibility he feels for his brother, a man with the same name as his, but who lives a desperate and very different life.
About the Author
PETER VON ZIEGESAR a New York-based filmmaker and screenwriter. He is the author of the book The Looking Glass Brother: The Preposterous, Moving, Hilarious, and Frequently Terrifying Story of My Gilded Age Long Island Family, My Philandering Father, and the Homeless Stepbrother Who Shares My Name. He has written articles, essays and reviews on film and art for many national publications, including DoubleTake, The New York Times, The New York Times Magazine, Outside, and Art in America. His short fiction won a PEN Syndicated Fiction Prize. His work as a film and multimedia artist has received national attention, including a solo exhibition at the Hirschhorn Museum of Art in Washington, D.C. He lives in New York City.
Praise For The Looking Glass Brother: The Preposterous, Moving, Hilarious, and Frequently Terrifying Story of My Gilded Age Long Island Family, My Philandering Father, and the Homeless Stepbrother Who Shares My Name…
"Brotherly love is evident here, while drugs, lavish estates, suicide, divorce, philandering, and the backdrop of [New York City] round out a touching inside view of comfort and homelessness." —Publishers Weekly (starred review)
"This provocative looking-glass tale of two nonconformist brothers, one thriving within a nurturing family circle, the other a perpetual outsider because of mental illness, shines with emotional veracity, sensory precision, cosmic absurdity, all kinds of pain, and steadfast love." —The Kansas City Star
"Elegantly constructed and written with both stringency and heart, The Looking Glass Brother fluently braids memories of an ultraprivileged childhood and the bleak realities of mental illness, substance abuse, and homelessness today." —Eli Gottlieb, author of The Boy Who Went Away and The Face Thief