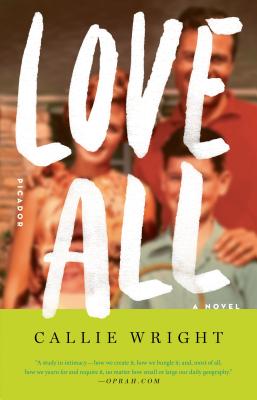 Love All
A Novel
Paperback

* Individual store prices may vary.
Other Editions of This Title:
Hardcover (7/9/2013)
Description
IN A SMALL TOWN, IN A MARRIAGE, IN A FAMILY, EVERYONE HAS SECRETS.
Since 1962, Anne Obermeyer and her father, Bob Cole, have harbored their own about The Sex Cure, a scandalous roman à clef that aired the dirty laundry of Cooperstown, New York's upper crust. Now, it's the spring of 1994 in Cooperstown and the beloved matriarch of the Obermeyer family has unexpectedly died in her sleep. Just when the past seemed safely buried, Anne discovers a battered copy of the illicit book beneath her mother's mattress and three generations' secrets come rushing to the surface. Bringing to vibrant life five unforgettable characters from diverging perspectives—from the memories of the aging Bob Cole, to the last will and testament of Anne Obermeyer, to the coded slang of the teenage Julia—Callie Wright's Love All is a brilliant, moving novel shot through with the heartbreaking pangs that can only grow from true loyalty, fidelity, and love.
Praise For Love All: A Novel…
"A study in intimacy--how we create it, how we bungle it; and, most of all, how we yearn for and require it, no matter how small or large our daily geography." —Oprah.com
"Charming…a promising and tender debut." —San Francisco Chronicle
"What an original, enlightening, and humane book...And what a good one." —Ann Beattie
"[A] fetching debut novel." —Elle
"[Wright] has a feel for life among the small-town gentry, reminiscent of Updike." —Vanity Fair
"This generous, wise writer nailed this story with astonishing and heartfelt aplomb." —Lauren Groff
"A generation after a salacious roman à clef airs an entire town's dirty laundry, the tell-all book resurfaces in the same house it originally wreaked havoc on, forcing one family to ask if history will repeat itself…[Love All's] storyline will launch any kind of gossip session or book club discussion." —Marie Claire
"In this winning first novel, three generations of a Cooperstown, New York, clan find their lives upended by a long-buried copy of The Sex Cure--a real-life roman a clef from 1962 that scandalized town residents." —AARP Magazine
"When three generations of the Obermeyer family start living under one roof, long-hidden truths surface. Fifteen-year-old Julia is a standout character–she's spirited, sensitive…and totally in love with her male best friend! A 'must read book of the summer'." —People Stylewatch
"A touching character-driven tale…the prose is effortless, and the characters are accessible and genuine, making this a promising debut." —Publishers Weekly
"With the power and grace of a strong forehand swing, Love All introduces one of fiction's most endearing families--a family as real as your own. How does Callie Wright manage to make falling in love heartbreaking, and losing the love of your life heartwarming? How does a single week manage to feel as full as a lifetime? That's the magic of this unforgettable debut. If this isn't a Great American Novel, I don't know what is." —Eleanor Henderson, author of Ten Thousand Saints
"What's most stunning about Wright's stirring, well-wrought debut, is the author's own capaciousness--she has no trouble getting under the skin of her all too human characters, treating young and old, male and female, with a master storyteller's equality of insight." —Helen Schulman, author of This Beautiful Life
Picador, 9781250050267, 272pp.
Publication Date: July 8, 2014
About the Author
Callie Wright is a reporter and researcher at Vanity Fair. She graduated from Yale and earned her MFA at the University of Virginia, where she was a Poe/Faulkner Fellow in Creative Writing and won a Raven Society Fellowship. She is the recipient of a Glimmer Train Short Story Award for New Writers and her short fiction has appeared in Glimmer Train and The Southern Review. She lives in Brooklyn, New York.
or
Not Currently Available for Direct Purchase