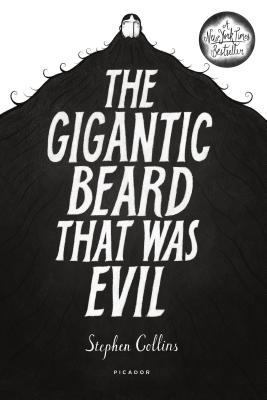 The Gigantic Beard That Was Evil
Hardcover

* Individual store prices may vary.
December 2014 Indie Next List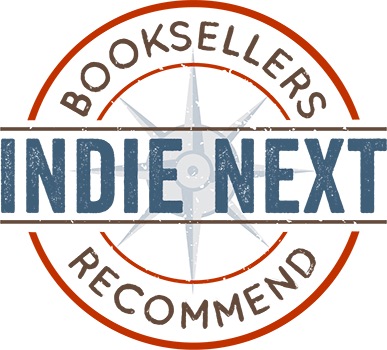 "Slip into a black and white world where order reigns supreme and all untidiness must be eradicated. Dave lives a nondescript life in Here, until the day an untamable beard sprouts from his chin. Could the beard be a maleficent portal to There? Collins gently addresses the tangles of human existence in this playful graphic fable, perfect for fans of Edward Gorey and Roald Dahl."
— Rhianna Walton, Powell's City of Books, Portland, OR
View the List
Description
A NEW YORK TIMES BESTSELLER

The job of the skin is to keep it all in...

On the island of Here, livin's easy. Conduct is orderly. Lawns are neat. Citizens are clean shaven-and Dave is the most fastidious of them all. Dave is bald, but for a single hair. He loves drawing, his desk job, and the Bangles. But on one fateful day, his life is upended...by an unstoppable (yet pretty impressive) beard.

An off-beat fable worthy of Roald Dahl and Tim Burton, Stephen Collins' The Gigantic Beard That Was Evil is a darkly funny meditation on life, death, and what it means to be different--and a timeless ode to the art of beard maintenance.
Praise For The Gigantic Beard That Was Evil…
"Slyly exquisite...What happens over the course of the next 200+ pages is a dilemma Roald Dahl would have relished: The roiling anarchy of There erupts on Here--specifically, on poor Dave's previously clean-shaven cheeks--in the form of a great, snarly, twisting, unstoppable beard….If Collins is right--if, as he says, stories are necessary--then let's hope this wry young writer/artist has got a lot more lies to tell us." —Glen Weldon, NPR

"I don't want to spoil it…[but] it's kind of Roald Dahl--it's very funny, dark, fable-like and about exactly what it's title says." —Linda Holmes, NPR's Pop Culture Happy Hour

"The Gigantic Beard That Was Evil has the tone of a playful fable, from the cracked syntax of its title onward…For a book about the liberating joys of disruption, though, it's exceptionally disciplined: Collins renders several hundred pages of immaculately ruled buildings and bean-faced people (and the fuzzy curlicues that interfere with them) in meticulous, microdetailed pencil textures." —NewYorkTimes.com (Sunday Book Review)

"With one hell of a title, Stephen Collins' graphic novel makes an immediate impression, and the interior contents are just as gripping as the name….It's a poignant parable about the value of individuality and going against the grain, presented with a charming art style that brings a smooth animated quality to the story without losing sight of the darker aspects of the plot." —The A.V. Club (Best Comics of the Year)

"Filled with elegant black-and-white sketches and darkly philosophical commentary, Collins's graphic novel details what happens when borders collapse and stories have no tidy endings." —TimeOut.com

"The Gigantic Beard That Was Evil is an artistic marvel, and that splendor heightens the emotion of the story. The final moments of Dave's story are incredibly inspirational, and The Bangles' "Eternal Flame" has never been used as effectively as it is in those pages. Whimsical, bittersweet, and visually stunning, this graphic novel is the perfect parable for all ages, praising the value of eccentricity in a world of overwhelming uniformity with the help of unruly facial hair." —The AV Club

"Sublime." —Popular Mechanics

"A book about loneliness, fear, and worry that still manages to have a small glimmer of hope nestled in amongst the burly titular beard…Gorgeously illustrated….It's easily the most engaging thing I've read all month." —Panels (Best Comics of October)

"[Collins'] art -- especially as the beard grows and pages full of regimented, small panels breach into 2-page spreads of swirling hair -- is sensuous and soft. The Gigantic Beard That Was Evil is also a well-designed book, complete with two different finishes on the cover: a gloss on the white lettering and a velvety matte finish on the rest…It all works together to create a hushed tone, a kind of gentle melancholy." —Paste magazine

"More than adequately Kafkaesque…but the art is the real showstopper here. You can obsess over panel after carefully crosshatched panel for hours without feeling you've exhausted the book's possibilities. The black-and-white interior is rich with nuance and depth…[It] reminds me of the work of Aubrey Beardsley." —BookRiot (Books for the Bearded)

"This book is completely unique. Whether or not you read graphic novels, the title alone is enough to draw you into this one. It's a look at society as we know it, the way we look at the people around us, and the villain of the story is… a beard." —Bustle

"A moving and remarkably funny examination of conformity, safety, uncertainty and--yes--what happens when a man grows a beard so big that it threatens to smother entire city blocks….Discover: A compelling and funny spin on Kafka's Metamorphosis." —Shelf Awareness

"Mysterious and often wryly funny…with precise yet soft illustrations reminiscent of Raymond Briggs. A visually lyrical modern fable that manages to be both utterly unique and eerily recognizable." —Library Journal

"Subtly menacing...[A] Tim Burton-esque tale for Halloween." —BookPage

"Collins' illustrations are lush, rounded affairs with voluptuous shading across oblong planes. Expressions pop, from the severe upturn where a sympathetic psychiatrist's brows meet to the befuddlement of a schoolgirl as the beard's hypnotic powers take hold… Rich, creamy art and playful paneling make for a fun read." —Kirkus Reviews

"An amazing book. Completely original. Surreal yet believable." —Raymond Briggs

"It's part satire, part parable, part nursery rhyme, and part disaster movie, and it's an utter joy to read." —The Times (London)

"As splendiferous as its title." —Metro (UK)

"Clever, funny, and beautiful to look at… Surely destined to become a classic." —Rachel Cooke, The Observer (UK)

"A gorgeously penciled fable. The pacing and page design are immaculate." —The Sunday Herald (Scotland)
Picador, 9781250050397, 240pp.
Publication Date: October 7, 2014
About the Author
STEPHEN COLLINS was born in 1980 and grew up in Penge, South London. He began cartooning for The Times in 2003, and has since won several awards, including the Jonathan Cape/Observer Graphic Short Story Prize 2010. His work has appeared in many publications worldwide, and he contributes regular comics to The Guardian Weekend and Prospect magazine. The Gigantic Beard That Was Evil is his debut graphic novel. He lives near Hertford with his wife.