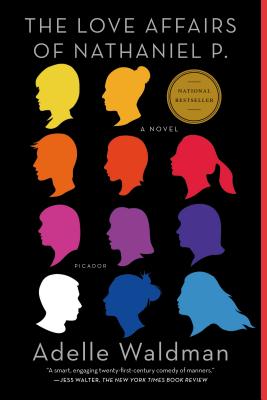 The Love Affairs of Nathaniel P.
A Novel
Paperback

* Individual store prices may vary.
Other Editions of This Title:
Digital Audiobook (7/15/2013)
MP3 CD (4/29/2014)
Compact Disc (5/6/2014)
Description
The national bestseller, named a best book of the year by The New Yorker, NPR, Slate, The Economist, The New Republic, Bookforum, Baltimore City Paper, The Daily Beast, National Journal, San Francisco Chronicle, Chicago Reader, Cosmopolitan, Elle, Buzzfeed and many others. A New York Times Editors' Choice and a Washington Post Notable book.

"Adelle Waldman's debut novel, The Love Affairs of Nathaniel P., scrutinizes Nate and the subculture that he thrives in with a patient, anthropological detachment. Ms. Waldman has sorted and cross-categorized the inhabitants of Nate's world with a witty, often breathtaking precision..."—Maria Russo, The New York Times

"Adelle Waldman just may be this generation's Jane Austen"—The Boston Globe

A debut novel by a brilliant young woman about the romantic life of a brilliant young man.
Writer Nate Piven's star is rising. After several lean and striving years, he has his pick of both magazine assignments and women: Juliet, the hotshot business reporter; Elisa, his gorgeous ex-girlfriend, now friend; and Hannah, "almost universally regarded as nice and smart, or smart and nice," who holds her own in conversation with his friends. When one relationship grows more serious, Nate is forced to consider what it is he really wants.
In Nate's 21st-century literary world, wit and conversation are not at all dead. Is romance? Novelist Adelle Waldman plunges into the psyche of a flawed, sometimes infuriating modern man—one who thinks of himself as beyond superficial judgment, yet constantly struggles with his own status anxiety, who is drawn to women, yet has a habit of letting them down in ways that may just make him an emblem of our times. With tough-minded intelligence and wry good humor The Love Affairs of Nathaniel P. is an absorbing tale of one young man's search for happiness—and an inside look at how he really thinks about women, sex and love.
Praise For The Love Affairs of Nathaniel P.: A Novel…
"A delectable analysis of contemporary dating." —The Washington Post

"Powerfully intelligent." —The New Republic

"Nate is almost too real. Mark my words: This book will inspire laughter, chills of recognition, and flights into lesbianism." —Lena Dunham

"Waldman takes a cliché and turns it on its ear." —Julie Elliott, Library Journal

"Incisive and very funny...This is an impressive book, full of sharp and amusing observations about urban life, liberal pieties and modern dating....Though Nate has an archetypal quality...Ms. Waldman has skillfully rendered him both fascinating and sympathetic. He is a man of his age, though his strengths and weaknesses are timeless." —The Economist

"Adelle Waldman's debut novel, The Love Affairs of Nathaniel P., scrutinizes Nate and the subculture that he thrives in with a patient, anthropological detachment. Ms. Waldman has sorted and cross-categorized the inhabitants of Nate's world with a witty, often breathtaking precision..." —Maria Russo, The New York Times

"Adelle Waldman just may be this generation's Jane Austen." —The Boston Globe

"I inhaled this slim novel; now, I want to go back and read it again, to savor Waldman's mordant take on work, love and cannibalism among the up-and-coming Brooklyn intelligentsia…. The Love Affairs of Nathaniel P. is a sharp and assured tale about a sharp and assured young man, who often acts like a dog." —Maureen Corrigan, NPR's Fresh Air

"Waldman's brilliant taxonomy of homo erectus brooklynitis. I'm making [my daughter] read The Love Affairs of Nathaniel P. in exchange for paying off her student loans. Not that she'll need much persuading…. Neither chick lit nor lad lit, The Love Affairs... attains something like the universal truths an older female writer articulated by recording the antics of a group of genteel folk in early 19th-century Bath." —Ron Charles, The Washington Post

"[A] pitch-perfect debut…In the demure tradition of the comedy of manners, Ms. Waldman is rarely mocking or mean-spirited.... A comic performance you shouldn't miss." —The Wall Street Journal

"A smart, engaging 21st-century comedy of manners in which the debut novelist Adelle Waldman crawls convincingly around inside the head of one Nathaniel (Nate) Piven." —Jess Walter, The New York Times Book Review

"Fiendishly readable…Most importantly, Waldman gets the big detail right: When it comes to women, Nate's "clamorous conscience" comes into conflict with the exercise of his natural advantages as a single, successful, attractive heterosexual man in a sexual economy that, for him, is very much a buyer's market…. He is misogynistic and ashamed of his misogyny." —Marc Tracy, The New Republic

"While Lena Dunham's TV series Girls and Noah Baumbach's film Frances Ha have reaffirmed Brooklyn's status as the capital of hipster cool, Waldman's debut novel offers a more critical look at the district's arty milieu... This is brilliantly observed stuff." —David Evans, Financial Times (London)

"Every so often... a novel comes along that actually deserves the hype. Adelle Waldman's outstanding debut is one of these....It fixes for all time on the page a very particular type of man-- the contemporary up-and-coming literary intellectual.....Psychologically astute, subtle, funny and whip-smart, this is a novel that anyone interested in how we live now should read....With the insinuating sharpness of a stiletto blade, Waldman opens up Nate's interior to show us the mess inside....The level of insight is bracing...On every page of The Love Affairs of Nathaniel P there is something that gives pleasure-- the prose is razor-sharp, the characters in all their pretentions are lovingly skewered. This month's hot novel it may be, but this is a book that will bear repeated readings; funny, angry, subtle and sad, it is the debut of a novelist who's already the real, achieved thing. Highly recommended." —The Sunday Business Post (London)

"Although the novel is about his love affairs in Brooklyn, this is really a novel that reveals--astutely--how Nate thinks….The book is an exacting character study and Waldman an excellent and witty prose stylist…. [Nate] is a frog in a wax tray, sliced open and pinned back, his innermost private thoughts on display for inspection by the reader….One must read the magical ending to understand that although his thoughts on women will leave many outraged, his dissected frog's heart still beats." —Jennifer Gilmore, Los Angeles Times

"…The Brooklyn novel… achieves full maturity with The Love Affairs of Nathaniel P., Adelle Waldman's enormously enjoyable debut." —Telegraph (UK)

"Like a contemporary Jane Austen, Adelle Waldman unpacks every nuance of modern mating mores in her debut novel, The Love Affairs of Nathaniel P....Bravo to Adelle Waldman for getting inside the psyche of Homo erectus literaticus, and for not making it as easy as it should be to hate him. The Love Affairs of Nathaniel P. is good, evil fun." —Marion Winik, Newsday

"Waldman has written a book of stately revenge, exposing all that is shallow and oblivious about Nate, and men like him. But it's also a book of beautifully modulated sympathy--for men as well as women....With her eye for social folly in the streets and restaurants of New York, Waldman resembles Edith Wharton." —Sasha Weiss, NewYorker.com

"A funny and surprisingly sympathetic examination of the romantic sociopathy of youthful litterateurs…Waldman captures smart-enough literary party patter so well… that many of her readers may find themselves squirming in hot-faced recognition…Placed throughout the novel, however, are callbacks to the social literature of the nineteenth century--to George Eliot's work in particular...." —Harper's Magazine

"So much truth in Nathaniel P. that I just can't stop reading it. Oh, it's one hot book….We read fiction for truth. And it's there in Nathaniel P….This is a guy's book. You might classify it as chick lit. You might think it's too narrow, about the Brooklyn literary scene. But the personal is universal. And there's a lot of personal in Nathaniel P. And the only thing that matters is the personal….Read this book." —Bob Lefsetz, The Lefsetz Letter

"A fabulous book…It's really great….This is such a modern portrait. This guy will be so utterly recognizable to all of us and it's very subtle and I just think a wonderfully written book. I recommend you all get it." —Hanna Rosin, Slate DoubleX Gabfest

"Smart and enthralling…Waldman's achievement isn't to glorify so much as to dissect, with an uncommonly sharp eye, a minor romantic failure in all its contemporary complexity and evanescent significance." —San Francisco Chronicle

"[Written] with courage and determination and more than a little bit of moxie." —Baltimore Sun

"[T]hose who pass on Nathaniel P. will...likely be dating themselves, especially if they're still using Nick Hornby or, worse, John Updike as a guide to the modern male psyche...." —The Plain Dealer (Cleveland)

"Early readers of this novel have already started arguing about how unlikable Piven is, but there's no debating Waldman's success in etching such a fine portrait." —Jim Higgins, Milwaukee Journal-Sentinel

"We have lately heard ad infinitum the new sensitive literary man's account of his life and times...what we haven't yet heard enough of is the smart literary woman's view of him. With Adelle Waldman's funny, provocative satire…we have a valuable new anthropology of the type....[An] excellent funny novel." —Katie Roiphe, Slate

"[A] provocative debut novel... A discomfitingly thrilling read." —L. V. Anderson, Slate

"Waldman is a staggeringly talented prose stylist, easy and elegant in every particular, learned, undeceived, and with a dash of sly, quiet humor in nearly every line..." —The Awl

"This is Waldman's debut, but she brings Franzen-level domestic chaos…a magnificent trick of making distant experiences feel like familiar heartaches." —Grantland

"I basically stayed on the couch for an entire day reading it; I was that riveted by Waldman's ability to get into the brain of Nate Piven." —Mary Pols, MSN Page-Turner

"[This] lovable antihero quickly becomes irresistible to us...The upshot: a thoroughly, hilariously of-the-moment tale that marvelously captures what it's really like to be young, smart, and looking for love in the big city--from a new writer to watch." —Elle Magazine

"A must-read if you've ever dated." —Glamour (Aug 2013)

"Easily summer's most buzzed-about debut." —Megan O'Grady, Vogue.com

"An honest look inside the head of thirtysomething Nate Piven. It'll have you screaming because you've so dated this guy." —Glamour Magazine, "The 20 Next Big Things"

"Reminiscent of classic realist novels from authors like Graham Greene or Henry James, this delightful debut jumps headfirst into the mind of one man, revealing what he really thinks about women, dating and success." —Megan Fishmann, Bookpage

"Written from a dude's POV, this big-hearted yet brutally honest novel about finding love in a big city is a major eye-opener." —Cosmopolitan Magazine

"The Love Affairs of Nathaniel P. [is] a hilariously astute portrait of a hopelessly self-obsessed Brooklyn writer as a sad young literary man, a Peter Pan for a new, deeply ironic millennium." —Vogue

"The characters that populate Waldman's world are artistic, creative, funny and intelligent--except when it comes to matters of the heart." —Kirkus

"An acute study of present-day struggles with intimacy…[Waldman] navigates the male psyche and a highly entertaining hipster mindset, and sneaks in an unexpected, understated ending that brings…a satisfying poignancy." —Publishers Weekly

"[A] sharply written first novel." —Joanne Wilkinson, Booklist
Picador, 9781250050458, 256pp.
Publication Date: May 6, 2014
About the Author
Adelle Waldman is a graduate of Brown University and Columbia University's journalism school. She worked as a reporter at the New Haven Register and the Cleveland Plain Dealer, and wrote a column for the Wall Street Journal's website. Her articles also have appeared in The New York Times Book Review, The New Republic, Slate, The Wall Street Journal, and other national publications. She is the author of the novel The Love Affairs of Nathaniel P. She lives in Brooklyn, New York.
How does Nate see himself, and how does this differ from the way his girlfriends see him? What is your view of Nate? Does he come off as pretentious? As a womanizer? Are you able to sympathize with his thoughts or actions? If you had to summarize what his main character flaw is, what would you say?
"Dating is probably the most fraught human interaction there is. You're sizing people up to see if they're worth your time and attention, and they're doing the same to you … We submit ourselves to these intimate inspections and simultaneously inflict them on others and try to keep our psyches intact." Do you agree with this summary of the nature of dating? Is it as overwhelming as it is described, or is it really not "that big of a deal" as Nate believes?
The book delves into the psyche of a man, yet it is written by a woman. What effect does this have on the overall conversation and tone of the narrative? How would it be different if a man had written the book?
Do the male and female characters in the book seem to behave in ways that conform to or differ from our evolving conceptions of gender roles? Does the book present a world in which men and women are equal? If not, what inequalities seem to persist?
At one point, Nate wonders if he is a misogynist. He says that when he reads "something he admired…there was about an 80 percent chance a guy wrote it." Do you think Nate is a misogynist? Later Hannah tells him that he "is treated like a big shot because he is a guy and has the arrogant sense of entitlement to ask for and expect to get everything he wanted." Do you think the fact that Nate is male benefits him in terms of his career and the way he is seen in the world? He also silently criticizes Hannah for not working as hard at her writing as he does at his. Is that a fair criticism?
Aurit is the only major female character in the story who does not have a romantic history with Nate. Why is this, and what role does she play in the story and in Nate's life?
Despite the fact that Nate initially found Hannah to be different from the other women he had dated, his attitude toward her eventually begins to change. Do you think there is a legitimate reason for this change? Or does it reflect a limitation of Nate's? What do you think keeps the relationship going after the initial excitement has died down?
Why does Hannah agree to salvage her relationship with Nate multiple times after it begins to turn sour? She says she feels "ashamed of [her]self" for changing for Nate and for making allowances for his bad behavior because she cares for him. Do you think that there is a difference in the way men and women change throughout a relationship? Is it necessary to change for your partner, and if so to what extent?
Nate has relationships with many different kinds of women, and yet he can't seem to be content with any of
them—Kristen the socially conscious do-gooder, Elisa the beautiful, and Hannah, who exhibits both cool and
intelligence. Nat wonders, "Why [do] women say men [are] threatened by women who challenge them?" Do you
believe that, in spite of his claim not to be, Nate may be threatened on some level? Is he truly finding himself
incompatible with these women, or are his breakups results of his own insecurities? All of them or only certain
ones?
Nate is largely influenced during his time in college by his male friends. How much of one's mindset is
influenced by his peers during these formative years in his life? Do you think that Nate would have had a different outlook on women and relationships had he chosen to associate with a different group of friends? Consider the male characters in the novel. What role do they play in Nate's life, and how do they still influence the way he thinks?
Discuss the idea of being seen through others' eyes in the context of the book. Throughout this novel, we see
Nate's views on others and also his thoughts on how people view him. Do you feel that it is a natural feeling to be
validated through others' opinions? Do we need reassurance from our partners in order to accept ourselves?
What do you think Nate takes away from each relationship, if anything? At the end of the novel, is Nate in a
relationship that will last?