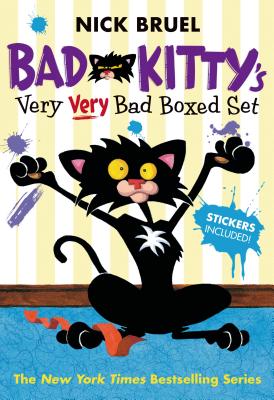 Bad Kitty's Very Very Bad Boxed Set (#2) (Multiple copy pack)
Bad Kitty Meets the Baby, Bad Kitty for President, and Bad Kitty School Days
Square Fish, 9781250050540
Publication Date: October 7, 2014
* Individual store prices may vary.
Description
Hack up those fur balls, sharpen those claws because we've got three more Bad Kitty adventures from bestselling author Nick Bruel coming your way!
In Bad Kitty Meets the Baby, Kitty's owners are home with a big surprise for Kitty. But what is it? Kitty thinks it's a dog. The neighbor cats are convinced it's a cat. But we all know it's really a BABY!
In Bad Kitty for President, it's time to elect a new president of the Neighborhood Cat Club. The results might surprise you.
In Bad Kitty School Daze, Kitty and Puppy have been screaming, hissing, and fighting all over the house, and their owners have finally had enough. It's time for school . . . obedience school.
Included in the Bad Kitty's Very Very Bad Boxed Set is a sheet of Bad Kitty stickers!
About the Author
Nick Bruel is the author and illustrator of New York Times bestseller Boing, Bad Kitty, Bad Kitty Gets a Bath and Bad Kitty Meets the Baby, among others. Nick is a freelance illustrator and cartoonist, and during his down time, he collects PEZ dispensers and grows tomatoes in the backyard. He lives in Tarrytown, NY with his wife Carina and their lovely cat Esmerelda.
Praise For Bad Kitty's Very Very Bad Boxed Set (#2): Bad Kitty Meets the Baby, Bad Kitty for President, and Bad Kitty School Days…
"Further proof that Bad Kitty can be good . . . especially in the eyes of her many fans." —Kirkus Reviews, on Bad Kitty Meets the Baby
"From primaries to debate skills, from the impact of the media to voter registration, Bruel walks young readers through all the steps in the US election process." —Booklist, on Bad Kitty for President
"As usual it's Bad Kitty's personality that rules the day." —Publishers Weekly, on Bad Kitty School Daze