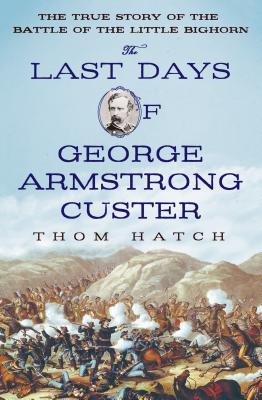 The Last Days of George Armstrong Custer (Hardcover)
The True Story of the Battle of the Little Bighorn
St. Martin's Press, 9781250051028, 384pp.
Publication Date: February 3, 2015
* Individual store prices may vary.
Description
In this thrilling narrative history of George Armstrong Custer's death at the Little Bighorn, award-winning historian Thom Hatch puts to rest the questions and conspiracies that have made Custer's last stand one of the most misunderstood events in American history. While numerous historians have investigated the battle, what happened on those plains hundreds of miles from even a whisper of civilization has been obscured by intrigue and deception starting with the very first shots fired.
Custer's death and the defeat of the 7th Calvary by the Sioux was a shock to a nation that had come to believe that its westward expansion was a matter of destiny. While the first reports defended Custer, many have come to judge him by this single event, leveling claims of racism, disobedience, and incompetence. These false claims unjustly color Custer's otherwise extraordinarily life and fall far short of encompassing his service to his country.
By reexamining the facts and putting Custer within the context of his time and his career as a soldier, Hatch's The Last Days of George Armstrong Custer reveals the untold and controversial truth of what really happened in the valley of the Little Bighorn, making it the definitive history of Custer's last stand. This history of charging cavalry, desperate defenses, and malicious intrigue finally sets the record straight for one of history's most dynamic and misunderstood figures.
About the Author
THOM HATCH is the author of eight books, including The Last Outlaws: The Lives and Legends of Butch Cassidy and the Sundance Kid and The Custer Companion: A Comprehensive Guide to the Life of George Armstrong Custer and the Plains Indians Wars. A Marine Corps Vietnam veteran and a historian who specializes in the American West, the Civil War, and Native American conflicts, Hatch has received the prestigious Spur Award from the Western Writers of America for his previous work. He lives in Colorado with his wife and daughter.
Praise For The Last Days of George Armstrong Custer: The True Story of the Battle of the Little Bighorn…
"Hatch's research and knowledge are formidable; his prose, clear and accessible, even when he's describing the chaotic intricacies of battle… A considerable achievement." —The Plain Dealer on Glorious War
"Eloquent of not only the Old West that we think of when we see a photograph of a butte or a mustang... but also of the implacable forces of time and change that extinguished it." —The Wall Street Journal on The Last Outlaw
or
Not Currently Available for Direct Purchase