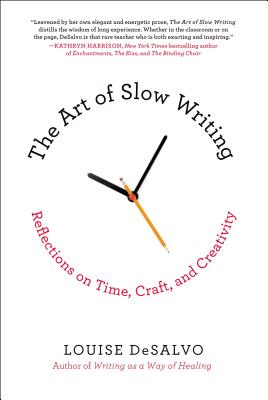 The Art of Slow Writing (Paperback)
Reflections on Time, Craft, and Creativity
St. Martin's Griffin, 9781250051035, 336pp.
Publication Date: October 7, 2014
* Individual store prices may vary.
Description
In a series of conversational observations and meditations on the writing process, The Art of Slow Writing examines the benefits of writing slowly. DeSalvo advises her readers to explore their creative process on deeper levels by getting to know themselves and their stories more fully over a longer period of time. She writes in the same supportive manner that encourages her students, using the slow writing process to help them explore the complexities of craft. The Art of Slow Writing is the antidote to self-help books that preach the idea of fast-writing, finishing a novel a year, and quick revisions. DeSalvo makes a case that more mature writing often develops over a longer period of time and offers tips and techniques to train the creative process in this new experience.
DeSalvo describes the work habits of successful writers (among them, Nobel Prize laureates) so that readers can use the information provided to develop their identity as writers and transform their writing lives. It includes anecdotes from classic American and international writers such as John Steinbeck, Henry Miller, Virginia Woolf and D. H. Lawrence as well as contemporary authors such as Michael Chabon, Junot Diaz, Jeffrey Eugenides, Ian McEwan, and Salman Rushdie. DeSalvo skillfully and gently guides writers to not only start their work, but immerse themselves fully in the process and create texts they will treasure.
About the Author
LOUISE DESALVO is an award-winning teacher and writer. She is currently the Jenny Hunter Endowed Professor at Hunter College where she started Hunter's MFA in Memoir program. She has published seventeen books, among them Virginia Woolf, named one of the most important books of the 20th century by The Women's Review of Books, and the groundbreaking Writing as a Way of Healing. She lives in Sag Harbor, NY, and Upper Montclair, NJ with her husband.
Praise For The Art of Slow Writing: Reflections on Time, Craft, and Creativity…
"Leavened by her own elegant and energetic prose, The Art of Slow Writing distills the wisdom of long experience. Whether in the classroom or on the page, DeSalvo is that rare teacher who is both exacting and inspiring." —Kathryn Harrison, New York Times bestselling author of Enchantments, The Kiss, and The Binding Chair
"I want to hand a copy of Slow Writing to every writer I know and every writer I don't know. This book is a gift. Its insights are unparalleled. Louise DeSalvo takes the reader on a joyful, unforgettable journey of reflection and pathos. I can't thank DeSalvo enough for writing this wise, accessible yet intensely researched master meditation on writing. Read it more than once-- the first time for pleasure and many more times for its invaluable insights into the craft." —Margaux Fragoso, author of Tiger, Tiger: A Memoir
"In this wise and insightful book, Louise DeSalvo draws from her own rich experience - as well as from that a variety of writers - to make the persuasive case that good writing takes time. As I read, I found myself underlining, dog-earing pages, writing notes in the margin, inspired by DeSalvo's passion and focus. Deep immersion in the process of writing, she says, yields results that surprise and delight us; our work is stronger, more nuanced, and more compelling. The Art Of Slow Writing is a welcome reminder that in this fast-paced world, some things should not be rushed." —Christina Baker Kline, #1 New York Times bestselling author of Orphan Train
"DeSalvo turns what might have been an exercise in navel-gazing into a lively and inspiring guide for writers of all stripes. Buy two copies--the first will quickly sprout dog-ears." —Publishers Weekly (starred review)