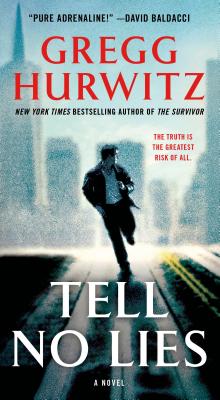 Tell No Lies (Paperback)
A Novel
St. Martin's Paperbacks, 9781250051141, 496pp.
Publication Date: July 1, 2014
Other Editions of This Title:
MP3 CD (4/29/2014)
Compact Disc (7/1/2014)
Compact Disc (8/20/2013)
MP3 CD (8/20/2013)
* Individual store prices may vary.
Description
"Another winner from a top-tier thriller writer." —Kirkus Reviews
Daniel Brasher left a high-paying job as a money manager to marry his community-organizer wife and do the work he loves, leading group counseling sessions with recently paroled ex-cons. Now he's about to start a private practice. But just before his last day on the job, Daniel finds an envelope in his department mailbox—one intended for someone else that was placed in his slot by accident. Inside it is an unsigned piece of paper, a note that says only "admit what you've done or you will bleed for it." along with a midnight deadline…which has passed. And the person to whom the envelope was addressed was found brutally murdered…
"A fast-paced roller coaster ride…well-written and extremely realistic." —Criminal Element
Soon, Daniel finds more warnings in his office mail, to people that the police cannot track down, and to victims that cannot be saved. Daniel's efforts, however, have alerted the killer to his involvement… and the next threat he receives is his own. Now, Daniel—with no clue what he's supposed to have done or to what action he must confess—must somehow appease, or outwit, a seemingly unstoppable killer. And time is running out…in Tell No Lies by Gregg Hurwitz.
"Menace, treachery, and intrigue have never been more exciting." —The Washington Post
This edition of the book is the deluxe, tall rack mass market paperback.
About the Author
GREGG HURWITZ is the New York Times bestselling author of more than a dozen novels, including the #1 international bestseller Orphan X. His books have been shortlisted for numerous literary awards, graced top ten lists, and have been translated into twenty-eight languages. He is also a New York Times bestselling comic book writer, having penned stories for Marvel (Wolverine, The Punisher) and DC (Batman). Additionally, he's written screenplays for many major studios and written, developed, and produced television for various networks. The Last Chance is the sequel to The Rains, Gregg's first YA novel. Hurwitz resides in Los Angeles with two Rhodesian ridgebacks.
Praise For Tell No Lies: A Novel…
"Simply brilliant. Tell No Lies is infinitely more than a thriller, yet thrilling to the last page. Psychologically rich and often beautiful...A true page turner in which every phrase, every character, every little incident counts. Stylish, elegant, and absolutely riveting! An unforgettable read." —Anne Rice
"Another winner from a top-tier thriller writer." —Kirkus Reviews
"A great book for any reader who wants to be chilled and entertained at the same time." —Suspense Magazine
"Menace, treachery, and intrigue have never been more exciting." —The Washington Post
"A fast-paced roller coaster ride...well-written and extremely realistic." —Criminal Element
"A rollercoaster ride that is going to make your stomach flip upside down two or three times before it's through...Equal parts thriller and mystery, Tell No Lies is built upon the finest elements of both genres." —The Book Reporter
"Hurwitz has quickly established himself as one of the best writers in the genre. A unique variation on the ticking-clock thriller, written with a depth and nuance that gives everything meaning, and makes every character both satisfying and suspect. You'll be guessing right up until the end." —Louisville Courier-Journal
"Gregg Hurwitz [has] written a string of excellent thrillers, but this one could be his best.
" —Winnipeg Free Press
"Stunningly effective and original...Hurwitz keeps the suspense humming, the promise of his premise matched by his execution every step of the way in this superb psychological thriller." —Providence Journal
"With a multiplicity of elements to praise, it's hard to know where to start first...The book exerts all the author's customary Ancient Mariner-like grip on the reader." —Crime Time
or
Not Currently Available for Direct Purchase