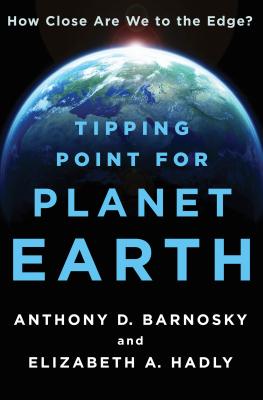 Tipping Point for Planet Earth (Hardcover)
How Close Are We to the Edge?
Thomas Dunne Books, 9781250051158, 272pp.
Publication Date: April 26, 2016
* Individual store prices may vary.
Description
Four people are born every second of every day. Conservative estimates suggest that there will be 10 billion people on Earth by 2050. That is billions more than the natural resources of our planet can sustain without big changes in how we use and manage them.
So what happens when vast population growth endangers the world's food supplies? Or our water? Our energy needs, climate, or environment? Or the planet's biodiversity? What happens if some or all of these become critical at once? Just what is our future?
In Tipping Point for Planet Earth, world-renowned scientists Anthony Barnosky and Elizabeth Hadly explain the growing threats to humanity as the planet edges toward resource wars for remaining space, food, oil, and water. And as they show, these wars are not the nightmares of a dystopian future, but are already happening today. Finally, they ask: at what point will inaction lead to the break-up of the intricate workings of the global society?
The planet is in danger now, but the solutions, as Barnosky and Hadly show, are still available. We still have the chance to avoid the tipping point and to make the future better. But this window of opportunity will shut within ten to twenty years. Tipping Point for Planet Earth is the wake-up call we need.
About the Author
ANTHONY D. BARNOSKY is the Professor of Integrative Biology, University of California. A renowned paleobiologist, he has spent 30 years conducting research related to past planetary changes, and what they mean for forecasting the changes to come on Planet Earth in the next few decades.

ELIZABETH A. HADLY holds the Paul S. and Billie Achilles Professorship of Environmental Biology at Stanford University. She has spent more than 25 years studying environmental change in landscapes all over the world, conducting primary research on how living and fossil species can reveal the ways in which current human impacts are influencing ecological systems.
Praise For Tipping Point for Planet Earth: How Close Are We to the Edge?…
"This title is highly recommended for readers interested in environmental issues, particularly climate change, environmental justice, and why there is a need to enact change in social policy." --Library Journal

"Fascinating, frightening, and disconcertingly credible, Tipping Point for Planet Earth is far more than a cohesive assembly of global science and worldly circumstances; it is a perfectly pitched clarion call to action—now. Can there be any topic bigger or more important than our planet's failing life support systems? Intelligence may be measured by the facility to draw lines of connection—and this book does exactly that, brilliantly—but it demands courage to see the picture that takes shape inside all of those connected and interconnected dots, and then to understand what needs to be done about it. The news is hard, but it doesn't have to be hopeless. Barnosky and Hadly consider what are in effect the elements of a planetary exposé, with Homo sapiens as both perpetrators and victims, (along with the rest of life on earth), and go on to illuminate the paths that can lead toward a lasting rehabilitation. Their vision is fearless and clear-eyed, and the book is stunning." —Lynn Stegner, author of West of 98 and Because a Fire Was in My Head
"Frequently unsettling, often surprising, yet not without a modicum of hope, the authors' cogent and articulate analysis of our past and present presents an urgent view of the steps required to ensure a livable future." —Booklist
"Many books bombard their readers with facts and figures about climate change, but few convey what these number mean in human terms. Barnosky and Hadly have travelled the world as scientists, but in this book they speak to us as people. A brave and beautiful account of what is really at stake in the current global crisis." —Naomi Oreskes (Harvard University), co-author of Merchants of Doubt
"Better than excellent . . . a real page turner that entertains as it explains why we're headed for a global tipping point that is way beyond just climate change. Tipping Point for Planet Earth is in a whole new class." —Paul R. Ehrlich (Stanford University), author of The Annihilation of Nature
"Just because we have collectively lost interest in the doom clock doesn't mean it has stopped ticking . . . you cannot fault the authors' determination to try to warn us." —Newsweek
"Powerful, compelling . . .addresses the urgent need for action and the concrete solutions that can forge a better future." —Liz Cunningham, author of Ocean Country and Talking Politics

"Anthony Barnosky and Elizabeth Hadly eloquently lay out the ecological perils we face, deftly showing how they might segue into food and water shortages, disease, resource wars and mass migrations … Now we know the challenges for the 21st century; we just need to act." —New Scientist