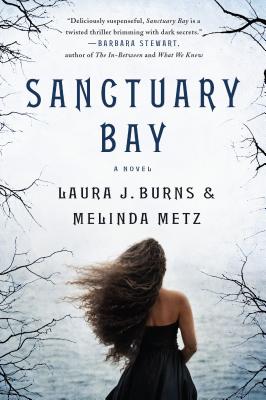 Sanctuary Bay
A Novel
Hardcover

* Individual store prices may vary.
Description
When Sarah Merson receives the opportunity of a lifetime to attend the most elite prep school in the country-Sanctuary Bay Academy-it seems almost too good to be true. But, after years of bouncing from foster home to foster home, escaping to its tranquil setting, nestled deep in Swans Island, couldn't sound more appealing. Swiftly thrown into a world of privilege and secrets, Sarah quickly realizes finding herself noticed by class charmer, Nate, as well as her roommate's dangerously attentive boyfriend, Ethan, are the least of her worries. When her roommate suddenly goes missing, she finds herself in a race against time, not only to find her, but to save herself and discover the dark truth behind Sanctuary Bay's glossy reputation.
In this genre-bending YA thriller, Sanctuary Bay by Laura J. Burns and Melinda Metz, Sarah's new school may seem like an idyllic temple of learning, but as she unearths years of terrifying history and manipulation, she discovers this "school" is something much more sinister.
Praise For Sanctuary Bay: A Novel…
"An intriguing thriller that pairs YA romance with sci-fi danger in a creepy, Gothic-like setting (foggy island with a crumbling insane asylum, anyone?), this book is a white-knuckle read that pushes envelopes and makes the reader question everything, right along with Sarah." - USA Today's Happily Ever After blog
"Genuinely enjoyable from start to finish, this novel would lend itself most fully to those who gritty, grotesque exposés of superficially perfect people and places. A quickly captivating account of an outsider's new life inside a world of prestige, pleasure, and pain and her struggle to find acceptance and herself and to survive." - School Library Journal

"This mash-up of private-school lit meets mystery novel meets conspiracy theory should keep readers guessing as the horror continues to mount. Elizabeth LaBan's The Tragedy Paper (2013) and Jenny Hubbard's Paper Covers Rock (2011), with their elite-school settings and dark secrets, would both make interesting companion reads." - Booklist
"Burns and Metz, who have collaborated on Crave and other titles, build a suspenseful and satisfying narrative full of subtly creepy details...teetering between a psychological study of teenage peer pressure and an over-the-top horror flick." —Publishers Weekly
"The book is good entertainment...fun." —Kirkus Reviews
"There's no escaping it. This story hooks you from page one and refuses to let go. Not that readers will want to be anywhere other than glued to Sarah Merson's side as she races to expose the sinister forces threatening to destroy everything good in her new life. Deliciously suspenseful, Sanctuary Bay is a twisted thriller brimming with dark secrets." —Barbara Stewart, author of The In-Between and What We Knew
St. Martin's Griffin, 9781250051363, 320pp.
Publication Date: January 19, 2016
About the Author
Laura J. Burns has written more than forty books for kids and teens, touching on topics from imaginary lake monsters to out-of-control Hollywood starlets (they have more in common than you might think). With Melinda Metz, she has also written for the TV shows ROSWELL, 1-800-MISSING, and THE DEAD ZONE. Laura lives in New York with her husband, her kids, and way too many pets.

Melinda Metz is the author of over 75 books for kids and teens, including the Roswell High series, basis of the TV show Roswell. She often teams up with the lovely and talented Laura J. Burns; together they wrote the Edgar Award nominee Wright and Wong: Case of the Nana-Napper, and YA thrillers Sanctuary Bay and The Lost Map of Secrets and Chaos. Melinda's first adult book, Talk to The Paw, launched the series. She lives in North Carolina with her dog, Scully, who isn't as well-behaved as her namesake.
or
Not Currently Available for Direct Purchase